A Twist on Sauerkraut - El Salvadoran Curtido & Tasting Water Kimchi!

Saturday, February 25, 2017 from 9:30 AM to 12:00 PM (PST)
Event Details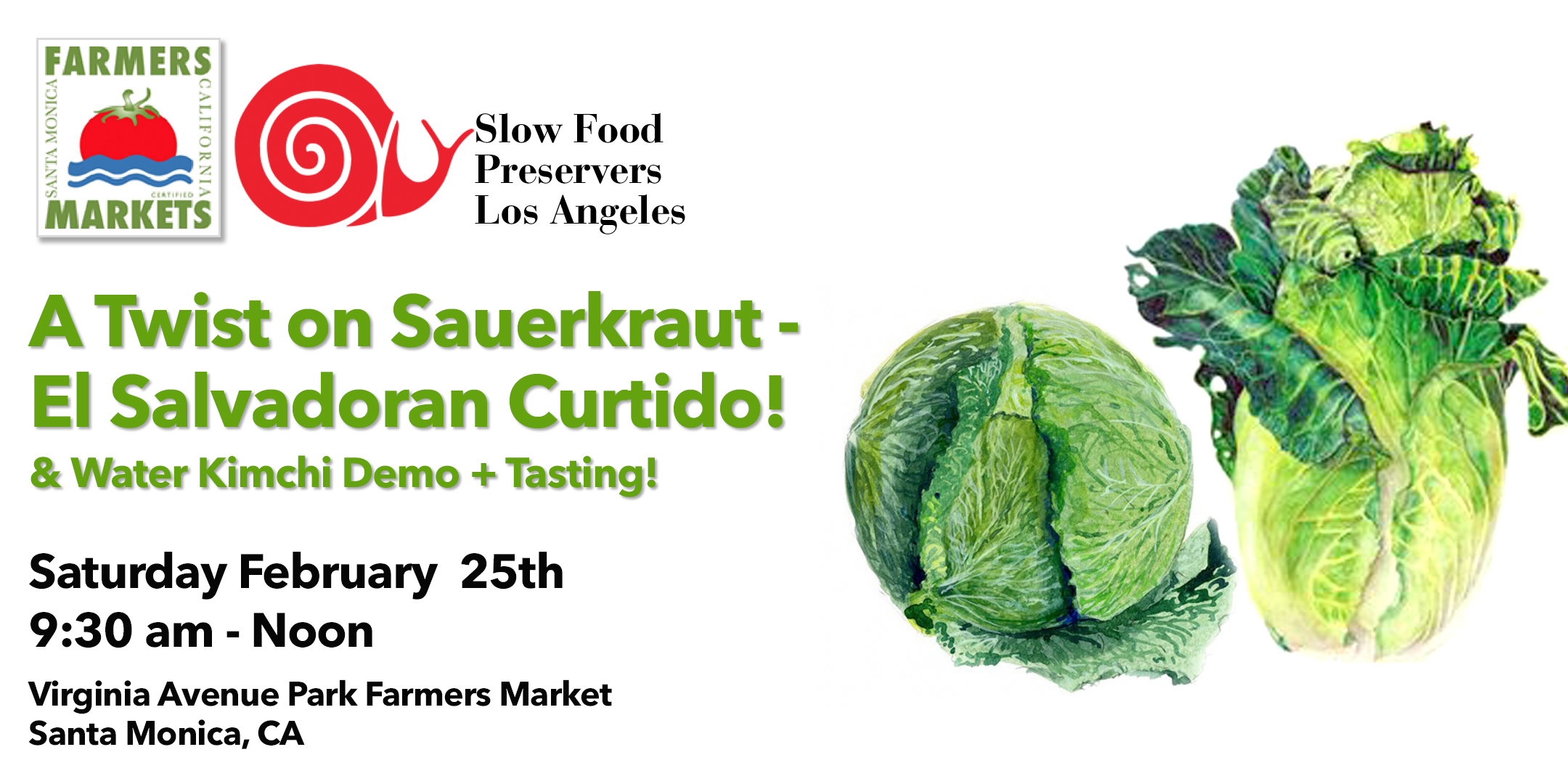 Let's Make Curtido and Taste Water Kimchi!
Curtido is a traditional central american dish which is very simple to make, has a short fermentation period (3 days although you could easily go longer) and is very delicious. Curtido is lacto-fermented. Through the fermentation process lactic acid is created as a by-product. Lactic acid accounts for the tanginess and fills curtido with probiotics. These are the good-for-our-gut bacteria so important for our digestion and overall excellent health.
Curtido El Salvadoran Kraut
Though originating in El Salvador, other Central American and some Latin American countries enjoy curtido as well. Pupusas, traditional Salvadoran masa harina-based sandwiches, are always served topped with curtido. And sides of curtido are served with most meals. Delicious any time of the year but especially now when cabbage is at its seasonal peak! 
Nabak Kimchi (Water Kimchi)
Nabak or water kimchi is a type of kimchi that's made with thinly sliced radish squares and other vegetables. It is easy to make, yet deliciously refreshing! The name of the kimchi stems from the way the radish is cut - into small, thin squares is called nabak sseolgi. Sseolgi refers to a cutting technique. 
Nabak kimchi is commonly enjoyed in the springtime when the kimchi that was made in the fall gets old. It's a mild, clean tasting kimchi, so nabak kimchi doesn't call for fish sauce or salted shrimp. It is also a vegan kimchi.
Radish and cabbage squares are lightly salted and then mixed with all other ingredients. The water is seasoned with salt, and colored lightly with gochugaru (Korean red chili pepper flakes) through a strainer or cheesecloth to keep the kimchi broth nice and clean. The garlic and ginger are thinly sliced, rather than minced, again to keep the broth clear.
The addition of Korean pear is traditional, but an apple is also commonly used. The fruit gives the kimchi a slight fruity sweetness. Minari (water dropwort), which is a crisp herb with a distinct taste, is also traditional and adds a delicately pleasant flavor to the kimchi.
Teacher Hae Jung Cho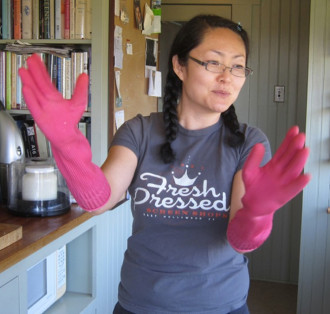 Hae Jung Cho is a chef and Master Food Preserver in Los Angeles.
From English muffin pizzas and blueberry muffins to fermentation and kimchi, Hae Jung Cho's love of cooking started at a young age. With twelve years of experience in restaurants and catering, she has a lot of expertise to share.
She has hosted a Shrubs and Soda workshop and many Kimchi workshops through Hae Jung Cho's Kimchi Club! where she will teach you how to make delicious and nutritious kimchi with authentic ingredients and techniques.
Upcoming Preserving Classes
Santa Monica Farmers Market Virginia Avenue Park Monthly preserving classes are held in the Thelma Terry Workshop 3 at Santa Monica Farmer's Market Virginia Avenue Park
Every fourth Saturday of the month From 9:30 am – 12:00 noon. You must be over the age of 12 years to attend. Classes are free, but registration is required.
UPCOMING CLASSES:
WHAT TO BRING FOR ALL CLASSES:
Knife - chef's and pairing knife

Cutting Board

Apron

Medium Sized Bowl

Hair Tie for Your Safety and Food Safety

Food Safety Gloves (if needed)

Extra Food Storage Bags (so things don't spill on the way home!)
Parking Info:
Parking is available at Pico Blvd at 23rd Street (farmers market parking) OR in the Virginia Ave Park Lot, accessed from Virginia Ave (one block north, parallel to Pico Blvd. between Cloverfield and 20th St.). 
Overflow Parking is available in the Venice Family Clinic parking lot (0.4 miles away) located at 2509 Pico Blvd. Use any parking space facing a wall. 
Slow Food Preservers Los Angeles

Vist us at https://sfpla.org
Like our Facebook page! https://www.facebook.com/SFPLAB/
When & Where

Thelma Terry Workshop 3
2200 Virginia Ave
Santa Monica, CA 90404


Saturday, February 25, 2017 from 9:30 AM to 12:00 PM (PST)
Add to my calendar
Organizer
Santa Monica Farmers Markets
The City of Santa Monica oversees the operation and management of four Certified Farmers' Markets (CFMs).  An estimated 900,000 shoppers visit the markets every year. Collectively, they provide customers with a selection of fresh, seasonal produce year-round that is pre-eminent among farmers' market programs in the state.
The Santa Monica Farmers Markets are committed to promoting healthful eating and sustainable agriculture in California by providing fresh agricultural products from small farms to urban customers, thereby building community and preserving California farmland.
A Twist on Sauerkraut - El Salvadoran Curtido & Tasting Water Kimchi!