Community Cooking Night - Monica's Spaghetti alla Nerano
About this event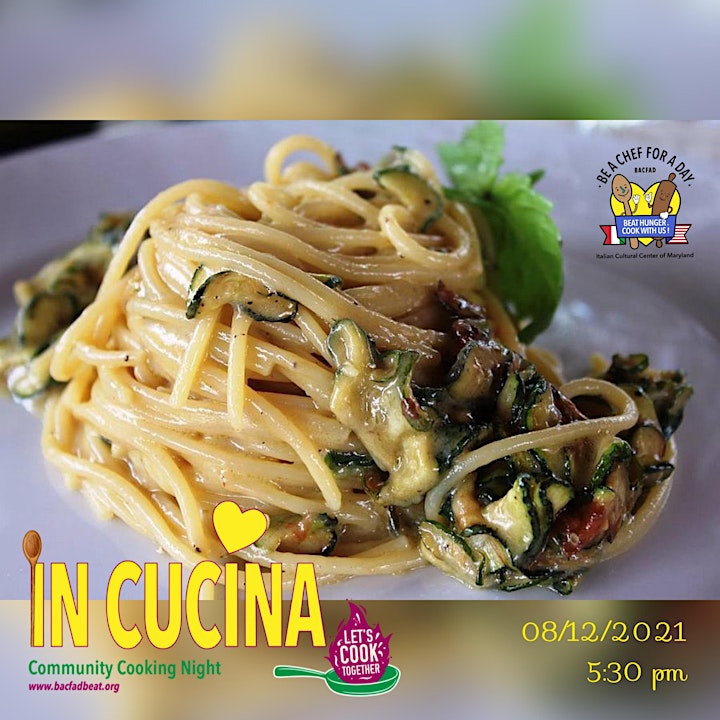 Join Monica, Lance and the ICCM/BACFAD Team for a community cooking night. We will honor Monica 's beloved region with a fantastic recipe.
Spaghetti alla Nerano
INGREDIENTS
400g (14 oz) spaghetti
800g (1-1/2 lbs) zucchini, sliced into thin rounds
200g (7 oz) Caciocavallo, Provolone Piccante, or a blend of 70 percent Pecorino and 30 percent Reggiano Parmigiano, grated
2 or 3 garlic cloves
Basil leaves
Sunflower Oil for the Zucchini
Olive Oil to sauté the garlic.
Several knobs of butter
salt and lots of freshly ground pepper
Recommended pasta: Spaghetti. Bucatini is a viable alternative.
Organizer of A trip to the Campania region: Spaghetti alla Nerano
 Since 1955 ICCM has aimed to provide a place away from home for Italians, Americans of Italian Heritage and Italophiles to enjoy and share their love for the Italian Culture in its many forms of Art. 
Today ICCM runs a contemporary art gallery (NIAG) promoting contemporary art, an award-winner outreach program for children inspired by Italian Culinary tradition and Montessori and Malaguzzi educational models (Be a Chef for a Day), a Community Kitchen that has served more than 180.000+ warm meal during Covid-19, a Social Enterprise that provides training and jobs to community youth, Language, Art, Cooking (In Cucina), Opera classes together with our flagship speaker series Caffè Letterario.
 To learn more about the many ways we serve our community, check our website or call us and we will gladly mail you more information.
The Italian Cultural Center Inc of Maryland is a 501C(3) charity registered in Maryland.
Mission Statement 
The mission of ICCM is to provide people from the community with a place to belong, opportunities and tools for hope to every lover of the arts, food and education.