Words Shape Our World: A Literary and Social Justice Series
About this Event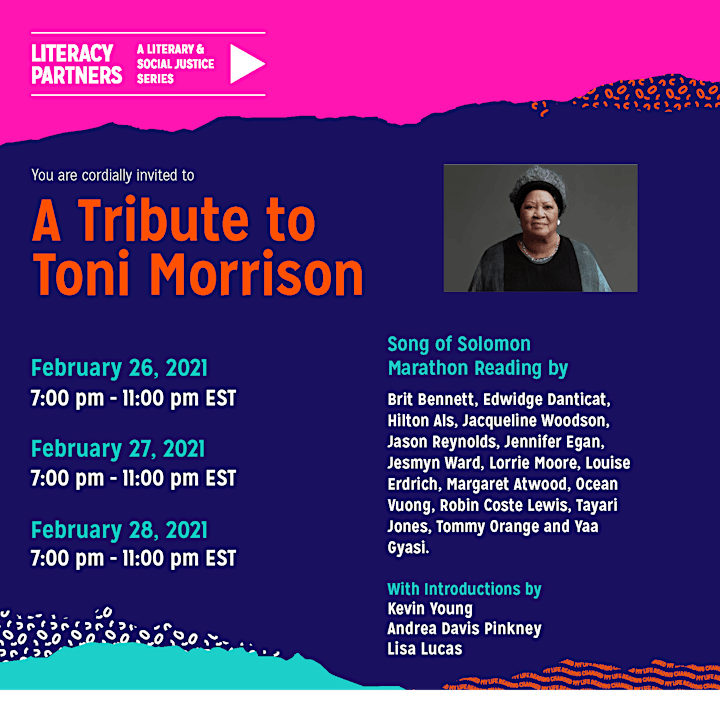 A Tribute to Toni Morrison
The month of February is an opportunity to celebrate both Black History and Toni Morrison's birthday. As a tribute to this trailblazing writer and thinker, we are presenting a Marathon Reading of Morrison's Song of Solomon by a collection of esteemed contemporary authors. Join us in remembering the work of this giant of American literature
_______________________________________________________________________________________________
Celebrating Black History Month
In honor of Black History Month, Literacy Partners is proud to present an encore presentation of our online series on racial and social justice, "Words Shape Our World". This series first premiered in the Fall of 2020. The gatherings are sure to inspire and deepen our collective understanding of the work ahead. We hope you will join us and help fuel our educational mission!
The three events in the series are:
My Time To Speak: A Reading by Ilia Calderon with Neyda Martinez - February 25, 2021, 7 - 8p EST https://iliacalderon.eventbrite.com
Champions of Literacy: The New York Times Magazine's 1619 Project - A Dialogue: Nikole Hannah Jones and Kimberle Crenshaw, Moderated by Darren Walker - February 24, 2021, 7 - 8p EST https://championsofliteracy.eventbrite.com
A Tribute to Toni Morrison: Marathon Reading of Song of Solomon - February 26, 7 - 11p EST; February 27, 7 - 11p EST; and February 28, 7 - 11p EST https://songofsolomon.eventbrite.com
This event is free, but we greatly appreciate your donations, which directly support our free adult literacy classes and workshops for low-income parents. To learn more about our work, please visit our website: literacypartners.org.