Description
Wednesday, July 9 @ 7pm

CAFÉ 290 ~ 290 Hilderbrand Dr Atlanta, GA 30328

JOIN ME AS I STAR ONCE AGAIN AS BILLIE HOLIDAY!!!

A TRIBUTE TO BILLIE HOLIDAY! THE MINI MUSICAL STAGE PLAY!
Mimi Johnson Styled by WWW.VDINXDESIGNS.COM


STARRING
MimiJohnson.net, RivaBlue Gwen Redding, Tyra "MONA LISA" Atkins, Steve Moore & Vivian Dinkins ~ Stith!

Meet Billie Holiday, (Born Eleanora Fagan; April 7, 1915 ~ July 17, 1959)
A shy young lady that was lost in the world & became a Vocal Icon!


Meet Wanda, Billie's Best Friend and an aspiring dancer that protected Billie from the Tricks of the Trade.
Meet The Madam, Ms. Ruby that taught Billie that she was more than just a street Lady.

Meet Louis McKay, Billie's Husband…Mob Enforcer, Harlem Gangster, Notorious Pimp.
Meet Beulah, A mean spirited woman of large girth, the sneaky and conniving rival to Wanda.


Featuring Songs:
Strange Fruit, Love for Sale, Don't Explain, What A Little Moonlight Can Do, Them Their Eyes, Good Morning Heartache, God Bless The Child.


$10.00 Online / $20.00 @ DOOR
PLEASE DONATE IF YOU CAN NOT ATTEND PARTIAL PROCEEDS TO BENEFIT:

THE STILL STANDING FOUNDATION ~ Tamiko Lowry
www.thestillstandingfoundation.org

FIGHTING DOMESTIC VIOLENCE EVERYDAY!
Thank you and if you cannot make it please donate to our cause.


JOIN US @ FB! https://www.facebook.com/events/523611911099309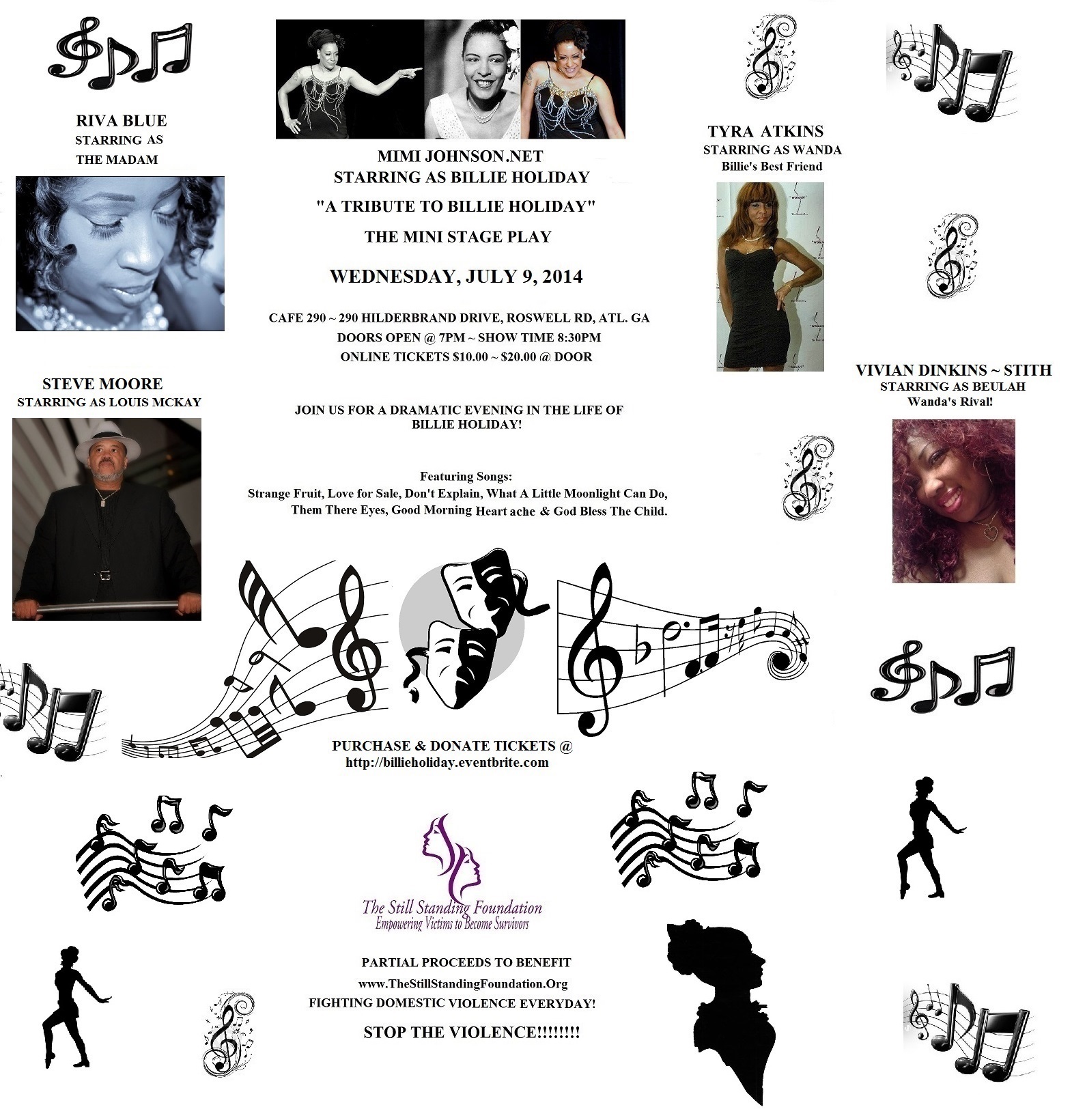 Organizer of A TRIBUTE TO BILLIE HOLIDAY THE MINI STAGE MUSICAL PLAY
ENJOY THE WONDERFUL VOCALS & PERFORMANCES OF 
 
R&B ~ SOUL ~ JAZZ SENSATION! THE TRIPLE THREAT! 
OF CAUSTIC ENTERTAINMENT GROUP, LLC
PERFORMING LIVE!
OFFICIAL WEBSITE @ www.mimijohnson.net
VIEW LIVE PERFORMANCES @ www.youtube.com/mjtvnetwork  
 
BUY "WOMAN" LP @ www.cdbaby.com/cd/mimijohnson
 
BOOKING CONTACT: thetriplethreat10@gmail.com / 404-974-5744