A Tribute to Benny Hill! Season 5 Premiere of The Rhyme Impersonator Show!

Friday, July 22, 2016 from 7:00 PM to 10:00 PM (EDT)
Event Details
GENERAL & "RHYME SHOW VIP TICKETS" ON SALE NOW AT: 
(Includes a 1 HOUR OPEN BAR!, COMPLIMENTARY APPETIZERS!, RED CARPET PHOTOS WITH CAST & CREW!, PLUS A SIGNED AUTOGRAPH POSTER from Richard Olivier Jr.
ICP Ent. cordially invites you to attend the Premiere Episode of SEASON 5 of The Rhyme Impersonator Show - Web Series! - 
A TRIBUTE to the comedic genius 
BENNY HILL! 
(1924 - 1992)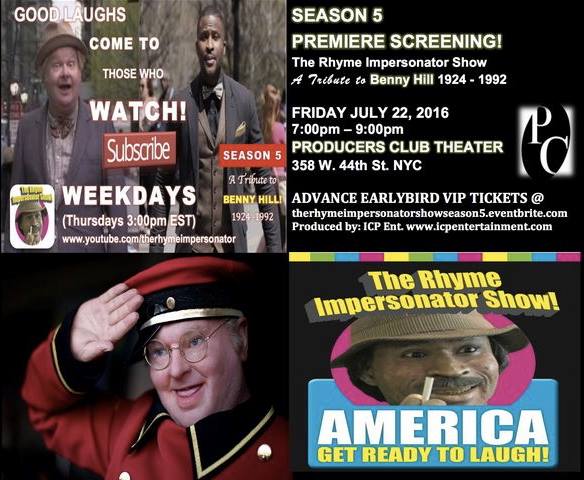 YES! The Rhyme Impersonator Show - Web Series is back!
A New York City born Grassroots Project funded by not 1 but 2 Kickstarter crowd funding campaigns with over 200 PLUS Backers.
ICP Ent. is extremely proud to screen the premiere SEASON 5 episode of the Show live in NYC at the famed:
358 West 44th Street 10036
The event will be hosted by: Diana Lopez from 7 Crown Host of MIC'D UP an event that provides a platform for new up and coming artists. Diana will moderate a brief Q&A Session with members of the lead and supporting cast & crew featured in SEASON 5 of The Rhyme Impersonator Show - Web Series!.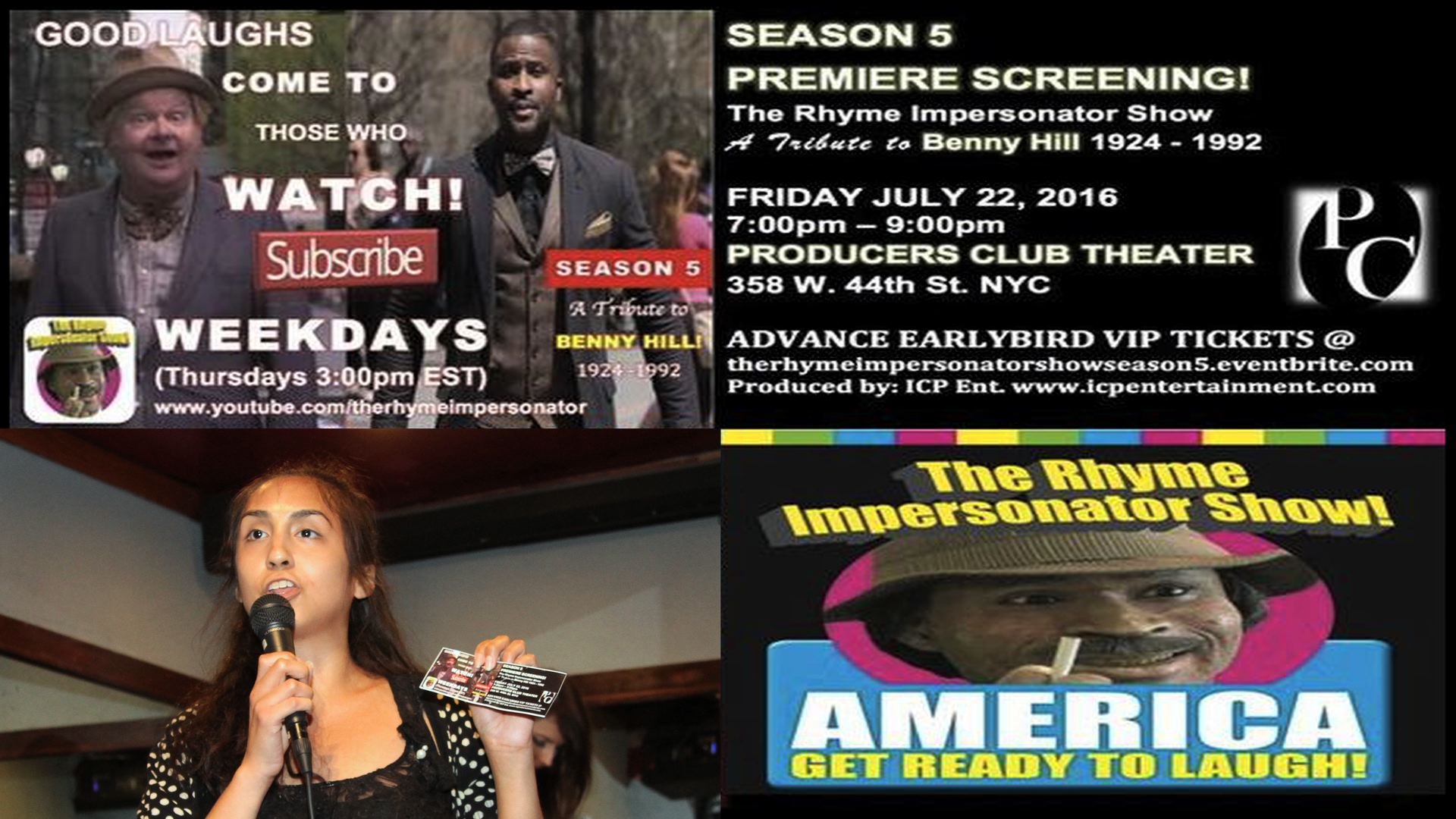 Featuring models from this years NYC & BROOKLYN FASHION WEEK 2016!
Modeling the T-Shirt Line for The Rhyme Impersonator Show!. YES! Models will grace the runway to 6 original songs produced for SEASON 1-5 of the shows web series: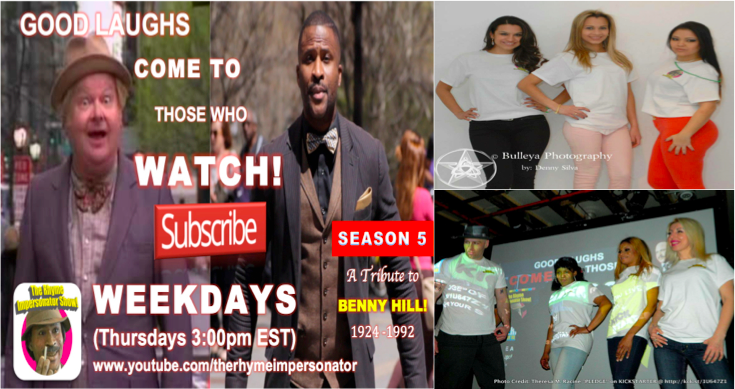 Veena Kondapalli (Associate Producer) and supporting and lead cast & crew members of SEASON 5 of the show.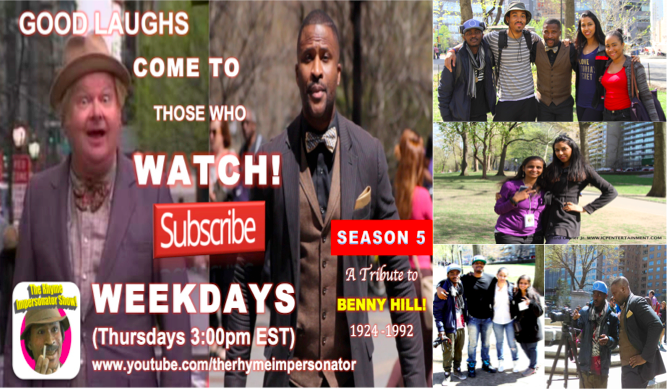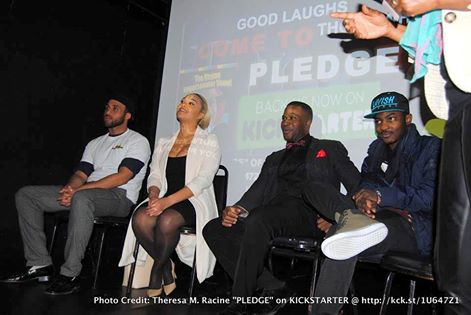 Encore Screening of the SEASON 1 Premiere Episode of The Rhyme Impersonator Show entitled: Dr. Phil Saves A Marriage.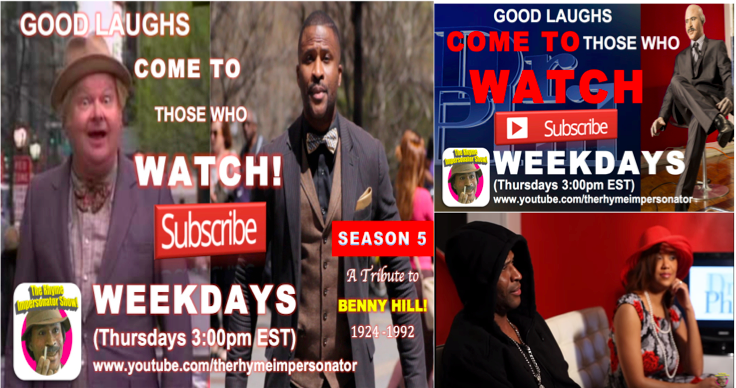 BONUS screening of the Behind the scene Special Effects Make-up of one the shows original characters called Mr. Chow, featured in Season 3 of the hilarious sketch entitled: Mr. and Mrs. Chow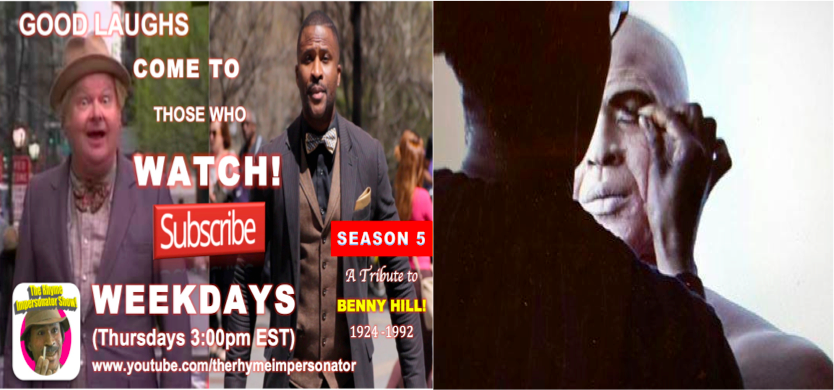 ADDITIONAL EVENT HIGHLIGHTS: 
A special BIRTHDAY CELEBRATION for Veena Kondapalli! (Published Author, CFO of ICP Ent. Associate Producer of The Rhyme Impersonator Show - Web Series.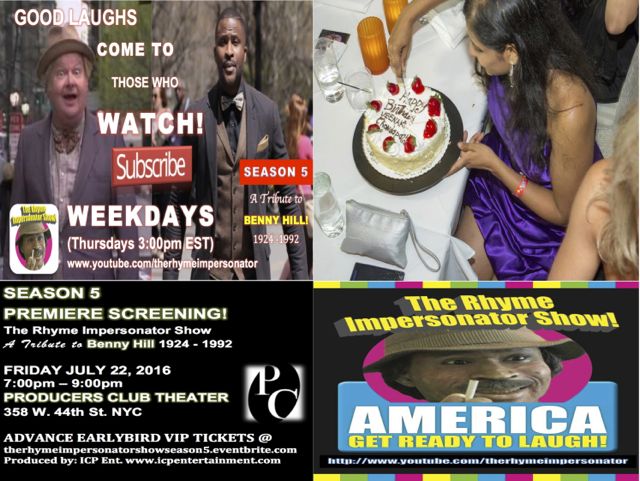 HOT AFTER PARTY! @ the famed Gansevoort Hotel Rofftop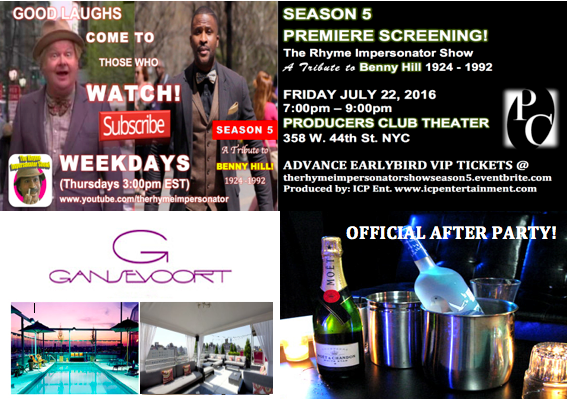 The Rhyme Impersonator Show - Web Series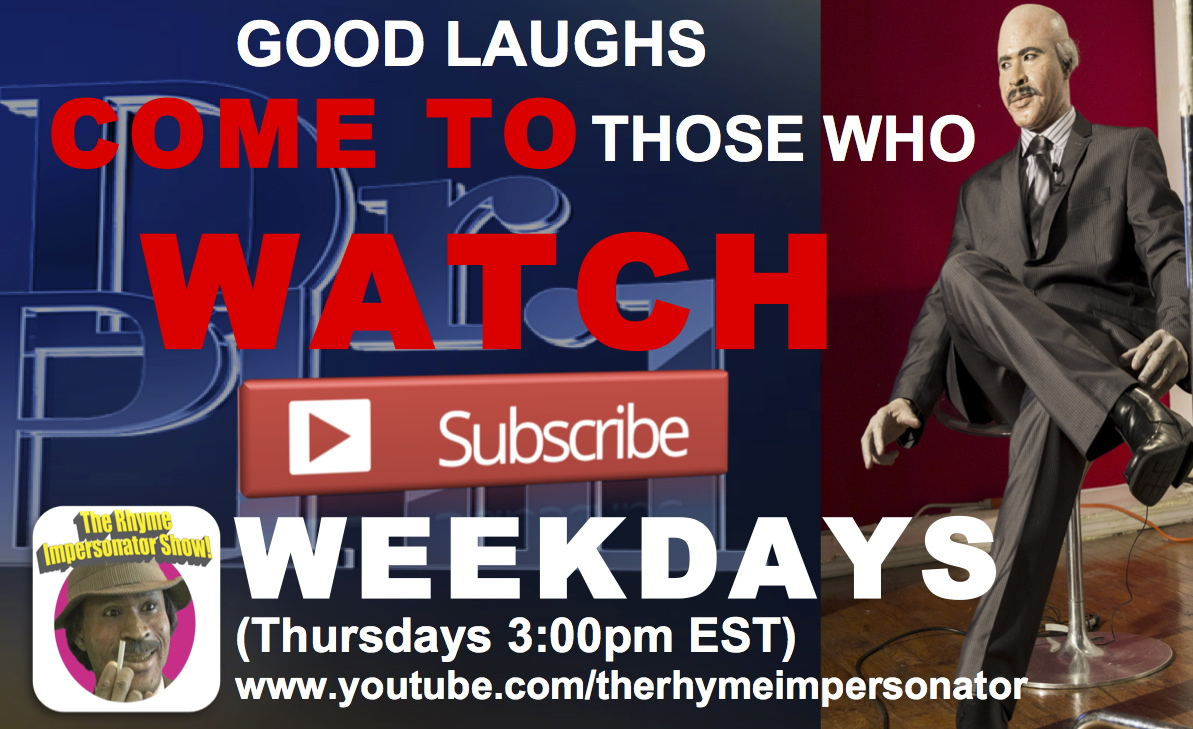 Check out our ARTIST SPOTLIGHT SERIES (MONDAYS 2:00pm EST.)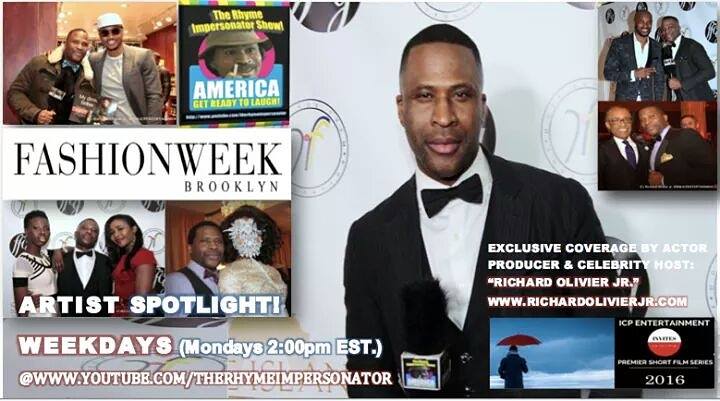 Organizer
ICP ENTERTAINMENT
ICP Entertainment is a Multi-faceted video production company based in New York, providing both the corporate, commercial, and entertainment genres with hi-end event coverage, hosting and production services along with ingenious digital and branded content to help grow and expand their business.
We also take great pride in providing creative platforms and opportunities for artists to step out of their comfort zone and nourish their inner talents"
Brainstorming, formulating and implementing new and ingenious marketing, promotion and advertising ideas, methods and strategies to help established brand names or independent companies expand their business is what we strive for.
We are working very closely with a creative team of professionals to also aid in your film production needs.
Our goal is to Promote, Market and Advertise our clients brand by using various unique and creative methods, to insure its ultimate success. Bringing your brand exposure up to speed with the current trends of today that will further establish and enhance your brand name and increase its exposure to much wider and global audience.
We pride ourselves as supreme innovators, always learning, evolving and changing with the times, our team of professionals will be 100% committed to your dream and your project, bringing you and your brand, screenplay or up and coming event, - "A New Vision of Excellence"
We hope you enjoy our Monthly NYC events! And we look forward to a long-lasting and working relationship with you in 2016.
For more information on our services please visit our website at:www.icpentertainment.org

Email: icpentnyc@gmail.com
A Tribute to Benny Hill! Season 5 Premiere of The Rhyme Impersonator Show!