Description
Hello Gluggers!
Happy Spring, and get ready for Two Goats next event #GlugNYC of 2016 where we invite you to celebrate average. Yes, that's right; the boring, the vanilla, the forgettable and the adequate. Because without average, there would be no exceptional – the witty, the provocative and the memorable.
And so speaking of which, join us on Wednesday, June 1st back at the amazing ALU space in Soho, where we bring you overwhelmingly talented creative industry speakers from The Partners, Equinox, ADT Projects, and Red Paper Heart who are ready to share their insights with you, and as usual our talks will be followed by a Q&A. There will also be Live Art by Ashleigh Caffey, DJ Misbehaviour spinning vinyl, Tina Demo-ing Two Goats VR Experiences and needless to say, we shall be wheting your wit at the open bar!
Following community feedback, we have improved AV and will limit ticket sales. Early Bird Tickets will end Wednesday, May 18th, so book your tickets NOW!
---
Our Speakers...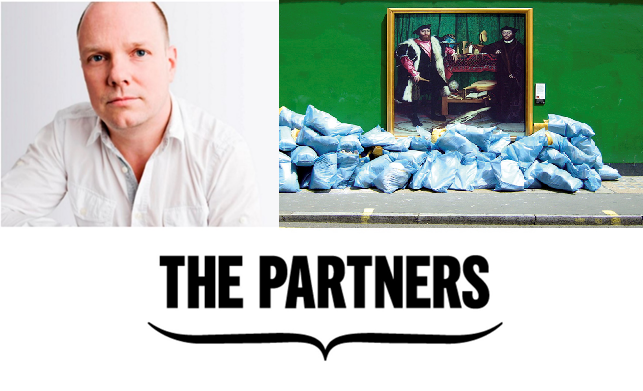 Nick Clark is the Executive Creative Director at brand strategy and design consultancy The Partners, and leads their creative team in New York. He has over 25 years' experience creating brand positioning, identity and innovation programs for some of the world's most famous brands including Ford, Equinox, Coca-Cola, Colgate and the London Symphony Orchestra.
Nick is a passionate provocateur for brands in the modern age. He will speak about the philosophy at the heart of The Partners' recently reissued book "A Smile In The Mind" - that wit is often the shortest distance between brands and their audiences - and that this is as relevant today as it always has been.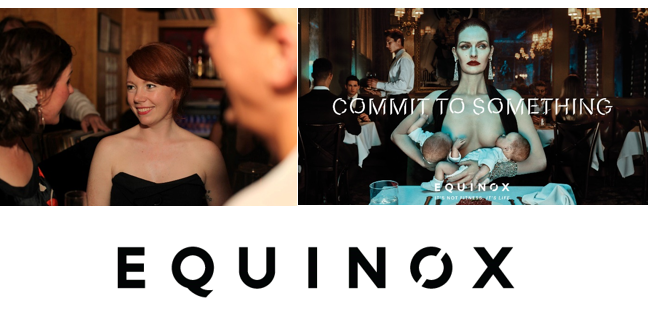 Elizabeth Nolan joined Equinox in 2013 as the Executive Creative Director and was tasked with evolving the cutting edge creative work the business has become renowned for. Since her arrival, she has lead a rebrand of the Equinox identity, the launch of The Pursuit by Equinox (winner at Cannes, D&AD, One Show and The Clios) and three annual advertising campaigns.
Prior to Equinox, Elizabeth was Creative Director at the iconic specialty retail brand Victoria's Secret where she progressively drove the brand's vision. Elizabeth led the launch of the VSX sport line and the annual Victoria's Secret Fashion Show. Elizabeth was a Senior Copywriter at Young & Rubicam for five years where she worked on global accounts LG Electronics, Sharpie and Burt's Bees. As one of a small number of graduates selected for WPP's prestigious Marketing Fellowship Program, Elizabeth spent three years gaining a fundamental grounding in branding, advertising and communications across the global portfolio of brands.
Born in Liverpool, England, Elizabeth graduated with a BA (Hons) in English Language and Literature from the University of Oxford.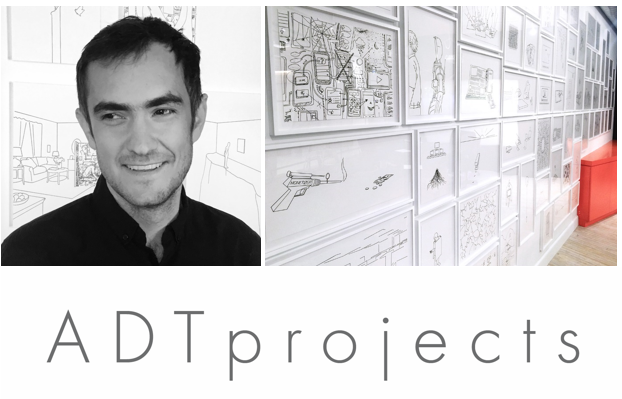 Adam Douglas Thompson is an artist, illustrator, designer, and teacher. He creates thousands of diagrammatic drawings that form an endless library of visual imaginings. Adam's drawings are at turns funny, bizarre, philosophical, and beautiful, touching on a vast array of themes and topics. His work has been exhibited at Untitled Art Fair, Auxiliary Projects, Regina Rex, the Cairo Video Festival, and the Boston Center for the Arts, among many other venues, and he is a recipient of the 2014 ArtSlant Prize. A book of 100 of his drawings, titled #1359-1458, was published by Regency Arts Press, Ltd. (2010), and his drawings have been featured in magazines including Electric Literature and The Believer.
Adam recently developed and illustrated a deck of "conceptual playing cards" called FINELINE for the design company ADT Projects. He is also an animator, and has created video art installations as well as book trailers for novels. He was recently commissioned to create a series of 140 drawings on the themes of technology and business for the offices of Kargo Mobile. Adam teaches design at several New York City universities, including Brooklyn College and the Pratt Institute. He lives in Brooklyn with his wife, writer Helen Phillips, and their children.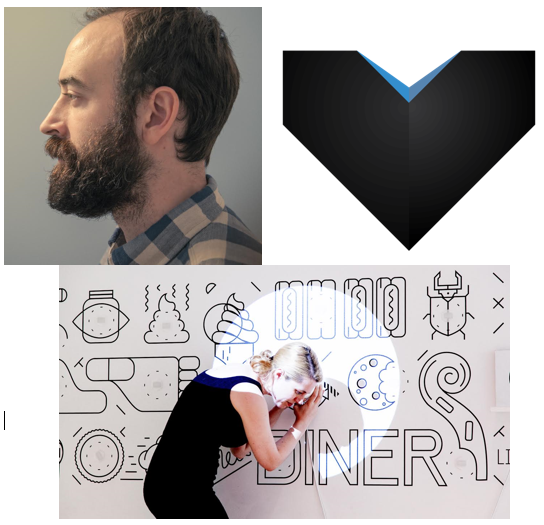 Zander Brimijoin is Creative Director and Co-founder of Red Paper Heart, an interactive art studio in Brooklyn. After over 10 years as an art director, and an MFA to boot, Zander left his career to combine art, technology… and bears.
The result was Red Paper Heart, a studio that has created large scale installations for likes of Sonos, Red Bull Studios, BMWi, MOMI, and Google. Zander likes to make people run, jump, and maybe even find unexpected joy in life.
Featured Artist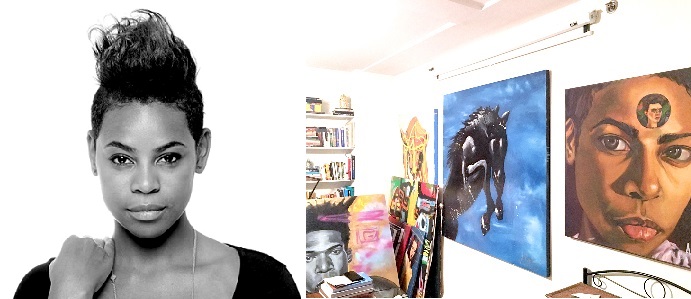 Ashleigh Caffey is a New York-based artist and designer. She creates large-scale vibrant paintings mimcking nature. Caffey's paintings are visual desserts; although self-indulgent at times, her paintings and subjects are chosen very carefully. Her art ranges from painting to design to music production.
She moved to New York in 2002 to attend The Cooper Union for the Advancement of Science & Art. Her work has been exhibited in Lower East Side galleries - Con Artist Collective, Van Der Plas Gallery and at The Cooper Hewitt. She claims NY as her second home, and the bayous of New Orleans is her first. Always returning to her roots of jazz and New Orleans culture, Caffey uses a gumbo mix of animal figures, primary hues, and a bit of feng shui for good luck to invite higher consciousness into her own space. On a journey of self-mastering, valuing the present moment, and awareness of inherent human/animal nature, she uses her paintings to bring us closer to ourselves.
Caffey currently resides in Astoria, and survives NY as a Digital Art Directer for Calvin Klein.
Featured DJ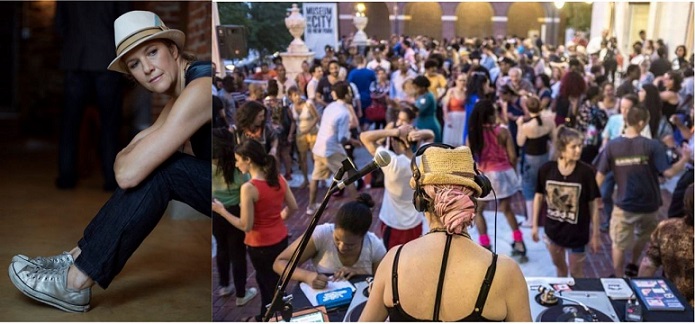 Based in NYC, Misbehaviour has performed at Verboten, Output, Brooklyn Bowl, Santos Party House and The Roxy. In the summer she is one of the main DJs in Central Park for the world famous roller-skating disco. Misbehaviour is a Resident DJ at Mobile Mondays (New York's Premier Vinyl 45 party), where she has DJ'd alongside legends Biz Marke, Just Blaze, Spinna, Danny Krivit and many more. Her clients include Diesel, Saks 5th Avenue, Fiorentini & Baker and BBC America.
---
Our Sponsors...

Creative Circle: Creative Circle is a specialized staffing agency that connects innovative advertising, marketing, creative, and interactive professionals with companies seeking talent on a full time basis.

dotmailer: dotmailer is an email marketing automation platform, supported by world-class strategic and support services. It enables you to use transactional, behavioural and social data to design, test and send powerful automated campaigns. Established in 1999, dotmailer is a global company with 200 staff and B2C and B2B enterprise and SME clients across 150 countries. Key ecommerce clients include Paperchase, Vizio, Converse, La Vie en Rose and Lulu Guinness.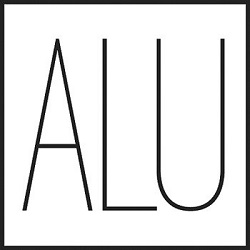 ALU: ALU is an international company with over 25 years of experience catering to the retail world. Under the vision of Abramo Manfrotto, ALU has grown to become an expert and innovative solutions provider that, since its founding, has partnered with many leading international retailers and premium brands. In November 2009, MoMA New York added both the ALU Autopole and Super Clamp to its permanent design and architecture collection. With a philosophy of ethical corporate behavior and product innovation, Abramo Manfrotto continues to shape ALU into a leading force within the retail and design industry.


FAQ...
Are there ID requirements or an age limit to enter the event?
Yes. This event is 21+ and IDs will be checked at the door.
Will you check student IDs?
Yes. If you have a student ticket you must show a student ID.
Is my registration/ticket transferrable?
Yes. As long as the person is 21+ with a valid ID.
---