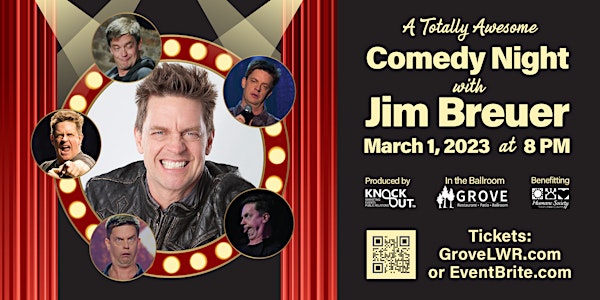 A Totally Awesome Comedy Night with Jim Breuer!
Produced by Knock Out Marketing & PR Located in the Grove Ballroom
When and where
Location
GROVE Restaurant • Patio • Ballroom 10670 Boardwalk Loop Lakewood Ranch, FL 34202
About this event
1 hour 30 minutes

Mobile eTicket
You are purchasing non-refundable tickets for, "A Totally Awesome Comedy Night with Jim Breuer" on March 1, 2023 @ 8 PM.
KNOCK OUT MARKETING & PR and GROVE restaurant have partnered to bring you this extraordinary event on Wednesday, March 1, 2023 at 8 PM, starring Jim Breuer.
Please join us for this one-of-a-kind show, as legendary comedian, Jim Breuer, makes us laugh as only he can, in the intimate setting of the GROVE ballroom. Jim's following is in the millions and is worldwide. His caliber of talent is something we are proud to bring to the community. Getting on his schedule for 2023 wasn't easy, but he loves our community and made Lakewood Ranch a priority!
Please join us for this totally awesome evening!
• Come early and socialize with your friends.
• After the show, meet Jim Breuer!
Show Details
Start Time
Doors open 45 minutes prior to event start time. We encourage you to come early, visit with your friends, purchase beverages and relax. 

Attire
Formal casual. (No beach attire, please)
Food and Drinks
• 3 cash bars and beverage servers available throughout the show. No drink minimum. Cash & credit cards accepted.
• There will NOT be food service at the event.
• Dine at GROVE before the show! Restaurant reservations are strongly recommended the night of this event.
Call Grove at (941) 893-4321 to make your dinner reservation!


Show Flow
• Once the event doors close, we ask that you please remain seated through the show.
• Continual show time is approximately 60 minutes. No intermission.
• Bar service provided throughout the show. Please tip your servers.
• Seating: 3-foot round cocktail tables, each table seats 4 guests. Seats will be placed in a crescent pattern for optimal viewing.
Safety
• This event is for attendees 21 years of age and older.
• No photos, video or audio recordings will be permitted during the show.
Photos/Video/Audio Permission and Tickets
• By purchasing a ticket, you are simultaneously providing authorization for photos, video and audio to be recorded of you and your guests at the event. These photos/videos may be used for promotional purposes and at the discretion of Knock Out Marketing, LLC and GROVE.

• Tickets are are non-refundable. Should something arise that prohibits you from attending, please feel free to give your tickets to a friend, under the ticket holder's name.

Just in case you don't know about Jim Breuer... below is a bit about this incredible comedian, actor, and all-around awesome guy!
Born and raised in Valley Stream, Long Island, New York, Breuer decided to pursue a career in stand-up by the time he was in high school. He toured the U.S. for several years on the club circuit before deciding to focus on the New York City comedy scene. Within a matter of months after settling there, he landed a role on the nationally syndicated Uptown Comedy Club TV series, which ran from 1992-1994. His big break arrived in 1995, when he was invited to join the cast of Saturday Night Live, where he remained for four seasons. Film roles followed, including one in the Dave Chappelle- and Neal Brennan-scripted comedy Half Baked from 1998, and 1999's Dick, which starred Kirsten Dunst and Michelle Williams.
In 2002, he appeared in his first one-hour standup special for Comedy Central. Titled Hardcore, it was released on DVD by Comedy Central Records that September. The same month, the label also released his comedy album Smoke 'n' Breu, which had Breuer impersonating AC/DC and Metallica alongside a full band. He continued to earn occasional film credits, such as 2003's Crooked Lines, and in 2004 began a long stint hosting his own weekly satellite radio show, first called Breuer Unleashed and later reworked as Fridays with Breuer. He brought his 84-year-old father along on his 2008 Breuniversity Tour of U.S. colleges, and videos from the trip were used to make his documentary More Than Me, which premiered at the 2009 Montreal Film Festival. That year also saw his Comedy Central special Let's Clear the Air.
In 2011, he joined the Anti-Social Network tour with Dave Attell, Bill Burr, and Jim Norton. Another one-hour special, this time for Epix, And Laughter for All was recorded at Manhattan's Gramercy Theatre and premiered in 2013. A music-comedy album marking his return to heavy metal was released by Metal Blade in 2016. Titled Songs from the Garage and credited to Jim Breuer and the Loud & Rowdy, it featured Anthrax's Rob Caggiano on guitar (and producing), Joe Vigliotti on bass, and Mike Tichy on drums, as well as appearances by AC/DC's Brian Johnson.
Among a wide array of television opportunities, Jim Breuer currently tours nationwide and has a popular podcast titled, "The Breuniverse", where he has gained over 3M listeners!
This is a 21 years old and over event.
* This is NOT a clean comedy event, meaning, profanity and other harsh language/subjects may occur.
THIS IS A NON-REFUNDABLE EVENT. Should you not be able to attend, please feel free to give your tickets to friends, under the ticket buyers name.
KNOCK OUT MARKETING, LLC and GROVE reserve the right to substitute talent, remove disruptive attendees and/or change the room layout should safety become an issue.