A Toast to our Heroes, 2017 Fundraising Gala To Benefit K9's for Warriors &...
Description
Save a Soldier ~~ Save a rescue Dog!


"A Toast to Our Heroes" is a New Orleans based volunteer group of dedicated people who are working to stop 22* veteran suicides a day. We are hosting our 4th Annual Benefit Gala to support "K9s for Warriors", and "Wounded War Heroes". This year's Gala includes food, beer, wine, and dancing.

~Music by Lost in the Sixties~
For more information, contact: Homer Minshew 504-432-2873


K9s For Warriors is the nation's preeminent organization providing service canines to warriors suffering from Post-Traumatic Stress. The goal of K9s For Warriors is to empower these heroes back into civilian life with dignity and independence. 95% of the dogs used in the program are rescue/shelter dogs.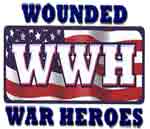 Wounded War Heroes was founded to show our appreciation to the men and women who have been wounded while in combat, WWH has over 100 events each year allowing nearly 500 opportunities for wounded veterans to spend time in the outdoors. A 501(c)(3) Non-Profit organization with 97% of donations going towards veteran events.


A Toast To Our Heroes is a fund of the Northshore Community Foundation an organization described by I.R.C. Section 501(c)(3) as a nonprofit organization that is exempt from federal income tax and to which contributions may be tax deductible in whole or in part as a charitable contribution. Our Federal Tax Identification number is 61-1517784.
*22 veterans suicides a day is reported by the Department of Veterans Affairs.
Copyright 2017 ~ A Toast To Our Heroes - All Rights Reserved.
Email: ContactUs@AToast2OurHeroes.Org

Save
Date and Time
Location
Refund Policy