A Time to Heal Motherhood: Co-Parenting Moms, Single Moms and Stepmoms.
About this Event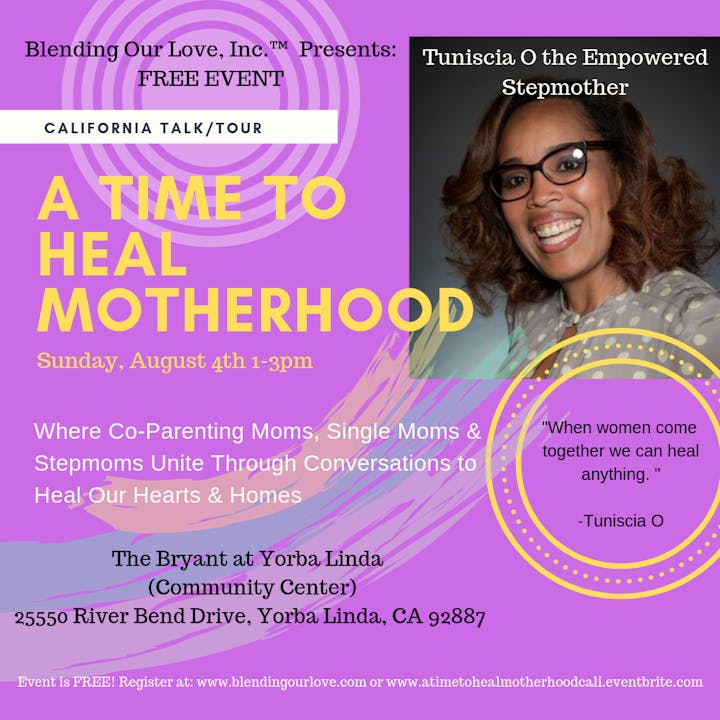 Manipulation and control can be packaged real sexy...but once it's unwrapped it's still manipulation and control even when "it's for the kids," innocent or unintentional.
🧚🏾‍♂️So many mothers are parenting from a place of pain, fear, brokenness, rejection, trauma, unforgiveness, and want support and help but struggle with asking due to FEAR of being judged.
🌻YOU ARE NOT ALONE. Come get new perspectives and shift your mindset to WIN in MOTHERHOOD!
☎️ ALL Biological Moms, Stepmoms & Single Moms.
🎯 Join us for "A Time to Heal Motherhood" 10 City Talk Tour.
💻Register TODAY for 🛑#3 in Yorba Linda, California.
"When women come together we can heal anything." - Tuniscia Okeke
Your VOICE MATTERS! Register today!
Learn more about us at www.blendingourlove.com .