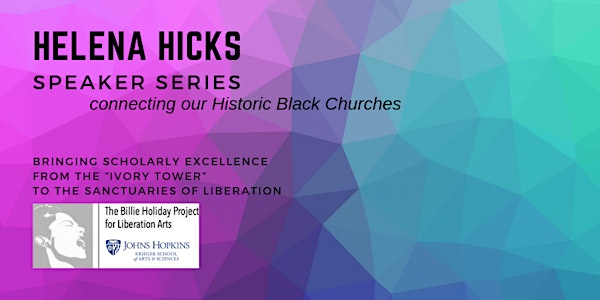 A Time of Scorching Irony: Black Wisdom for Our Current Century
Speaker Series in honor of civil rights icon Helena Hicks features scholars of African and African American history, culture, and politics.
When and where
Location
Sharp Street Memorial United Methodist 1206 Etting Street Baltimore, MD 21217
About this event
"A Time of Scorching Irony: Black Wisdom for Our Current Century"
October Speaker, Professor N.D.B. Connolly (Bio)
Talk Summary:
In his famous 1853 speech, "What to the Slave is the 4th of July," Frederick Douglass described the 1850s, the doorstep of the U.S. Civil War, as an age where "scorching irony not convincing argument is needed." Prof. Nathan Connolly suggests we are living in such times again. Exploring African American's historical skepticism for reasoned debate within white-dominated institutions, Prof. Connolly highlights the long-standing necessity of critical black argumentation for redressing the narrowness of American politics and for averting the environmental and economic dangers visited upon those living under that system.
About the Helena Hicks Speaker Series
Why an ecumenical speaker series in West Baltimore?
Churches have been the centers of African American intellectual life for over two centuries. In the present political moment, historic African American churches with longstanding commitments to social justice – Union Baptist, Bethel A.M.E., St. James Episcopal, Sharp Street, among others – remain particularly vital to the defense of personal liberties and collective freedoms in our city.
Guided by an ethical imperative to usher Hopkins' abundant resources out of the "ivory tower" and into the sanctuaries of liberation, the Helena Hicks Speaker Series of the Billie Holiday Project for Liberation Arts seeks to support Baltimore's oldest African American churches in fulfilling their time-honored roles as keepers of memory, sites of civil dialogue, and agents of ethical and intellectual advancement. By hosting scholarly events at multiple churches throughout the year, the Billie Holiday Project aspires to share Hopkins' human resources more equitably while also stimulating fellowship and the cross-fertilization of ideas across congregations.
For information and the full series roster, visit the Billie Holiday Project for Liberation events calendar.