A TEDxConcordiaUPortland Adventure: Tiny House Tour

Saturday, March 2, 2013 from 11:00 AM to 12:30 PM (PST)
Event Details
Tiny House Tour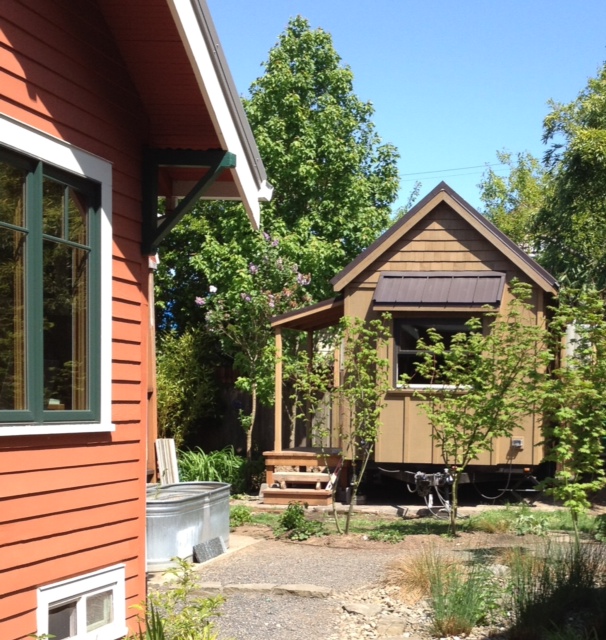 Hosted by Dee Williams and Portland Alternative Dwellings
There's a lot of chatter about reducing your carbon footprint, living more sustainably and with intention, and for the past year one group of friends has been walking their talk in a brilliant new way. They lovingly call it "POD 49," and it includes their three homes, the greenbelt between them, and the innovative idea that they're better
together than apart.

Join Dee Williams, a TEDxConcordiaUPortland 2011 speaker, and Portland Alternative Dwellings (www.PADtinyhouses.com) to tour POD 49, with a focus on:

Micro Housing - Tour Gina's little house, offering a palacial 120 square feet of living space. Cute as a button, and not much bigger.  

Green Building - Tour Rita and Joan's house, remodeled using salvaged and second use materials, energy efficient windows, 'green' building materials and a grid-tied solar array. This will be a great way to get new ideas for old house challenges.

"Communitecture" (community design and integration) - Tour and discuss POD 49's communal systems, and examine how these systems help create one spot called "HOME" for three separate households. Yes, it is possible to double or in this case, triple, your fun by learning new ways to share space.
We will be in touch with attendees about the location for this Adventure closer to March 2nd.

Organizer
TEDxConcordiaUPortland
What is TEDx?

In the spirit of ideas worth spreading, TED has created a program called TEDx. TEDx is a program of local, self-organized events that bring people together to share a TED-like experience. Our event is called TEDxMtHood, where x = independently organized TED event. At our TEDxMtHood event, TEDTalks video and live speakers will combine to spark deep discussion and connection in a small group. The TED Conference provides general guidance for the TEDx program, but individual TEDx events, including ours, are self-organized.

What is TEDxMtHood?

It's an independently organized and licensed offshoot of TED, you know, the huge speaking event with "ideas worth spreading". The event where they provide a way for us to hear great ideas from thinkers who have an idea that is changing the world. The one where amazing individuals are giving an 18-minute or less "talk of a lifetime".
We hold a big annual event in the spring of each year with approximately 15 live speakers and several performers for 800+ attendees and TEDx Adventures throughout the year for more intimate, hands-on opportunities to interact with our speakers and their ideas worth spreading.
Follow us on Facebook or Twitter for the most up-to-date news from our community and check our website regularly for new information: www.TEDxMtHood.com