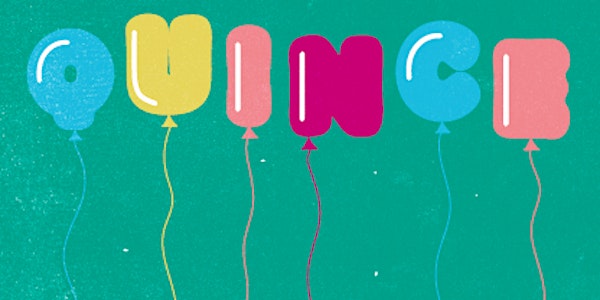 a TEAM Petri Project: QUINCE!
QUINCE is an immersive quinceañera theatrical experience that explores the story of a 14-year-old Mexican American girl named Cynthia.
When and where
Location
The People's Garden 1237 -1241 Broadway Brooklyn, NY 11221
About this event
Quince, written and created by Camilo Quiroz-Vazquez and directed and created by Ellpetha Tsivicos, is an immersive theatrical experience where we invite audiences to enter a not-so-traditional quinceañera, featuring the story of Cynthia, a 14-year-old Mexican American girl confronting her queer identity on the eve of her special day.
Outdoor socially-distanced performances will take place at the People's Garden in Bushwick, Brooklyn. Performances are:
Friday, August 21st at 5:30pm
Friday, August 21st at 8:00pm
Saturday, August 22nd at 5:30pm
Saturday, August 22nd at 8:00pm
Runtime is 75 minutes
You must RSVP to attend. COVID-19 safety precautions include:
Limited audience capacity of 45
Social distancing of 6-feet between audience seats, and audience groupings limited to 2-4 individuals from the same household.
Masks are required for all audience members and performers at ALL times. We will be providing masks to all attendees.
Disinfectants/Hand Sanitizer/etc. will be on site and surfaces will be thoroughly disinfected after use.
To read more about our safety precautions and protocols please visit: http://theteamplays.org/up-next-quince-our-latest-petri-project/
About Ellpetha Tsivicos (Director) + Camilo Quiroz-Vazquez (Writer)
Ellpetha Tsivicos (Director/Co-Creator) is a multidisciplinary artist based in New York City. She is a first-generation Cypriot-American, a dual identity rooted in the ancient rural traditions of her ancestral land. Ellpetha graduated from New York University with a BFA in Drama, and a minor in Art and Public Policy. In 2012, she co-founded a multimedia production company, One Whale's Tale, which has produced award winning shorts – Fruit Detective (Director) and Dolores – as well as the comedic web-series This Is Me Trying (Director), which was featured on FunnyorDie, NY Mag, Dailymotion, and the Wild Magazine. She has recently directed a music video, Hurt Me, by #8 Billboard artist Michelle Kash, and a web-series, Beds. Collaborating alongside visual artist Mariah Robertson, Ellpetha has performed at the MoMa, Ps1, Art Basel, and the Art in Embassies Gala at the Smithsonian Institute. In addition, she recently completed her second artistic collaboration as a designer and performer on the immersive spectacle Leonora's World, with Double Edge Theatre. Ellpetha was the Associate Producer of Primer for a Failed Superpower, a concert of intergenerational protest music, directed by Tony Award winner Rachel Chavkin.
Camilo Quiroz-Vazquez (Writer/Co-Creator) is a Chicano theater artist, filmmaker, and visual artist from the mythical land of Aztlán. He began his artistic journey at a community arts center, Plaza de La Raza. This education inspired and empowered him to study at New York University's Tisch School of the Arts. Through his production company and an ongoing 10-year collaboration with Ellpetha Tsivicos, Camilo has written and co-produced two award-wining short films: Dolores, a drama about colorism in the Mexican-American community, and Fruit Detective, a slapstick noir. In 2018 Camilo first collaborated with The TEAM on a short documentary around the creation of, Primer for a Failed Superpower. Camilo has developed his love of spectacle and collaborative performance through training and artistic collaborations – spanning 8 years – with the Double Edge Theatre ensemble. Camilo's work is driven by the stories, songs and dances of his parents, grandparents, aunts, uncles, cousins, godparents, friends, neighbors, and spirits who intimately shared the spaces of his childhood.