Description
Come with us on a voyage to the Andes, a vast mountain range, running through a good part of South America. Maybe you are familiar with Machu Picchu; a village built 8,000 ft above sea level in the 15th century. It's one of the 7 wonders of the world also part of the Andes. Tonight we're cooking with flavors that will tickle your tastebuds; developed by the indigenous people, whom were natural farmers.
Daniela leads this journey first with a Solterito Salad; a refreshing salad with corn being the forefront ingredient. Then, we'll be preparing Ahi de Gallina, a traditional Peruvian chicken dish. The bright yellow color comes from the ahi Amarillo peppers and also alludes to the hint of heat in this recipe. Next, we will be enjoying Truncha Ahumada or Smoked Trout. The curing process grew popular before refrigerators. Now, the slightly salty and smoked flavor is quite the treat. We will be accompanying these dishes with Huacaina Potatoes, a creamy potato plate, that'll have your mouth watering. Finally, we will conquer Torta Impossible; the Impossible Cake, which is Half Chocolate Cake and Half Flan. Who could resist? It's the best of both worlds!
We hope you'll enjoy this journey with us! ¡Hasta Lluego!
What to look forward to:
Solterito Salad
Aji de Gallina
Truncha Ahumada
Huancaina Potatoes
Torta Impossible
*If you have any dietary restrictions we may accommodate, please contact us at EncinitasMarketing@Lazyacres.com
About Chef Daniela: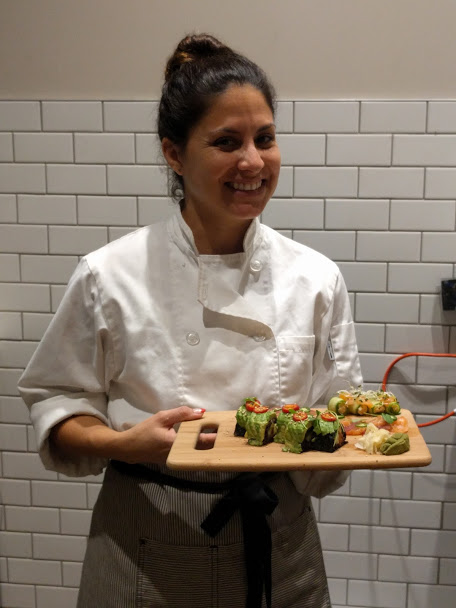 Precision, mastery, art; these are qualities you can expect from Chef Daniela. Starting with her time at Le Cordon Bleu in South America to her tutelage from professionals here in the States, Daniela has travelled the globe for dishes with distinction. Focusing on quality, Daniela emphasizes health and wellness through her preference of Organic ingredients and creating amazing flavors.
FAQ:
The room may get cold! Please bring a sweater.

Do you have age requirements?
This is a class designed for adults. This class will expect our students to have some degree of technique already known. That being said, we ask that students are no younger than 12.
Can I drink alcohol in the class?
Unfortunately we cannot allow consumption of alcohol during the class. We're working on it though!
What type of class is this?
This is a "hands-on" class, and that means full participation! Activities might include slicing, dicing, chopping, & sautéing. Each class will have its own tasks that will be determined by the dishes being made.
What are the requirements for this class?
We ask all students to come with close-toed shoes. We also recommend you wear sleeves no longer than your forearm and have a hair tie for those with longer hair.
Do I need to bring my ticket to the class?
If you're able to print a copy of your ticket that's great; if not, you can also have the ticket information on your phone. We ask that you have this information ready once you walk into the room so that we can do check-in in a timely manner.
What if I have a food restriction?
Please give us a heads up as soon as possible! We'd love accommodate as best as possible.
Can I buy a gift certificate?
Yes!
What should I do if I have more questions?
Please e-mail us at

EncinitasMarketing@Lazyacres.com