Location
Landmarc @ The Time Warner Center
10 Columbus Cir
New York, NY 10023
Description
Chef Marc Murphy leads an all-star panel of New York food and wine producers for a Q & A session along with a uniquely curated drink and tasting menu featuring the best food and wine that New York State has to offer.
Connect with NYC Hospitality Industry Leaders to celebrate and discuss the importance of utilizing local products and supporting New York farmers, distillers and winemakers.
Cocktail Attire and tickets must be purchased by 11/05. Attendence is limted; prompt response is recommended. Invitation non-transferable.
A portion of the proceeds will go to NYS Restaurant Association Educational Foundation.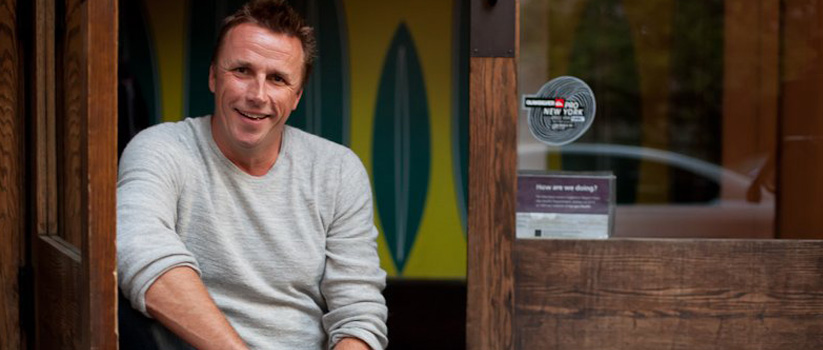 Ask Chef Marc Murphy where he grew up and he'll fire off a list of cosmopolitan destinations — Milan, Paris, Villefranche, Washington DC, Rome and Genoa — "and that's before I turned 12," he'll explain. This dizzying list of hometowns served as an excellent education in French and Italian cuisine, though as a teenager this was not his first passion. When the reality hit that he didn't have the funds to become a professional race car driver, Murphy followed his brother to the Institute of Culinary Education. Following graduation, he apprenticed at restaurants in France and Italy before returning to New York where he landed a job as a line cook at Terrance Brennan's Prix Fixe. He stayed there for almost two years, working his way through every station in the kitchen and forging a professional bond with Brennan's Sous Chefs Joseph Fortunato and David Pasternak.
Eager to return to Europe, Murphy flew to Paris and landed a position at the one-star Le Miraville, where he stayed for one and a half years. Afterwards, he staged at the famed Louis XV in Monte Carlo, where Executive Chef Alain Ducasse was so impressed with Murphy's skills that he personally made arrangements for him to work with Sylvain Portay at Le Cirque once he returned to the States. Murphy still considers Portay to be his greatest teacher. "Sylvain was above all concerned with coaxing out the most vibrant, interesting flavors any ingredient had to offer, yet he insisted on minimal manipulation," he recalls. Following Le Cirque, Fortunato tapped him to work as a Sous Chef at Layla, Drew Nieporent's Middle Eastern fantasy in TriBeCa, where he met consultant Georges Masraff. When Masraff joined forces to open Cellar in the Sky at Windows on the World, he recruited Murphy to serve as Executive Chef. After receiving critical acclaim, including a two-star review from the New York Times, Murphy headed uptown to serve as Executive Chef of La Fourchette where the Times' critic Ruth Reichl awarded him another glowing two-star review, citing his "open desire to transform food [so that] in his hands, even a simple green salad … Looks like a ruffled hat in a painting by Renoir."
In March 2004, Murphy opened his first solo enterprise with Landmarc [Tribeca], which won rave reviews both for its eclectic French and Italian menu as well as its highly untraditional wine list. Following its success, Murphy opened Ditch Plains in the West Village in 2006 serving casual, beach-style cuisine such as lobster rolls, fish tacos and the infamous ditch dog as well as other comfort food favorites. In 2007, Murphy was given the opportunity to open another Landmarc restaurant in the prestigious Time Warner Center where he brought his bistro-style cuisine midtown. Ditch Plains has also expanded in the past few years with an outpost in the newly renovated Brooklyn Bridge Park and most recently in spring 2011 with a new Upper West Side location. Murphy's restaurants now fall under the Benchmarc Restaurants by Marc Murphy name, where he acts as executive chef and owner. In addition to the restaurants, Murphy also heads up the company's catering division, Benchmarc Events by Marc Murphy, where his signature style of accessible contemporary cuisine transcends the boundaries of what is offered in his restaurant locations.
Today, Murphy's involvement in the industry moves beyond the restaurants as well, with a regular role as a judge on The Food Network's highest rated hit, CHOPPED as well as appearances on IRON CHEF AMERICA, HOT CHEFS, THE MARTHA STEWART SHOW, MAKE MY DAY, UNIQUE EATS, THE BEST THING I EVER ATE, BEST THING I EVER MADE, THE RACHEL RAY SHOW and THE TODAY SHOW among others. He is the Vice President of the Manhattan chapter of the New York State Restaurant Association, a board member of City Harvest, Culintro, Passport NYC at the 92nd Street Y Culinary Camp and is both the official spokesperson and a member of the Leadership Council for Share our Strength's No Kid Hungry campaign.