Description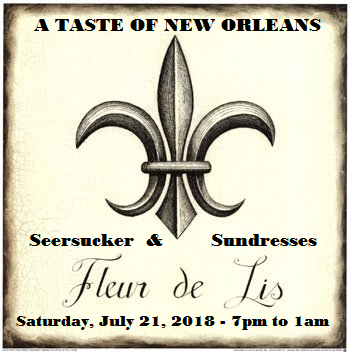 ---
A TASTE OF NEW ORLEANS: Cigars & Sundresses Fleur de Lis
Brought to you by the same team that brought you A TASTE OF DC with the Legendary DJ BIZ MARKIE at the "Hip-Hop Casino" and the Crown Royal "NBA & NFL All Star White Party" at the JW Marriott in DC, as well as the "Go Go Explosion" with Chuck Brown and the "Grand Finale" at the Grand Hyatt in DC, we now bring you A TASTE OF NEW ORLEANS!!!!
As we convene in brotherly love in the "Big Easy" we bring you our signature event for the weekend... Cigars & Sundresses Fleur de Lis!!!! To set the atmosphere for your cajun experience we've secured the ENTIRE Audubon Aquarium and Lawn areas located at the end of Canal street in Downtown New Orleans, with breathtaking views as you stroll through Woldenberg Park alongside the Mighty Mississippi River. www.audubonnatureinstitute.org/aquarium
Inside the Aquarium the host DJs will be playing today's popular Rap, Hip-Hop, and R&B as you dance along side exotic Sea Turtles, Sea Otters, Penguins and Parakeets; enjoy a cocktail under a variety of eloquent Geaux Fish, Seahorses, and Giant Sharks; and even explore Alligators within the Mississippi River Gallery exhibit on your way to the Sting Ray Touch Pool.
Outside the Aquarium relax under the stars on the Plaza Lawn to LIVE Blues, Jazz, and R&B music (Band and/or National recording artists TBD), along with FREE handrolled Cigars for the first 150 registered VIP guests from The Cigar Factory New Orleans (www.cigarfactoryneworleans.com ) and a VIP Hookah Lounge serviced by Attiki New Orleans (www.attikineworleans.com ) !!!!
Buffet Stations and Passed Hor d'Oeuvres of local Cajun Cusine and multiple Cash Bars will be provided throughout the venue.
Vendor, VIP Tickets, and VIP Table Service opportunities COMING SOON!!!!
So come join us as we experience A TASTE OF NEW ORLEANS!!!!
---