Description
EXPERIENCE A TASTE OF EUROPE WITH PLATINUM ELITE TRAVEL SERVICES
10 Day Tour from London to Paris
Vacation Overview
Get a "Taste of Europe" and sample some of Western Europe's best-loved areas, including England, Holland, Germany, Switzerland, and France. You'll visit the main cities—London, great for shopping, museums, and its cosmopolitan flair, but also Amsterdam, Lucerne, and Paris—and you'll also behold fascinating scenery and cruise scenic waterways. In Amsterdam, hear about its 165 canals with a total length of 100 kms (62 miles). As such an integral part of the city, you'll enjoy a canal cruise to appreciate Amsterdam from the waterways. Experience the wonder of a cruise on the Rhine—with its scenic countryside, historical castles, and charming villages. See the Lorelei rock and hear its legend about a distraught maiden who sat on the rock combing her long golden hair and luring passing navigators to their death. Dip into the Swiss Alps and discover Lucerne with its iconic Chapel Bridge. And finally, experience the "grandeur" of Paris and its special atmosphere. Breakfast is included daily, and most days, you'll have the opportunity to venture out and try local cuisine. Sample a pint of bitter in a local British pub, savor French wines in the Parisian cafés, and taste the local beer in Germany.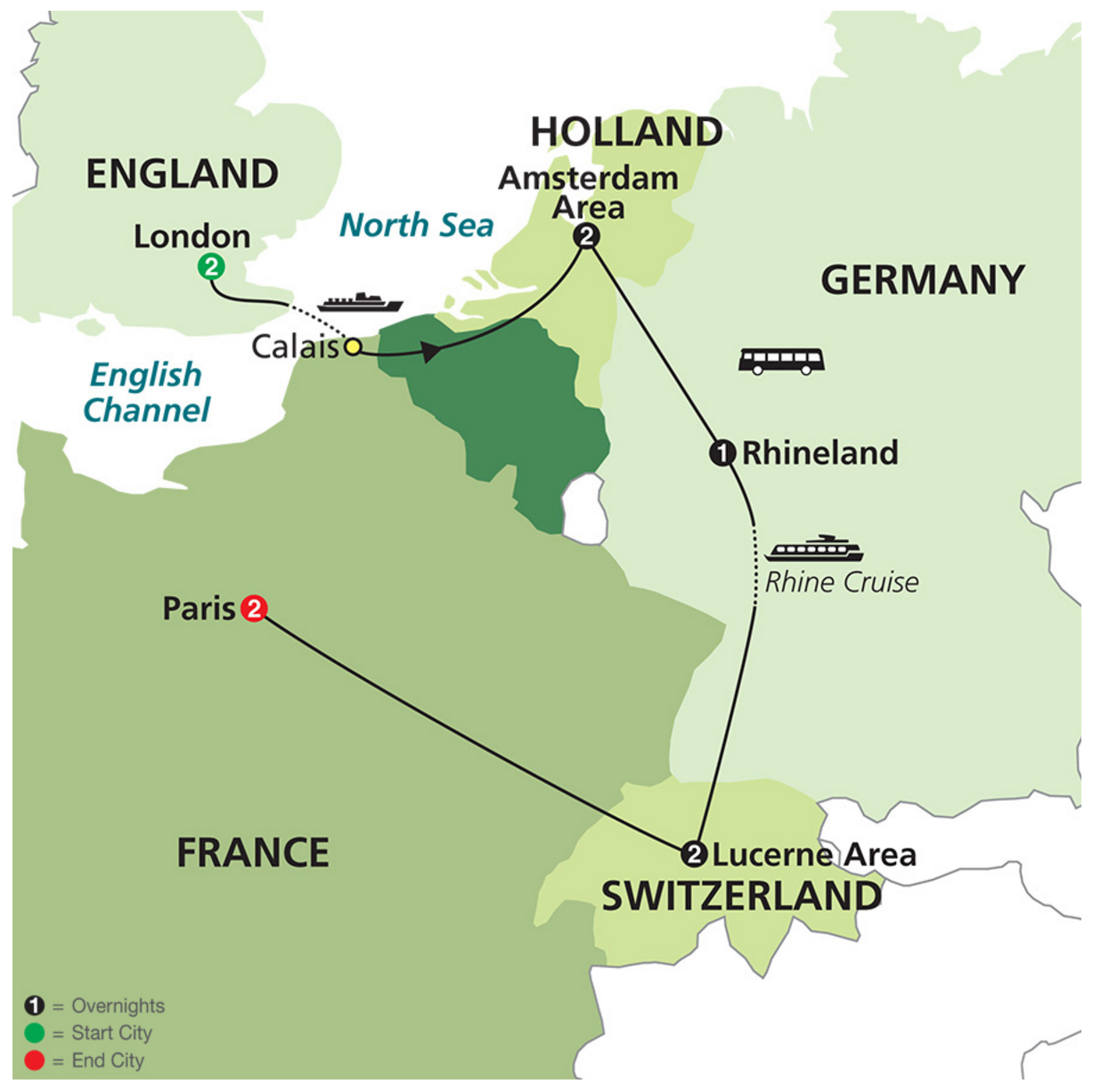 Itinerary


Day 1

Arrive in London, England

Check into your hotel. In the afternoon, you may want to start exploring the lively British capital. Uniformed hosts are available to help you make the most of your stay.
Day 2

London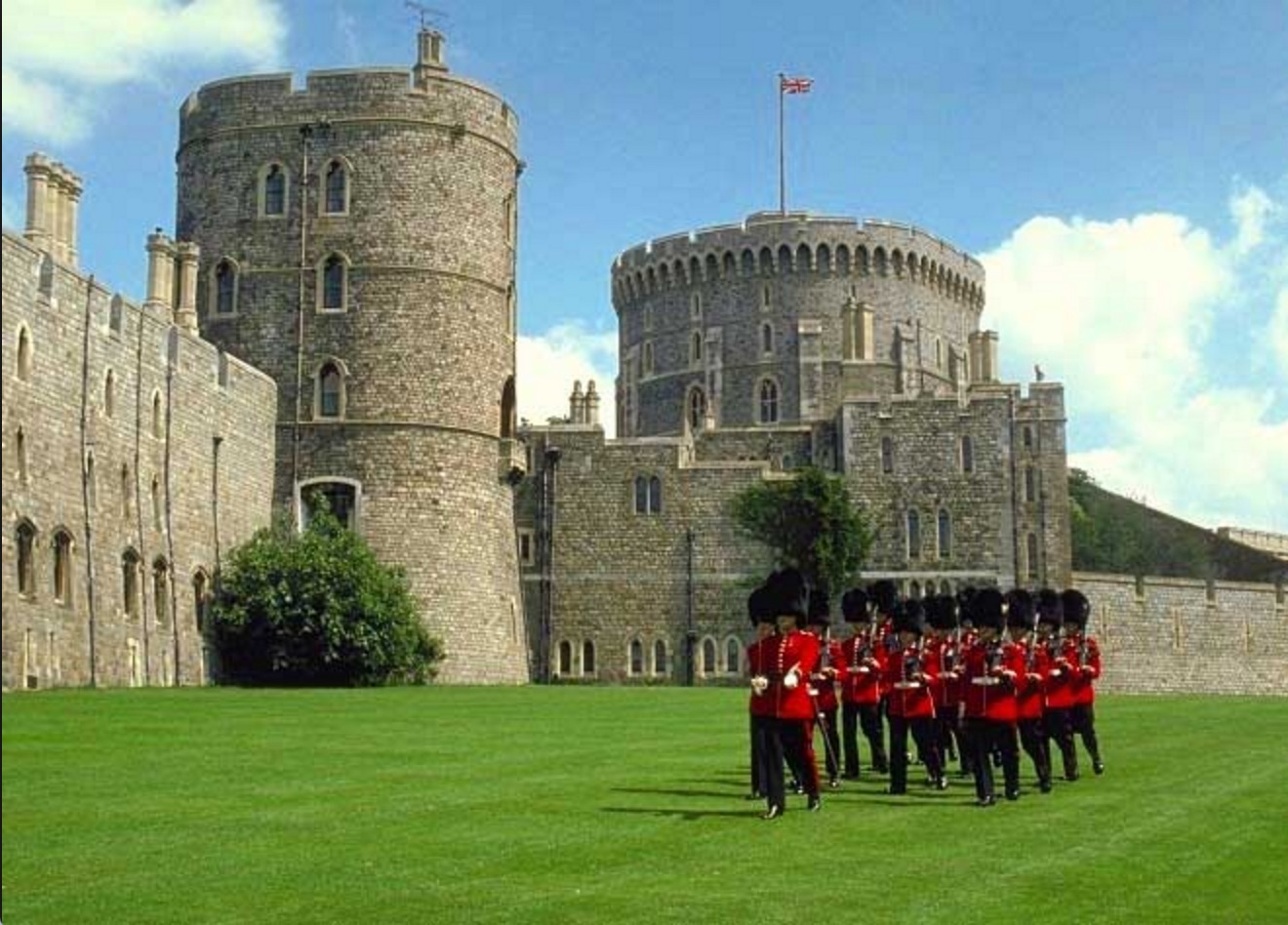 A full day to savor our rich program of optional activities: take a panoramic tour of London's landmarks, visit the Tower of London, or choose an excursion to Windsor Castle. Tonight, maybe a leisurely cruise on the Thames River? (Breakfast)
Day 3

London–Amsterdam Area, Holland

Leave London in the early morning and head through the lush English countryside to the Channel port, where you board your FERRY for the Continent. Here, your Tour Director and coach wait to take you to the Amsterdam area. (Breakfast)
Day 4

Amsterdam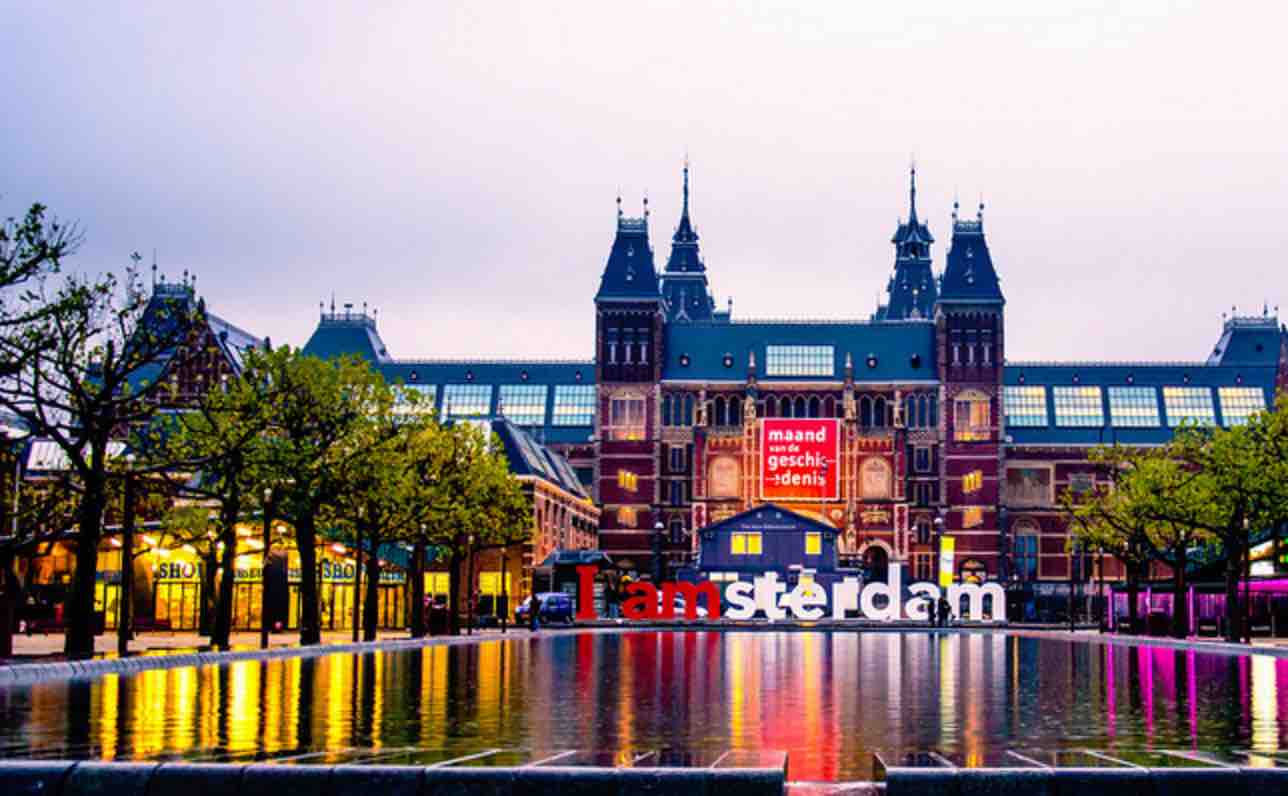 Today, enjoy a CANAL CRUISE to see the city from water level, then watch the cutting and polishing of precious stones at a DIAMOND CENTER in Amsterdam. Later, sightseeing with a Local Guide points out the city highlights. (Breakfast, Dinner)
Day 5

Amsterdam Area–Rhineland, Germany

Another morning in Amsterdam to do as you please, or to discover the beautiful Dutch countryside on an optional excursion. Later, travel southwards into the lovely landscape of the Rhine, where you will spend one night. (Breakfast, Dinner)
Day 6

Rhineland–Rhine Cruise–Lucerne Area, Switzerland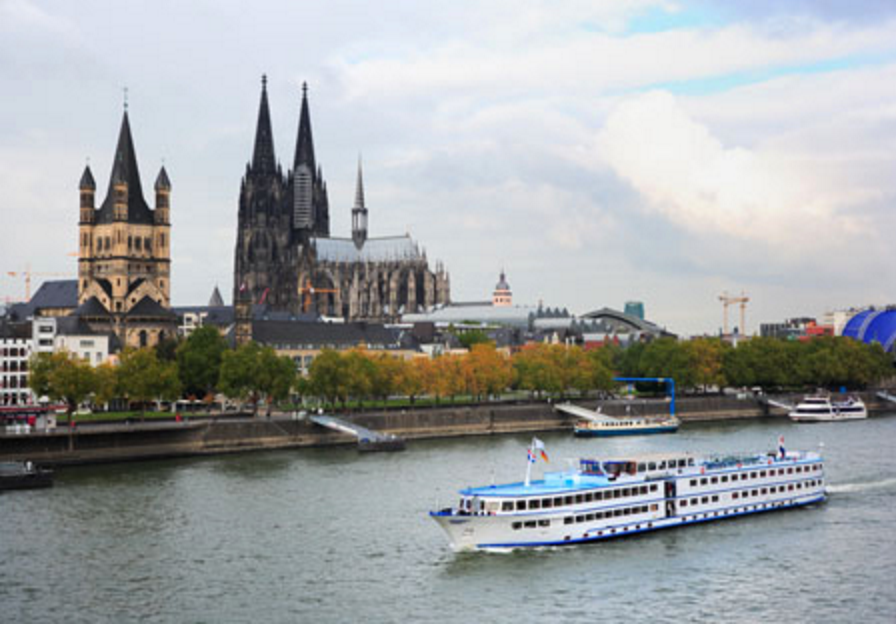 Start the day with an included RHINE CRUISE to see some legendary sights, including the Lorelei rock. Rejoin the coach for a comfortable drive southwards to the Swiss border at Basel. The scenery becomes more and more fascinating as you approach the Lucerne area for two overnights. (Breakfast, Dinner)
Day 7

Lucerne Area

One of Switzerland's finest cities, Lucerne is nestled amid its snowcapped Alps, surrounded by its lake, and embellished by the clear mountain waters of the Reuss River. Your visit takes in the impressive city walls, CHAPEL BRIDGE, ornate patrician houses lining cobblestone streets, and the LION MONUMENT—a masterful stone sculpture in honor of the heroic Swiss Guard of Louis XVI. A grand selection of optional activities completes the day: a cable-car ride to the 10,000-foot summit of Mount Titlis; a cruise on the fjord-like lake; and, of course, time to shop for that very Swiss watch. (Breakfast)
Day 8

Lucerne Area–Paris, France

Enjoy vistas of green pastures and attractive chalets with rustic timbering and luxuriant flowers. Then, head into France on the fast highway, past some of its most famous vineyards, to Paris. Arrive in time to enjoy the optional cabaret show. (Breakfast)
Day 9

Paris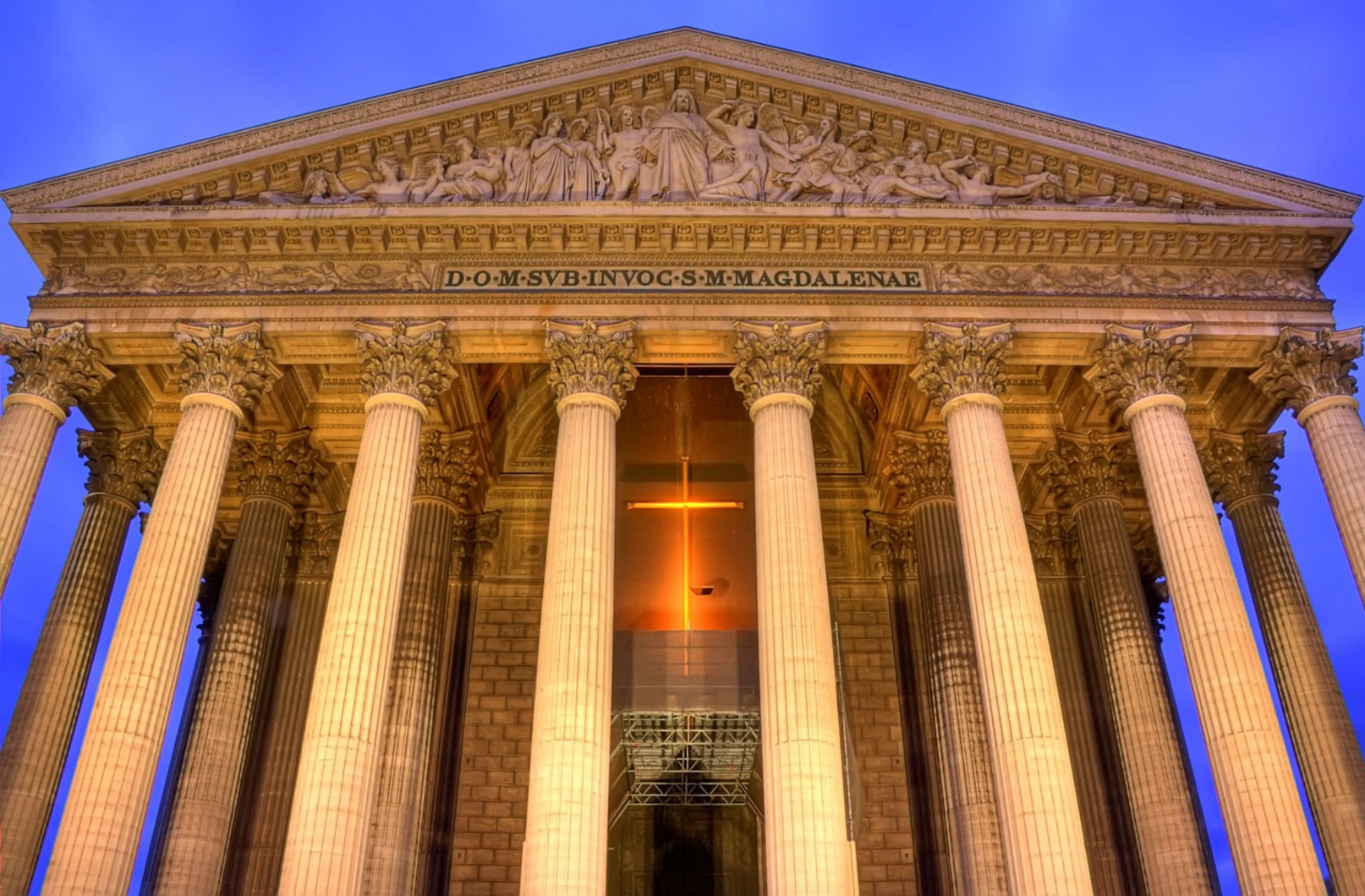 One full day to explore the city that's known throughout the world for its fashions, art and museums, delicious food, and joie de vivre. Included sightseeing with a local expert shows off many of the best-known Parisian sights: La Sorbonne, Arc de Triomphe, Opéra, Madeleine, the Eiffel Tower, the Pyramid near the Louvre, the Invalides, and Champs Elysées. Optional excursions are also available. Celebrate the success of your tour with an optional French farewell dinner. (Breakfast)
Day 10

Paris

Your vacation ends with breakfast this morning. (Breakfast)



Accommodations


MEALS
Buffet breakfasts daily; 3 dinners


TRANSPORTATION
Transportation:
Round-trip transportation between London and the Channel ports; on the Continent, private first-class air-conditioned motorcoach; cross-Channel ferry; Rhine cruise


SUPERIOR HOTELS - (D) Deluxe (SF) Superior First-Class (F) First-Class
LONDON Novotel London West (F)
AMSTERDAM AREA NH Airport (F) at Schiphol or Holiday Inn Express Arena (ST)
RHINELAND Mercure Köln West (ST) or Avendi (F) at Bad Honnef
LUCERNE AREA Royal (ST) or Ibis (ST) at Kriens or Drei Könige (ST) or Ibis Styles (ST)
PARIS Timhotel Berthier (ST) or Ibis La Villette (ST)
AVAILABLE TOUR DATES:
5/18/17-5/27/17
6/8/17-6/17/17
7/6/17- 7/15/17
8/24/17-9/2/17
9/21/17-9/30/17
10/5/17-10/14/17
12/24/17-1/2/18
3/15/18-3/24/18
3/22/18-3/31/18
PRICE
Land Only $1,899.00 Based on double occupancy
Land & Flight $2799.00* Based on double occupancy *subject to change until deposit is paid...
***FINAL PAYMENT DATE - Provided after deposit is submitted***
*IF YOU PURCHASE YOUR OWN FLIGHT YOU MUST ARRIVE ON THE MORNING OF YOUR TOUR START DATE*
*ALL PAYMENTS ARE NON-REFUNDABLE AND NON-TRANSFERABLE*
*OTHER TRAVEL DATES ARE AVAILABLE*