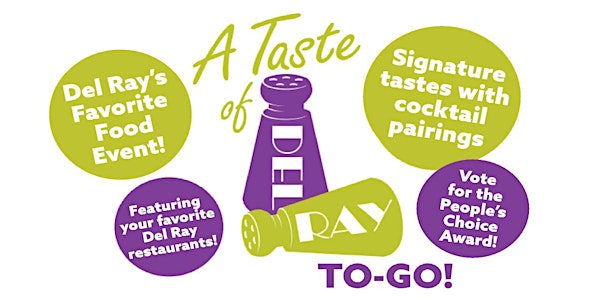 A Taste of Del Ray To-Go!
Top Del Ray restaurants showcase their culinary talents.
When and where
Location
Del Ray, Alexandria Mount Vernon Avenue Alexandria, VA 22301
About this event
Top area restaurants are slated to participate in the 12th Annual Taste of Del Ray. The event, named one of Virginia Living Magazine's top food festivals in the state, will shift to a weekend-long format from Friday, June 4 to Sunday, June 6.
Throughout the weekend, each participating restaurant will offer select "tastes" on their individual menus for just $5 each. Restaurants are also encouraged to offer cocktail pairings to complement their dishes. Order a bunch of Tastes to go, or enjoy them as an appetizer or part of your meal! Please note: Tastes are available at individual restaurants for purchase; we plan to return to our traditional event next year!
Register Now! (Fee: $5)
Online registration for the event is just $5, gives you access to an online ballot to cast your vote for the coveted People's Choice Award. Both the ballot and menu will be sent to the email address registered via Eventbrite. Proceeds from the event will help fund future Del Ray Business Association events.
Participating Restaurants & Ordering Information
All "tastes" need to be purchased directly from participating restaurants; they will be available on their online menus starting Friday, June 4, and through Sunday, June 6.
Each restaurant has the option of offering up to three food entries in the competition; all entries are available for just $5 each, and will be available from June 4-6. Restaurants also have the option to offer VIP cocktail pairings (prices vary), which will not be judged.
Tastes are available for dine-in or carry-out, depending on the restaurant's protocols.
Special Taste of Del Ray menu items will be available June 4-6 for pick-up or dine-in at the restaurants during their normal operating hours. All restaurants will continue to follow all COVID-19 safety procedures. Please note: if you choose to enjoy your Taste at home, pick-up your order, instead of using third-party delivery services, to maximize the financial benefit to the restaurants.
People's Choice Award
All registrants will receive an online ballot for the People's Choice Award, to the email used for registration. Online voting closes at 8:30 p.m. on Sunday, June 6.
The Judge's Choice and the People's Choice awards will be announced on Monday, June 7.
Entries
NOTE: This year, all "tastes" need to be purchased directly from participating restaurants. Links are provided to each of their individual websites; they will be available on their menus from Friday, June 4 to Sunday, June 6. All food entries are specially priced at $5.
Click here for a printable menu. Individual dishes from each participating restaurant:
Bella Napoli (1310 Mt Vernon Ave.)
FOOD ENTRY #1: Small Cheese Pizza
FOOD ENTRY #2: ANY Pasta
FOOD ENTRY #3: Cheesecake
VIP COCKTAILS: Sangria and House wine (Red or White)
Cheestique (2411 Mt. Vernon Ave.)
FOOD ENTRY: Three-cheese savory cheesecake
VIP COCKTAIL: Floradora (gin, Chambord, lime, grenadine and ginger ale
Del Ray Pizzeria (2218 Mt. Vernon Ave.)
FOOD ENTRY #1: Baked Avocado filled with fried egg and cheddar
FOOD ENTRY #2: Chili Verde Pulled Pork Slider (pork bacon cheese on brioche)
FOOD ENTRY #3: Beignets with chocolate sauce
VIP COCKTAIL: Jupiter Jazz
Evening Star Cafe (2000 Mt Vernon Ave.)
FOOD ENTRY #1: Chilled pea salad with Ricotta salata, shaved shallots,and Earl Grey Vinaigrette
FOOD ENTRY #2: Local Coffee Custard (served chilled with sweetened cream and cocoa powder)
Hops N Shine (3410 Mt. Vernon Ave.)
FOOD ENTRY #1: Wings- Choose boneless or bone-in, and your choice of any of our wing sauces. Served with a feta cilantro dip
FOOD ENTRY #2: The OG - Our original grilled cheese, served with a shot of our tomato soup perfect for dipping
FOOD ENTRY #3: Small Totchos - Our signature tots, topped with beer cheese, guacamole, sour cream, and pico de gallo
VIP COCKTAILS: 1) Taste the Rainbow - Skittles infused moonshine, triple sec, lime, agave; 2)1800 Coconut Strawberry Frozen Slushy; 3) Mai Tai - Kraken black spiced rum, Cruzan silver rum, triple sec, orange, pineapple, lime
Junction Bakery & Bistro (1508 Mt Vernon Ave.)
FOOD ENTRY: Chiquito Cubanos -- a staple sandwich in Latin culture made with freshly baked bread (in house), mojo pork, rosemary ham, mustard, cilantro mayo, and house-made dill pickles.
VIP COCKTAIL -- The Tortuga -- a refreshing summery Rum based cocktail
Lena's Wood-Fired Pizza & Tap (401 E Braddock Rd.)
FOOD ENTRY: Italian Lemon Cake
VIP COCKTAIL: Bottle of champagne
Live Oak Restaurant/Elo's Italian Pop-Up (1603 Commonwealth Ave.) -- note: Elo's is closed on Sundays
FOOD ENTRY: Meatball appetizer -- two meatballs made with veal, pork, & beef, with Creamy Polenta, Pomodoro Sauce, and Pecorino
VIP COCKTAIL: Live Oak OG Old Fashioned
Pork Barrel BBQ (2312 Mt Vernon Ave.)
FOOD ENTRY: Cup of white chicken chili
Spice Kraft (2607 Mt Vernon Ave.)
FOOD ENTRY #1: Raj Kachori Chaat (Indian Street Food)
FOOD ENTRY #2: Mango & Gulab Falooda
VIP COCKTAIL: Madras Margarita (Chili Lime Margarita wine, ginger-infused tamarind chutney, house sour, & Himalayan pink salt)
Stomping Ground (2309 Mt. Vernon Ave.)
FOOD ENTRY: Cheddar Blue Corn Grits with a Pork Ragu
VIP COCKTAILS: 1) Strawberry Lemonade; 2) Coors Banquet Beer; 3) Counter Culture Espresso Martini: Big Trouble Espresso, Vodka, Kahlua, Vanilla Syrup; and 4) Southern Crush: Bourbon, Orange Liqueur, Fresh OJ, Peach, Lemon Lime Soda
Swing's Coffee (501 E. Monroe Ave.)
ENTRY: Bourbon Barrell-Aged Nitro Draft Latte -- this non-alchoholic, caffeinated beverage consists of cold brewed coffee that has been aged in a bourbon barrel, infused with nitrogen to provide a creamy cascading effect, and then combined with vanilla and cream for a slightly sweet, creamy draft latte with hints of bourbon
Taqueria Poblano (2400 Mt. Vernon Ave.)
FOOD ENTRY: Avocado-Poblano Gazpacho
VIP COCKTAIL: Summer Sangria
Food and drink specials will be updated this week as we receive them.
Thanks for supporting our local restaurants, and for keeping this (modified) tradition alive! Don't forget to cast your ballot (it'll be sent to the email you registered under in Eventbrite), and share your food photos to @visitdelray on Facebook and Instagram.