A Tale of Two Systems: What Went Wrong at Toshiba and Wells Fargo
Description
CJEB welcomes you to a symposium:
A Tale of Two Systems:
What Went Wrong at Toshiba and Wells Fargo
Featuring: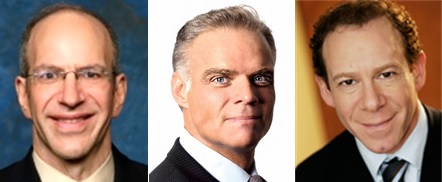 Bruce Aronson, Professor, Graduate School of International Corporate Strategy, Hitotsubashi University
Shane Goodwin, Senior Fellow and Project Director, Richard Paul Richman Center for Business, Law, and Public Policy, Columbia University
Josh Rosner, Managing Director, Graham Fisher & Co.
Moderated by:
Alicia Ogawa, Director, Project on Japanese Corporate Governance and Stewardship, Center on Japanese Economy and Business, Columbia Business School

Topics:
How did external board directors, investors, and journalists fail to uncover fraud and mismanagement at Toshiba and Wells Fargo?

What improvements can be made to US and Japanese systems of governance to prevent these problems?

Why did whistleblower laws not function as they were designed to do?
Biographies:
Bruce Aronson is a professor of law at Hitotsubashi University's Graduate School of International Corporate Strategy. He received his undergraduate degree from Boston University and his J.D. from Harvard Law School. Prior positions include being a corporate partner at the law firm of Hughes Hubbard & Reed LLP in New York and a professor of law at Creighton University. He also currently serves as an outside director at Eisai Co., Ltd, a listed Japanese pharmaceutical company.
Professor Aronson's experience in Japan includes studying at Waseda and Doshisha universities and working at the law firm of Nagashima Ohno & Tsunematsu. In addition, he was a Senior Fulbright Research Scholar at the University of Tokyo, a Visiting Scholar at the Bank of Japan, and a Senior Fulbright Research Scholar at Waseda University. (more)

Shane Goodwin has 25 years of M&A, corporate finance and principal investing experience at Goldman, Sachs & Co., Citigroup , Wells Fargo Securities, and Donaldson, Lufkin & Jenrette.
Most recently, he was a Managing Director and the Head of Investment Banking (Southwest US) at Wells Fargo Securities. He has advised on over 100 M&A assignments totaling over $50 billion in transaction value, including sell-side and buy-side transactions, anti-raid, takeover and activism defenses, cross-border M&A and restructuring advisory assignments. Additionally, he has executed over 100 public and private debt and equity investments totaling over $40 billion and has extensive private equity and corporate restructuring experience. Dr. Goodwin is the Chairman of Argus Capital Partners, serves on the Associate Board of the Cox School of Business at Southern Methodist University and is an active member of the CFA Institute and the National Association of Corporate Directors. (more)
Josh Rosner is managing director at independent research consultancy Graham Fisher & Co. He is the co-author of the New York Times Best Seller "Reckless Endangerment: How Outsized Ambition, Greed, and Corruption Led to Economic Armageddon." Burton advises regulators, policymakers and institutional investors on banking and mortgage finance and previously held roles at Medley Global Advisors, CIBC World Markets and Oppenheimer & Company. Rosner was among the first analysts to identify operational and accounting problems at the government-sponsored enterprises and one of the earliest to identify the peak in housing markets, the likelihood of contagion in credit markets, weaknesses in the credit rating agencies' CDO assumptions and structural vulnerabilities in the banking system. Rosner has testified before the U.S. House Committee on Financial Services, the Senate Committee on Banking and the European Commission. He has been interviewed on PBS, Bloomberg, CNN, CNBC, NBC, CBS and Fox News and is frequently quoted by major publications.
Advance registration is required. *
General Contact: Emiko Mizumura, em2265@columbia.edu
Media Contact: Ryoko Ogino, ro2213@columbia.edu

Please kindly note the following:
Registration will begin at 5:30 pm.

Please arrive early as seating will be filled on a first-come, first-served basis. The registration does not guarantee your admission.

Your presence at this event indicates your willingness to appear in any photos or videos produced by Columbia and by third parties. If this is an issue, please let us know. Thank you.