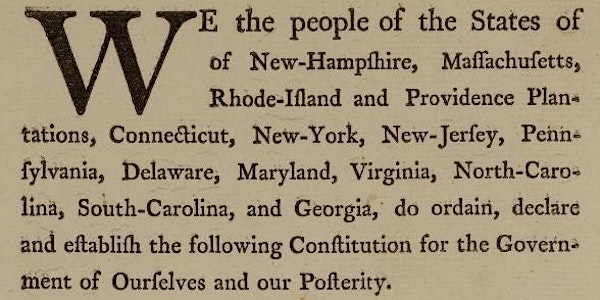 A System to Last for Ages: The 1787 Constitutional Convention
Fine tune your knowledge of how the Constitution evolved during the 1787 Constitutional Convention.
About this event
Delegates to the Constitutional Convention met over the course of 116 days in the hot summer of 1787. Dr. Stuart Leibiger will discuss how the Convention's rules over secrecy, voting, and debate shaped the Constitution. He then will trace the evolution of the Constitution from May 25 to September 17, 1787. After the triumph of the Virginia Plan and the counterattack from the New Jersey Plan, the Great Compromise finally broke the large state/small state deadlock. The first draft by James Wilson and the Committee of Detail then faced controversial revisions over slavery and a redesign of the Presidency. The final draft of the Constitution won the support of every state represented in the Convention, but not every delegate. A critical but often forgotten cover letter drafted by Gouverneur Morris eloquently defended the document and advocated for its ratification. Join us for this talk to fine tune your Constitutional knowledge and gain some fun facts along the way. Dr. Leibiger will feature a close look at the two earliest hand-written drafts of the Constitution that the Historical Society holds in its collection.
Speaker Bio:
Stuart Leibiger is professor and chair of the History Department at La Salle University. He received his BA from the University of Virginia and his MA and PhD from the University of North Carolina at Chapel Hill. His book, Founding Friendship: George Washington, James Madison and the Creation of the American Republic, was published by the University of Virginia Press in 1999. He has written numerous articles on the Founders for newspapers and for historical magazines, journals, and encyclopedias, and has been a historical consultant for television documentaries and museums. He has worked on the editorial staff of the Papers of George Washington and the Papers of Thomas Jefferson. He has taught Teacher Workshops in sixteen states and Washington, D.C. A former Organization of American Historians Distinguished Lecturer, he edited A Companion to James Madison and James Monroe, published by Wiley-Blackwell in 2013. In 2015, he won the George Washington Memorial Award, a lifetime achievement award for the study of George Washington given annually by the George Washington Masonic Memorial Association in Alexandria, Virginia. In 2016, he received La Salle University's Lindback Distinguished Teaching Award. His book The Constitutional Convention of 1787 was published by ABC-Clio in 2019. (leibiger@lasalle.edu)