Description
A Sustainable Future for Vermont: Advancing Innovative Policy
Please join the Vermont Green Building Network (VGBN) for our spring networking event at VEIC in Burlington on Wednesday, June 5th.
This event will begin with a networking reception complete with appetizers, ice cream, and a cash bar. We will then hear from five inspirational speakers giving the latest updates on how Vermont is reducing dependency on fossil fuels while supporting stronger, healthier communities.
You will hear from leaders at Efficiency Vermont, Vermont Public Interest Research Group (VPIRG), UVM's Rubenstein School of Environment and Natural Resources, Encore Renewable Energy, and Vermont Energy and Climate Action Network (VECAN). A Q+A will follow the presentations. The topics and speakers are:
"The Role of Efficiency Vermont in a Changing, Cleaner Energy Landscape" with Rebecca Foster, Director of Efficiency Vermont

"All about The ESSEX Plan: A Vermont-specific strategy to spur economic growth, reduce energy costs, and help the state meet its climate commitments" with Tom Hughes, Energy Independent Director at Vermont Public Interest Research Group (VPIRG)

"UVM Rubenstein School of the Environment and Natural Resource's Net Zero Energy Plan" with Gary Hawley, Environmental Sciences and Forestry faculty member in the Rubenstein School of Environment and Natural Resources

"Brownfields to Brightfields: Turning Liabilities into Assets and Providing Preferred Sites for the Energy Transition" with Chad Farrell, Founder/CEO of Encore Renewable Energy

"The Role of Communities and Policy in Meeting the State's Statutory GHG Goals, as well as our 90 by 2050 Total Renewable Energy Goal" with Johanna Miller, Energy and Climate Program Director at Vermont Natural Resources Council (VNRC) and Coordinator of Vermont Energy & Climate Action Network (VECAN)
Free for VGBN members*** | $12 for non-members.
***To join VGBN as a member, please visit: http://www.vtgreenbuildingnetwork.org/community/become-a-member/
Limited space. Please RSVP by May 31st!
Agenda:
5:30-6:15pm: Arrival, check-in + networking reception

6:15-7:30pm: Presentations, followed by Q+A
Event Details:
Date: Wednesday, June 5 from 5:30 to 7:30pm
Location: Town Center room at VEIC in Burlington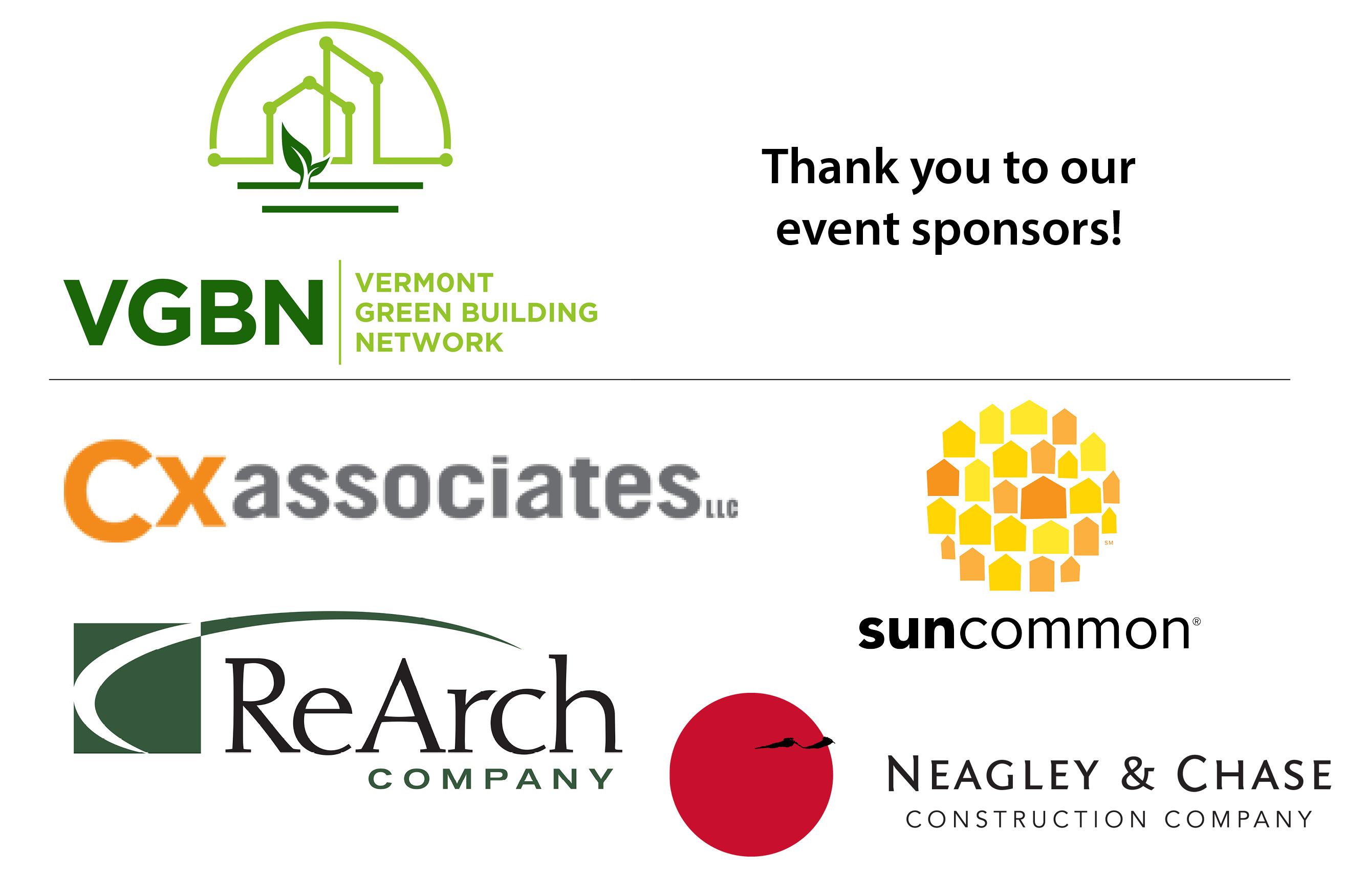 Cx Associates | Neagley & Chase Construction Co. | ReArch Company | SunCommon
Presenter bios:
Rebecca Foster is the Director of the statewide energy efficiency utility, Efficiency Vermont. In this role Rebecca leads the organization in delivering energy savings to all Vermonters. Rebecca previously served as Director of Consulting at VEIC, the nonprofit organization that operates Efficiency Vermont under and Order of Appointment from the Vermont Public Utility Commission. Prior to joining VEIC, Rebecca directed the Consortium for Energy Efficiency's residential sector initiatives for more than a decade, increasing efficiency standards for lighting, appliances, air conditioners, consumer electronics, windows, new homes, and existing homes. Rebecca holds a Bachelor of Arts degree from Boston University and a Master of Business Administration degree from Simmons College.
Tom Hughes is the Energy Independent Vermont campaign director at VPIRG, the Vermont Public Interest Research Group. His background includes private sector leadership roles (Sunward Systems, Country Home Products), political campaigns (Democracy for America, Vermont Democratic Party) and service on non-profit boards (Energy Co-op of Vermont, Renewable Energy Vermont). He is a graduate of the University of Vermont and the Campaign Management Institute of American University. He lives in Burlington with his partner and three daughters.
Gary Hawley is an Environmental Sciences and Forestry faculty member in the Rubenstein School of Environment and Natural Resources. He is also a member of the Williston, Vermont Conservation Commission. Gary's research interests include assessments of forest genetics and physiological responses of trees to environmental stresses such as climate change and anthropogenic pollution. Gary also directs many of the activities surrounding the green renovation of the Aiken Center and other Rubenstein School buildings. This nearly 20-year process includes teaching a yearly course, "The Greening of Rubenstein Interns," that has guided students through many aspects of energy efficiency upgrades and is currently pushing ahead to Net Zero Energy for these buildings.
Chad Farrell is the Founder and CEO of Encore Renewable Energy, a leading integrated clean energy project development company focusing on commercial-scale solar PV systems and 21st century solutions for underutilized property. Chad is a member of the Board of Directors for Renewable Energy Vermont, Vermont's renewable energy trade organization and serves on the Board of Directors for the Vermont Natural Resources Council, a statewide environmental advocacy organization. Mr. Farrell is also a member of the Vermont Climate Economy Action Team.
Johanna Miller is the Energy & Climate Program Director at the Vermont Natural Resources Council. Johanna also serves as the coordinator of the Vermont Energy and Climate Action Network, the statewide network of town energy committees and the partners who support them. In these roles, Johanna works from the grassroots to the Legislature to help advance clean energy and climate action programs and policies. Johanna recently served as a member of Governor Phil Scott's Climate Action Commission and also serves on the Clean Energy Development Fund board, the Vermont Energy Education Program board, the Vermont System Planning Committee and the Montpelier Energy Advisory Committee.
Directions + parking information:
At 128 Lakeside Avenue, enter the Innovation Center driveway on the east side of the building (closest to Pine St) and park in the lot to your right (east) before reaching the employee-only barrier gate. Walk around to the north side of the building and come through the main entrance of the Innovation Center building and take the elevator to the 4th floor. Go through two glass doors and follow the hallway (with the red/orange floor) to the right of the reception desk. Continue along the hall/orange path to the middle of the building where you will see a 2-story open area with a railing and stairway down into the Town Center space where the event will be held.