a sur|real night: meet your bff, soulmate & co-founder tonight
About this Event
We are over seven billion people on earth
. Every day we walk right past each other, right past thousands of different minds, missing all the possibilities.
sur|real creates community events and spaces to meet your ideal counterpart for friendship, business, or romance in a social environment with excellent snacks & good vibes only.
Our unique monthly events will attract our generation's next kickass parents, local craftspeople, and community leaders.
Join us and experience the magic at our next sur|real event
Upon arrival, our guests become an essential element of a fully immersive social experience. Guided by artificial intelligence, the sur|real matchmaking technology will carefully choose the most ideal connections for you, in the room, at that moment.
Forget what you know about meeting new people. Let's all leave speed dating in the last millennium. Find your besties, start-up team, and life partner using our innovative matchmaking technology.
Not another second spent carefully crafting a bio to somehow capture your complex personality & passions without compromising your carefree spirit
No more selfie sessions in front of the mirror to capture just the right angle for your profile
No more endless networking events that leave you drained with a pocket full of business cards you'll forget about and toss next month
Experience
Book your sur|real evening through Eventbrite
Follow the instructions and use your secret code to complete our simple six-question check in process at least 24 hours prior to event
Meet your sur|real matches, your ideal counterparts, face-to-face for ten minutes each
After each meeting, the sur|real app will ask if you are interested in future communication with your match for business, romance, friendship
In a few seconds, trust your intuition, and choose any, all, or none of the relationship types you are interested in with the match you have just met
After you have a sur|real evening, check the sur|real app to see if your matches are interested in the same type of relationship you are
Depending on which relationship types are reciprocated, the Business, Friendship or Romance Icons will change from grey to a bright color in the sur|real app, and the option to send your contact card to the other will be unlocked
The relationship type icons for any unreciprocated matches will remain grey, this indicates the relationship type is not desired by both parties & our community must always respect this
Send your contact card to your favorite matches and start your new adventures together!
sur|real creates the tech, event experience, and the occasion to meet someone incredible for a few minutes… the rest is up to you.
Will you be open to magic when you feel it?
🏳️‍🌈 Our LGBTQIA friends are always welcome 🏳️‍🌈
For more romantic matches, please stay tuned for our first queer event this fall!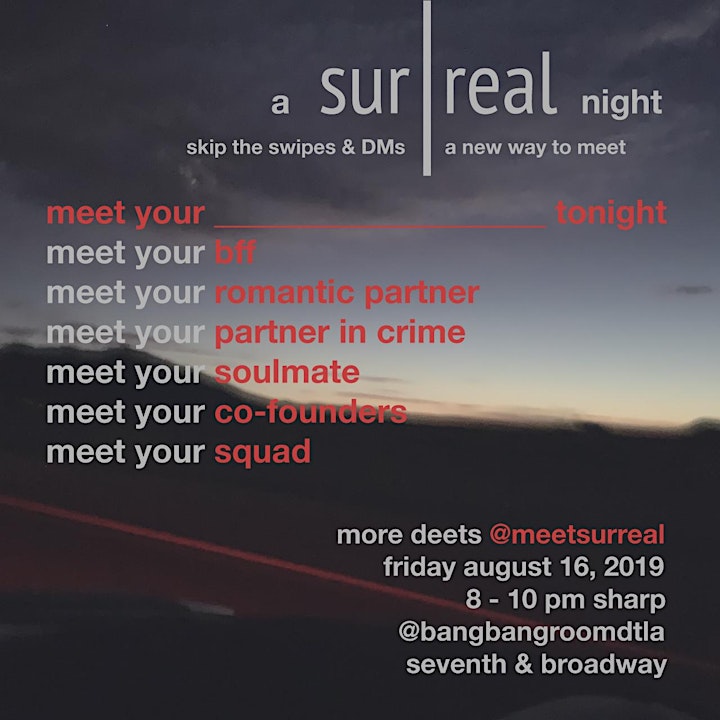 For each sur|real ticket purchase, our guests will receive a unique event check-in code that can be used to access any one of our sur|real night events. For this reason unfortunately, tickets are non-refundable. However, our tickets are highly transferrable, so you can always gift your code to a friend! If you are buying tickets as a group, please place your order in the same purchase to avoid matching with your group, or send your group's names to hi@meetsurreal.com
Note: Group sales limited to maximum of 3 people.