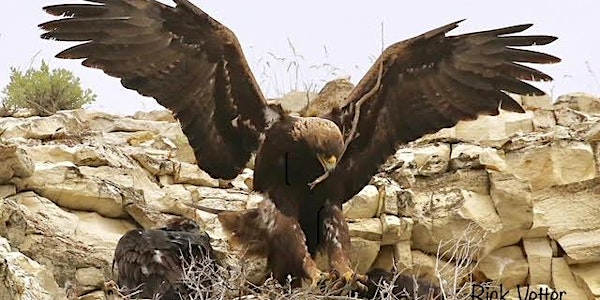 A Summary of the Golden Eagle-A 10 Year Study in Oregon
Live the life of 2 golden eagle experts without leaving your chair!
When and where
Location
Crooked River Ranch 5195 SW Clubhouse Dr Crooked River Ranch, OR 97760
About this event
A summary of the golden eagle - a 10-year study in Oregon
*Exclusive!* October Lens on Learning
A summary of the golden eagle - a 10-year study in Oregon
by Rick Vetter and Frank Isaacs
October 15, 2022, 4:00 pm - 6:00 pm
Juniper Room: 5195 Clubhouse Dr., Crooked River Rancch, OR 97760
This is a special event and not to be missed. Two Golden eagle experts from Oregon will talk about their experiences and research over a 10-year period. Rick Vetter is a retired biologist, who had a diverse 35-year career with BLM, FWS, and USFS as a range specialist, fish and wildlife biologist and wildlife refuge manager in California, Utah, Idaho, Hawaii, Washington and Oregon. Currently he works for the Oregon Eagle Foundation monitoring golden eagle nest sites across southeast Oregon. Frank Isaacs is cofounder of the Oregon Eagle Foundation and leads a statewide golden eagle nest survey in Oregon with many volunteers monitoring nests throughout Central Oregon.
During the talk, a power point slide show will be presenting some the best and strangest occurrences while field camping during the 10-year study. All the scenery, misfortunes and encounters with wildlife will be on display for your viewing pleasure.
BONUS feature - presenters will reveal how to cook gourmet field dinners in the dark.
Followed by an Interactive session Q and A on nest monitoring.
The events are free for FANs members. A $5.00 donation is appreciated from non-members.