Description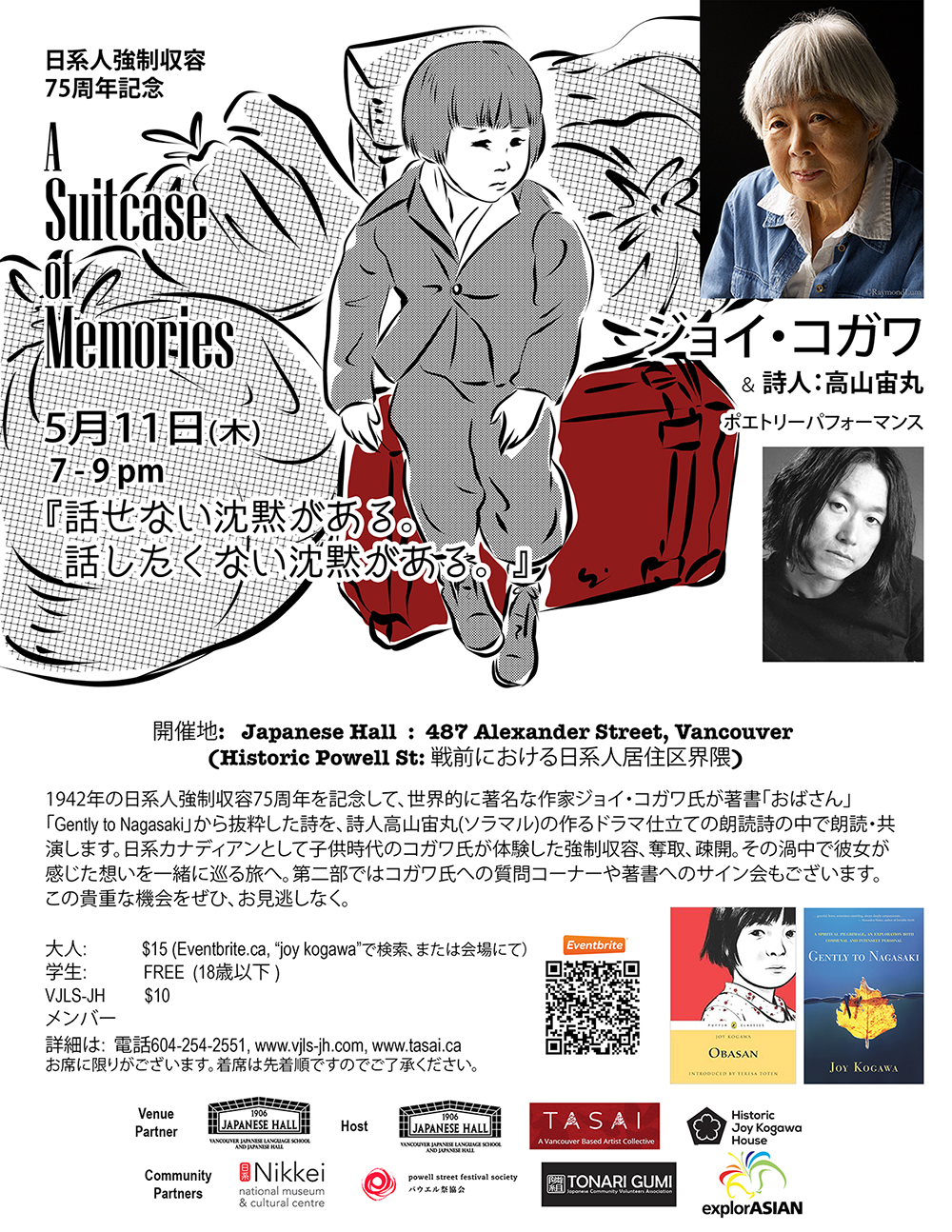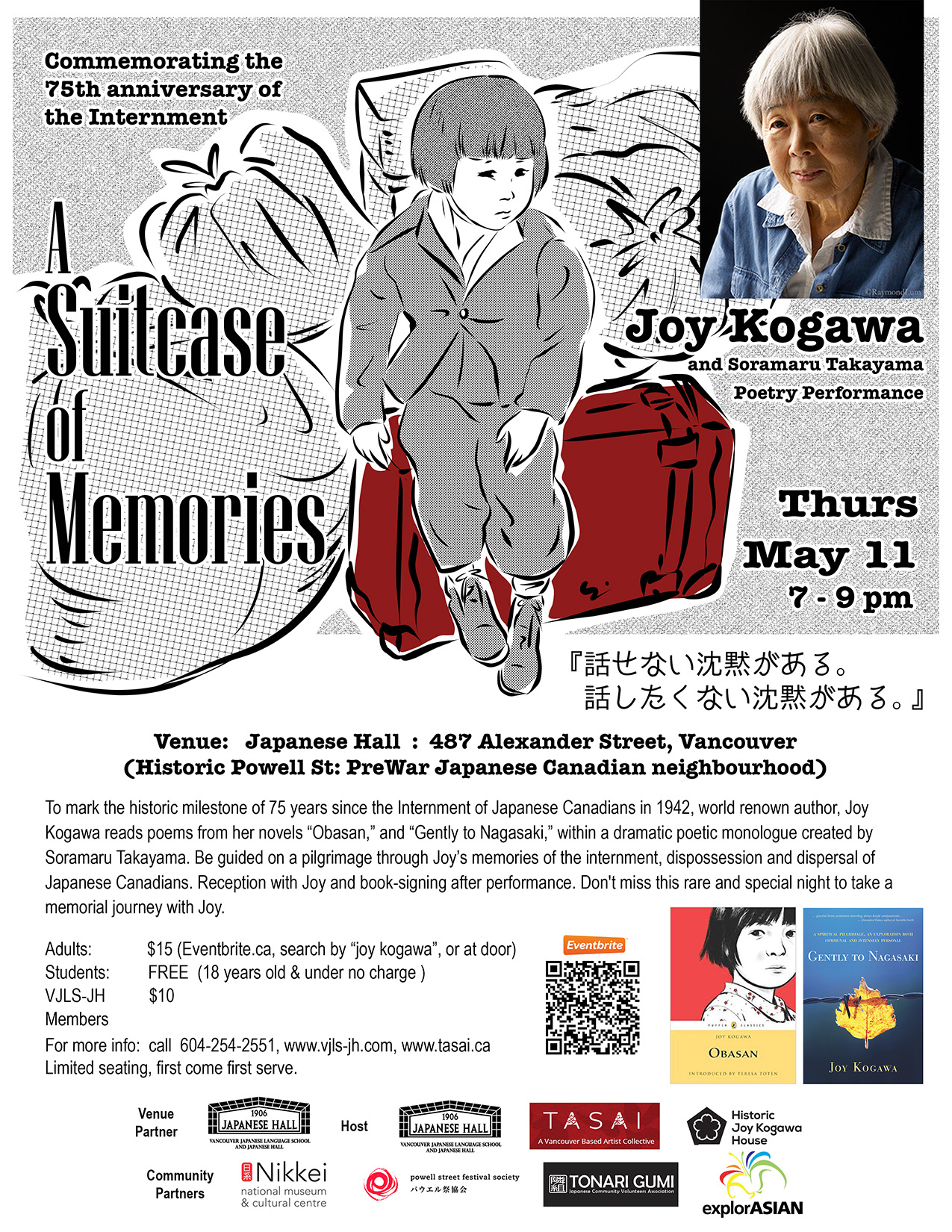 "A Suitcase of Memories" Joy Kogawa poetry performance event with poet, Sora Takayama
- commemorating the 75th anniversary of the Internment
In an innovative "poem within a poem" format, this literary event commemorates the 75th Anniversary of the internment, dispossession and dispersal of Japanese Canadians. Joy Kogawa, recipient of the Order of Canada and Japan's Order of the Rising Sun, best known for her award-winning novel Obasan, partners with an up-and-coming Japanese poet Soramaru Takayama. Joy performs her own poems, one from "Obasan," the other from "Gently to Nagasaki," within an original dramatic poetry monologue created by Soramaru. The poetry will guide you on a pilgrimage through Joy's memories. After the performance there will be an opportunity to talk to Joy Kogawa. This is a treasured opportunity to hear the story of internment from a Canadian literary giant.
Thurs., May 11th 7:00 ~ 9:00 pm
7:00 - 8:00 pm poetry monodrama by Soramaru & Joy Kogawa
8:00 - 9:00 pm Meet the author; Q&A, Joy Kogawa (Refreshment served, book sales, book signing)
*Commemorate the 75th Anniversary of the internment, Joy discusses the internment and her own life in her books
Venue: Japanese Hall
487 Alexander Street, Vancouver (Historic Powell St: PreWar Japanese Canadian neighborhood)
Adults $15 (available on Eventbrite.ca); Students 18 and under no charge.
Limited seating, first come first serve.

Host partners:
Vancouver Japanese Language School & Japanese Hall
Tasai Artist Collective
Historic Joy Kogawa House Society

Venue partner: Japanese Hall
Community partners:
exploreASIAN
Nikkei National Museum and Cultural Centre
Powell Street Festival Society
Tonari Gumi
Historic Joy Kogawa House Society
---
Biography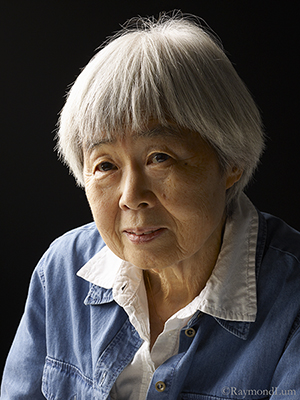 Joy Kogawa
Joy Kogawa was born in 1935 in Vancouver, B.C. Her best known work is Obasan, published in 1981 - a novel that has been recognized internationally as representative of the Japanese Canadian war-time experience. In 1982 she won the Book of the Year Award from the Canadian Authors Association. It has also been adapted into a children's book, Naomi's Road in which the Vancouver Opera adapted into a 45 minute opera that was performed in various cities. Interned with her Japanese-Canadian family during WW2, she has worked tirelessly to educate and help redress a dark moment in Canadian history.

In 1986, she was made a Member of the Order of Canada and in 2006 she was made a Member of the Order of British Columbia. In 2010, the Japanese government honoured her with the Order of the Rising Sun "for her contribution to the understanding and preservation of Japanese Canadian History".

Her latest work, a memoir titled Gently to Nagasaki, was published in 2016.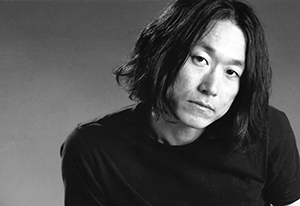 Soramaru Takayama
Soramaru is a member of the artist collective, Tasai. Sora brings his innovative poetry monodrama to Vancouver by way of ongoing solo performances and through collaboration with nationally recognized poets visiting from Japan. His first poetry book "Tsuki To Buranko" was published in 2014, taking him on three successful tours in Japan. In 2015 he was featured in a short documentary film created by Global Work, a Japanese lifestyle brand. The film was part of a national broadcast and online campaign about Japanese nationals living and inspiring lives abroad.

He has performed for the Canada Japan Friendship Association, Joy Kogawa House, and was commissioned to create and perform a poem for the 110th Anniversary of the Vancouver Japanese Language School & Japanese Hall. Sora hosts an annual event, Japanese Poets North of the 49th, that is funded by the Canada Council for the Arts. He is the founder and owner of Vegan Pudding & Co.