A STREETCAR NAMED DESIRE

Multiple Dates
Event Details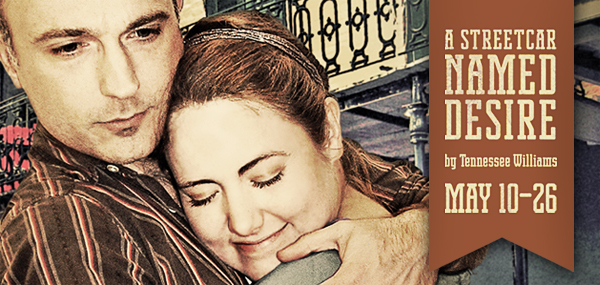 ABET presents 
A STREETCAR NAMED DESIRE 
by Tennessee Williams
 
MAY 10, 11, 17, 18, *19, 24, 25, *26 
THU, FRI & SAT 8:00pm • SUN *2:00pm 
 
CLASSIC DRAMA | Reveals to the very depths the character of Blanche du Bois, a woman whose life has been undermined by her romantic illusions, which lead her to reject – so far as possible – the realities of life with which she is faced and which she consistently ignores. The pressure brought to bear upon her by her sister, with whom she goes to live in New Orleans, intensified by the earthy and extremely "normal" young husband of the latter, leads to a revelation of her tragic self-delusion and, in the end, to madness. 

directed by DAVE ALAN THOMAS


starring 
AMANDA MORALES as Blanche Du Bois • JOE WALZ as Stanley Kowalski
KELBY SIDDONS as Stella Kowalski • RYAN MICHAEL MURRAY as Harold "Mitch" Mitchell
TRICIA WILLIAMS as Eunice Hubbell • ISOM STEVE PHILIPS as Steve Hubbell
KENNETH DOWLING, JR. as Pablo • CLIFF RIGSBEE as Doctor
THERESA DAVIDSON-BUCHANAN as Nurse • LIBRA J. GYSEL as Neighbor
AMY TILLOTSON as Mexican Woman • BRANDON PARIS as A Young Collectore 
Where

ABET: Atlantic Beach Experimental Theatre
716 Ocean Boulevard
Atlantic Beach, FL 32233


Multiple Dates
Add to my calendar
Organizer
ABET's mission is to bring the excitement of live theatre to diverse audiences. There is an emphasis on new and original plays and neglected classics, and on developing new talent.