About this Event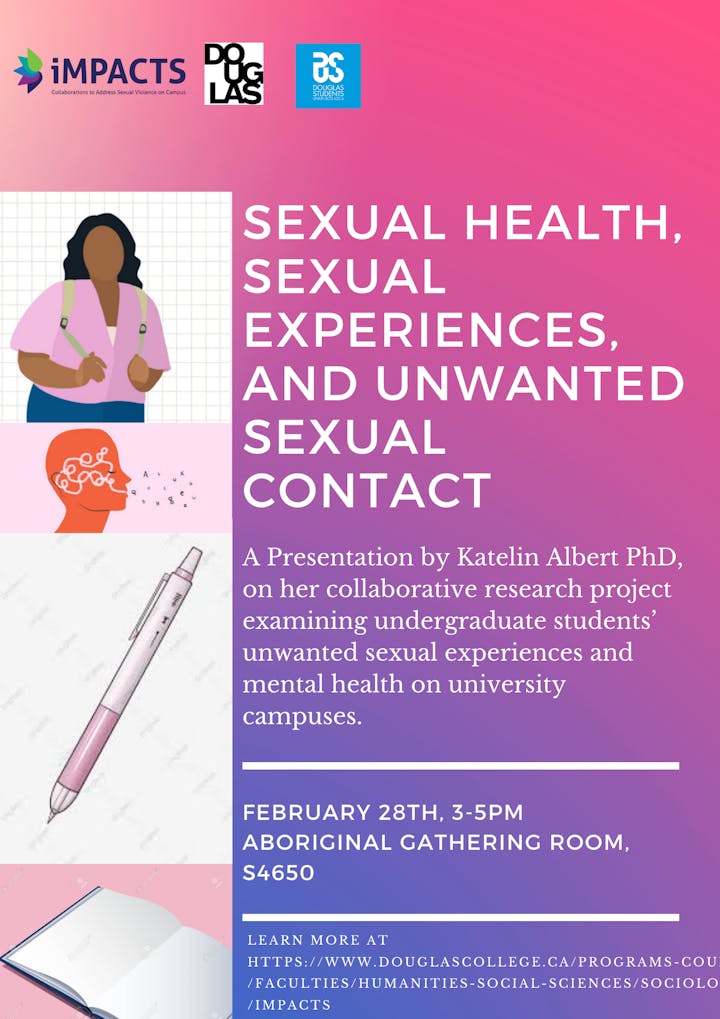 Katelin Albert is a Visiting Assistant Professor in Sociology at the University of Toronto, Scarborough. She holds a PhD in Sociology from the University of Toronto.
Katelin employs a diverse range of qualitative and quantitative methods in her research -- from narrative interviews, ethnographic inquiry, to longitudinal diary and survey data -- to explore health decision-making, the diffusion of health responsibility in Canadian society, and how health and sexual health knowledge moves and operates between people and places. Sexual health, sexual experiences, and mental health on campus are growing concerns, and a key area for her future research. Her research program reflects her desire to assess the relationship between health and sexual health knowledge and information and health and sexual experiences.
The research spotlight will focus on her work co-leading a collaborative research project examining undergraduate students' unwanted sexual experiences and mental health on university campuses. We designed and used a 60-day e-diary tool to collect longitudinal data. Sexual health and violence on campus is a growing concern, and a key area for future research. Her goal is to understand how health knowledge operates over key life course transitions by investigating the ways in which students' prior youth-based sex-education relates to their post-secondary sexual experiences -- whether risky, safe, pleasurable, dangerous, wanted, or unwanted.
Learn more about Katelin Albert here: http://www.katelinalbert.com/
Join us for this event with refreshments to follow! And find more about IMPACTS Here: https://www.douglascollege.ca/programs-courses/faculties/humanities-social-sciences/sociology/impacts