A Special Tribute to JOHNNY CASH & KRIS KRISTOFFERSON with The Mighty Red M...
Description
Johnny Cash. Kris Kristofferson. The Mighty Red Melons take on the songbook tribute of two of the greatest country writers and performers of the past century. The band will Walk the Line for two great shows, and we can all spend Sunday Morning Coming Down...
The Sapphire Room will host this great show in its superlative intimate environment with classic Cash and Kristofferson songs rolling off the stage all night long. Twangtown opens again with unique hot swing and honky tonk favorites. Bring your dancing shoes and let's have another Melons party!
Doors open at 7:00pm, Show at 8:00pm
$23 general, $31 preferred ($28/$36 at the door) Ticket prices include fees!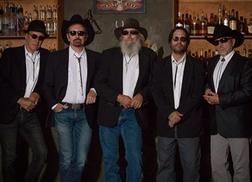 Many tables in the Sapphire Room are at bar height. Those requiring lower or ADA accessible seating will be most comfortable at the following tables: 25, 28, 33, 35, 36, 41, 60, or at the bar. For questions about accessible seating, please call 208-331-4930 or email music@riversideboise.com.

100% refunds are available until 48 hours before the event. Refunds cannot be processed after the event occurs for any reason.

Boise's best kept secret! The Sapphire Room at The Riverside Hotel, 2900 Chinden Blvd. Garden City, Idaho 83714.
---
Need assistance? WE CAN HELP! Please call 208-331-4930 to order over the phone. Phone orders are available from 9am - 5pm, Monday - Friday. If you need help after-hours or on weekends, please email music@riversideboise.com (fastest) or leave a voicemail at 208-331-4930 and we'll get back to you as soon as we can. Thank you for supporting local live music!