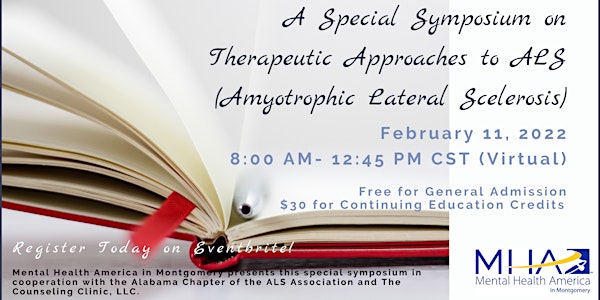 A Special Symposium on Therapeutic Approaches to ALS
Please join Mental Health America in Montgomery (MHA-M) in our special symposium, a virtual mental health learning opportunity.
About this event
February 11, 2022
8:00 AM – 12:45 PM CST
Registration is FREE and Continuing Education (CE) credits are available for a fee of $30.
Intended Audience: Counselors, Nurses, Social Workers (Any Mental Health or Social Service Professional) and anyone else interested in learning more about ALS are welcome.
Symposium Outcome: Participants will feel confident in supporting individuals and their families/significant others throughout the continuum of ALS.
First, register here on Eventbrite. Then if you need CE credits, pay the $30 fee online or by check to the MHA-M office at 1116 South Hull Street, Montgomery, AL, 36104.
CE credits are available for Counselors, Nurses, and Social Workers. Most professional boards accept these credits; please check with your board first to see if they accept them.
Counselors 4.5 (NBCC)
Social Workers 4.5 (ABSWE)
Nurses 5.4 (ABNP002, Exp. 03/2023)
The CE Certificate of Attendance will be sent approximately 2 weeks following the presentation to everyone who pays for the session and completes the online evaluation. Contact us if you have any questions or concerns about accessing this opportunity.
In addition, we offer an opportunity for participants to join the ALS Therapist and accept referrals to work with people with ALS and their families/friends/caregivers.
Presentation materials and recordings can be accessed by those who register.
Mental Health America in Montgomery presents this special symposium in cooperation with the Alabama Chapter of the ALS Association and The Counseling Clinic, LLC.
Counselor Continuing Education is provided by The Counseling Clinic in cooperation with Mental Health America in Montgomery (MHA-M). The Counseling Clinic has been approved by NBCC as an Approved Continuing Education Provider, ACEP No. 6779. Programs that do not qualify for NBCC credit are clearly identified. The Counseling Clinic is solely responsible for all aspects of Symposium , which qualify for NBCC credit.
Nurses may use either the Counselor or Social Work credit hours for CE credit. Upload the CE certificate to your Alabama Board of Nursing transcript online. If you need assistance with uploading your CE certificate, please contact Charlene Roberson at charlenemr@knology.net.
SCHEDULE
REGISTRATION/ SIGN ON
8:00 AM
UNDERSTANDING THE CONTINUUM OF ALS BY MELISSA C. ENFINGER, MS
8:20 AM -9:40 AM
Objectives: At the conclusion of this presentation, participants should be able to:
Provide base knowledge of ALS, including symptoms, management, and the role of multidisciplinary care.
Describe some of the common themes such as coping, loss, and grief often experienced by people living with ALS and their loved ones as they experience life after diagnosis.
Discuss approaches and scenarios of supporting people affected by ALS from a proactive, problem-solving perspective.
Overview:
This content will introduce Mental Health Providers to the basic physiology of ALS, as well as explain some of the common themes and challenges for people living with ALS and their family caregivers experience throughout the ALS journey.
ANTICIPATORY GRIEF THROUGHOUT THE LIFESPAN BY MELINDA S. KAVANAUGH, PHD, LCSW
9:45 AM – 10:45 AM
Objectives: At the conclusion of this presentation, participants should be able to:
Identify anticipatory grief in children and youth.
Build clinical skills in work with grieving children and families.
Apply evidence-based suggestion to current clinical practice.
Overview:
This presentation will help clinicians understand better the grief and loss experienced by families living with ALS, specifically anticipatory grief in children and youth. It will provide evidence-based examples from Dr. Kavanaugh's research and suggestions for supportive clinical interventions and support programming, including those targeting children and youth.
WHAT DOES END OF LIFE MEAN TO ME AND MY CLIENTS BY REV. DR. STEPHEN MCWHORTER
10:50 AM – 11:50 AM
Objectives: At the conclusion of this presentation the participant should be able to:
Examine yourself for your end-of-life expectations.
Identify issues both personal and otherwise which could prevent supporting end of life care for both clients and their significant others throughout the lifespan.
Explore pragmatic ways to support all ages through the dying process.
Overview:
This presentation is aimed to enable the mental health professional to explore their own views of "end of life" to support those going through the dying process. It will examine the dynamics for all age groups. It will help identify barriers for both patients and their significant others that could preclude a peaceful death process.
ACCESSING RESOURCES- WHERE TO LOCATE AND HOW TO CONNECT
11:55 AM- 12:15 PM
Accessing Resources- Where to Locate and How to Connect, by Melissa C. Enfinger, ALS Association Alabama Chapter and Tasha Cooper, Exec. Director of Hands on River Region
MY ALS JOURNEY BY JEANNE SELLERS
12:15 PM – 12:45 PM
Jeanne Sellers, a caregiver, will share her journey as she cared for her husband who had ALS.