About this event
ar·peg·gi·o /ärˈpejēˌō/ noun
MUSIC - the notes of a chord played in succession, either ascending or descending.
"Arpeggio offers guests the experience to ascend and descend through the space at The Citizen hotel, experiencing music, drinks and food pairings at different levels. At the wine cellar level, guests will experience earthier sounds, wine tastings and mindfully paired tidbits. Rising to the bar level, guests can enjoy the experience of craft cocktails and curated appetizers accompanied by vibrant tunes. At the highest mezzanine level, things get light and bubbly with locally crafted wine sorbet pour overs and uplifting music."
THE MENU- We will be providing a flavor experience built note by note, with wine and cocktails to pair by Chef Kusuma Rao. Chef Rao grew up in their mother's kitchen in Tucson, AZ, bred by traditional Indian cuisine, romanced by Sonoran Mexican street food and professionally blurring the lines of all-that and in-between. Rao will be featuring a unique street food inspired appetizer paired with two Sand-Reckoner wines served below ground in the wine cellar. At the lobby bar level, guests will be treated to an inspired salad and cocktail pairing and rising up to the mezzanine level, guests will enjoy sparkling wine pour overs with Tucson made Hub sorbet.
HOWARD ALDEN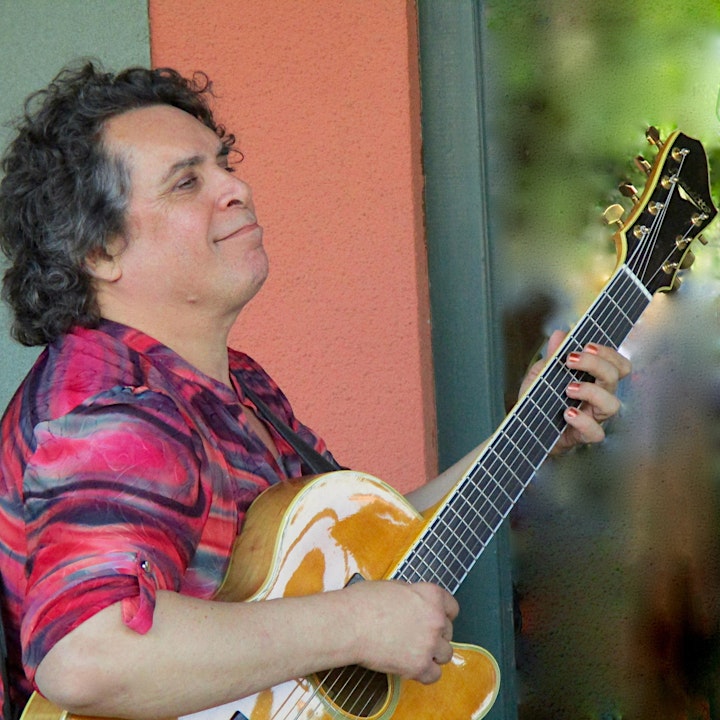 Seven-string guitar master Howard Alden comes from California, inspired by Armstrong, Basie and Goodman, and guitarists Barney Kessel, Django Reinhardt and George Van Eps. In 1979 Alden moved east with vibraphone legend Red Norvo. In New York Alden's skills were quickly sought out by a glittering array of jazz stars, including Joe Williams, Dizzy Gillespie, Woody Herman, as well as pop/rock icons Steve Miller and Jay Geils.
Howard's playing for Woody Allen's "Sweet and Lowdown" sparked a worldwideGypsy Jazz revival. And genre-defying guitar virtuoso Leo Kottke has this to say about "Guitar", Howard's recent solo recording on K2B2 records; "It's the best recording of the seven-string guitar I've ever heard!"
In 2009 DOWNBEAT magazine named Howard "a Modern Maestro", one of the 75 Greatest Guitarists of all time.
ANDALUZ
Andaluz is a flamenco rhythmically inspired ensemble, that is based on the original compositions of Nathaniel Burnside.
Nathaniel Burnside draws mostly from Flamenco music's distinctive rhythm patterns and tones, as well as Latin, Jazz, and Arabic music undertones. He has performed throughout the southwest for the past 14 years. Joining Nathaniel are Pete Swan on cajon, tabla and other hand percussion and Evan Dain on bass.
Pete Swan is a jazz drummer and band leader in the Tucson area, and during the last 2 years, started studying Flamenco rhythms and learning Nathaniel's compositions and then applying his studies in Indian classical music to the music.
Multi-instrumentalist Evan Dain performs regularly in local venues, and currently works with The Hot Club of Tucson, The Wildcat Jazz Band, and the Tucsonics.
This is a one of a kind-event. Space is limited.