About this Event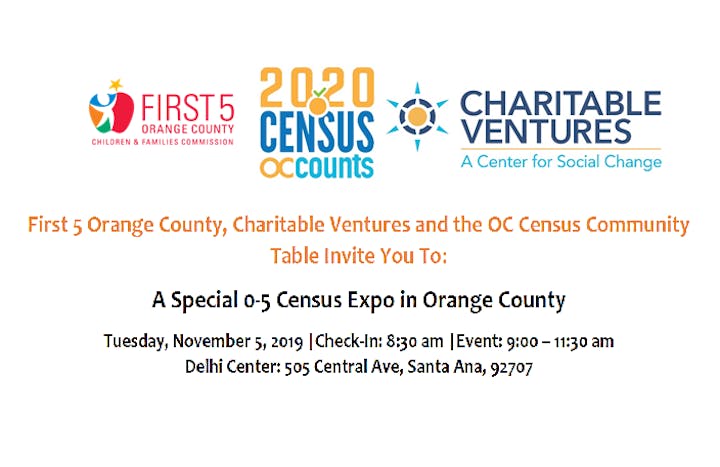 Background
First 5 Orange County is supporting a community-wide outreach effort to families with young children to share how important it is to respond to the 2020 Census. During the 2010 Census, it is estimated that more than 18,000 children in Orange County were undercounted along with $36 million in federal funding going elsewhere for the last decade. It is further estimated that about 6.5 percent of young Latino and African-American children were overlooked by the 2010 Census, which is roughly twice the rate of young non-Latino white children.
What Will Be Accomplished at This Expo?
The Expo offers an opportunity to learn more how to get involved in the outreach plan, engage in messaging and training, and collaborate with other stakeholders supporting the goal of ensuring every child, Zero-Five, in Orange County is counted in the 2020 Census.
Who Will Be There?
We anticipate partners and stakeholders including school districts, department of education, community based organizations, hospitals, service providers and more.
Questions/Special Needs?
If you have any special needs that you would like assistance with (language translation, hearing impaired, access accommodations, etc.) or have any questions, please email Heather Stratman at hstratman@principlesa.org or Sarah Middleton at sarah.middleton@missionup.co.