Description
Calling every big damn hero in the 'verse!
We have just the job for you! It's time to ring in 2018 and another shiny new year! No matter what the last months have thrown our way, they can't stop the signal, or this fully themed, Firefly-inspired shindig. So pull up your tightpants, and join us for a night of music, themed food, shimmerwine, and some sort of hot cheese. It's gonna be gorram good.
Be you law man, ambassador, or browncoat, this humble establishment welcomes all who come in peace and the like. Themed attire is highly encouraged, but we do ask you kindly to refrain from bringing any weapons so as not to cause trouble. Invites can be obtained with large diamonds, or a mere $10 entry from every guest. This mite sum provides you proper documentation, A-grade entertainment, a guaranteed seat to watch the local color, and a fancy champagne toast at midnight. (Entry the day of the shindig will increase to $15.00, and only if space is available.)
Guests should prepare to present their ident card upon arrival, as only guests 18 and older are allowed inside. The Cloak & Blaster will be closed until 7 p.m. for this event, and we will stay open until 2 a.m when we need to get this bird in the air.
If you find yourself looking more for the fancible things in life, then you may be just right for the Companion Luxury VIP Package.
You like parties. You don't seem to be looking at the tables. Whatcha care about is the parties, and mine's the nicest.
Ching Jin, come in, and upgrade your experience from mudders milk to shimmerwine with the Companion Package, located in our upstairs lounge. The Companions Guild has extended a special contract price of just $150 to enjoy PRIVATE access to an exclusive, lavishly furnished and luxurious companion shuttle for only 25 high-end clients.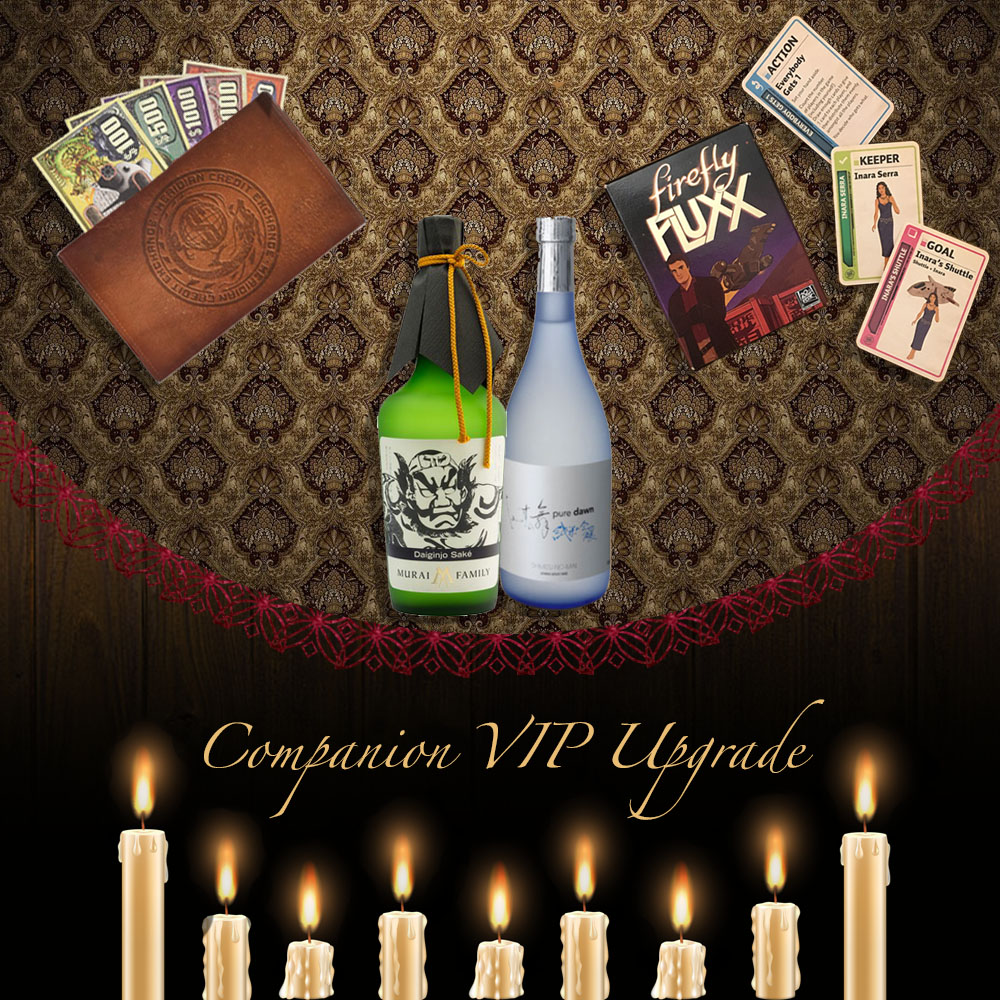 Your Companion Package includes:

Private access to our decadently decorated Companion Shuttle, docked on the second floor of the restaurant!

An all-inclusive, fully themed buffet complete with Asian-inspired appetizers, entrees, and desserts!

A complimentary Sereni-tea cocktail upon arrival and check-in!

Exclusive VIP access to a rare craft keg and high-end sake!

An upgraded midnight toast of Shimizu Pure Dawn fine sake!

A VIP swag bag, complete with Firefly FLUXX and a few hand-crafted, shiny surprises!
Gan Kwai! This shindig will be the social event of the season, so spruce up those clothes, and break out the slink. It's time to be bad guys.