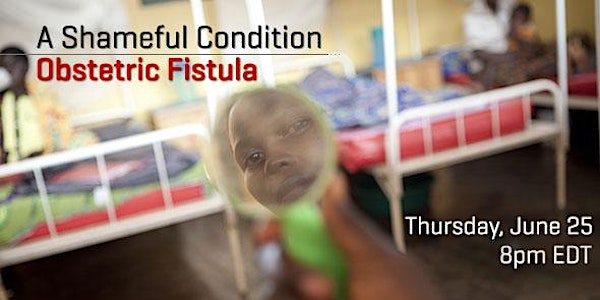 A Shameful Condition: Obstetric Fistula (Webcast)
Description
Join Doctors Without Borders/Médecins Sans Frontières (MSF) for an in-depth conversation about one of the most painful, and preventable, maternal maladies: obstetric fistulas.
They have all but vanished in prosperous countries, where women can get emergency obstetric care, but in developing regions, some 50,000 to 100,000 girls and women develop an obstetric fistula every year. This happens when girls or women endure prolonged, obstructed labor and cannot access emergency care. The result is an opening between the womb and the woman's bladder or rectum that causes her to leak urine or feces for the rest of her life, unless she receives effective treatment.
Women living with a fistula frequently live as outcasts, rejected from family and community. The physical pain, combined with the social implications, can make life unbearable.
On June 25, as part of MSF's ongoing Because Tomorrow Needs Her project on women's health, three fistula experts will discuss why women continue to develop this preventable condition, the impact fistulas have on women, their families and their communities, and the options that exist for treatment and prevention.
Viewer participation is encouraged via a chat feature available during the webcast.
Panelists:
Africa Stewart, Ob/Gyn, worked at an MSF fistula project in Jahun, Nigeria. She has completed two other MSF assignments, in Sudan and South Sudan. Dr. Stewart was a panelist on the first Because Tomorrow Needs Her webcast in March 2015.
Wilma van den Boogaard, MPH, has worked with MSF for more than 20 years. In 2012, she organized a fistula repair project in Burundi, which included a training program for surgeons. She is currently an operational research support officer for MSF.
Gillian Slinger is a trained midwife and was the coordinator of UNFPA's Campaign to End Fistula, where she helped created the International Day to End Obstetric Fistula. She is now the project manager of the Fistula Surgery Training Initiative for the International Federation of Gynecology and Obstetrics (FIGO) in London, and is a member of the board of directors for MSF-Switzerland.
Nina Strochlic, moderator, is a reporter at the Daily Beast, covering women's rights and international development. She also moderated the first Because Tomorrow Needs Her webcast in March 2015.
To learn more about how MSF provides emergency medical care for women and girls, visit womenshealth.msf.org.