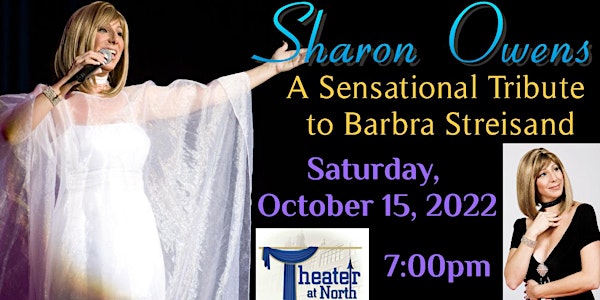 A Sensational Tribute to Barbra Streisand
Location
The Theater at North
1539 North Main Avenue
Scranton, PA 18508
Sharon Owens is Barbra Streisand! Join us for an unforgettable performance on Saturday, October 15, 2022 at 7pm at The Theater at North!
About this event
Sharon Owens has been recreating the sound and style of Barbra Streisand for over three decades! Sharon began her career in Los Angeles where she began singing Streisand in dinner theaters and cabaret nightclubs. Her uncanny resemblance and vocal ability to sing Streisand started her career as a "Legends in Concert" performer. She then continued performing for "Stars in Concert."
Sharon headlined her own show "Barbra and Frank – The Concert that Never Was" which was voted Best of Las Vegas in 2008 and ran for 6 years on the Las Vegas Strip. During her time impersonating Streisand, Sharon won the national Fox TV competition "Performing As" and made it to the finals of the ABC hit show "The Next Best Thing."
Sharon has performed for Access Hollywood, Extra, Entertainment Tonight, and Family Feud. She has been seen in People Magazine and TV Guide as one of the best impersonators in the world. Sharon sold out 32 shows during a 6-week engagement on the West End of London. She has also toured Australia, Canada, Holland, Belgium, and Asia.
Sharon's incredible voice mimics the sound of the incomparable Streisand.
Tickets are $40-$45 and can be purchased online at www.thetheateratnorth.org or in person at the box office: Tuesdays 11am-2pm, Wednesdays, 11am-2pm, Thursdays 3pm-6pm, and on the night of the show starting at 5pm.