Description
Dark matter makes up most of the mass in the Universe, but what exactly is it? Discuss it over a sip of some sort with Matthew Francis as he takes us on a trip from the beginning of time to a modern lab a half-mile underground.
Who:
Matthew R. Francis, PhD biography

When:
Tuesday, June 4th
Doors open @ 6:00 pm
Program @ 7:00 pm
Where:
The Camel
1621 W Broad St Richmond, Virginia 23220
Feel free to park in the Lowes parking lot across the street
Sipping a glass of water at these free, open-to-the-public gatherings is completely copacetic.
But wait, there's more:
This gathering marks our First Anniversary!
So, they'll be a little extra cheer in the form of some congratulatory sugar and a small raffle to raise some funds.
As always, gifts are welcome -- cash gifts to keep it going another year!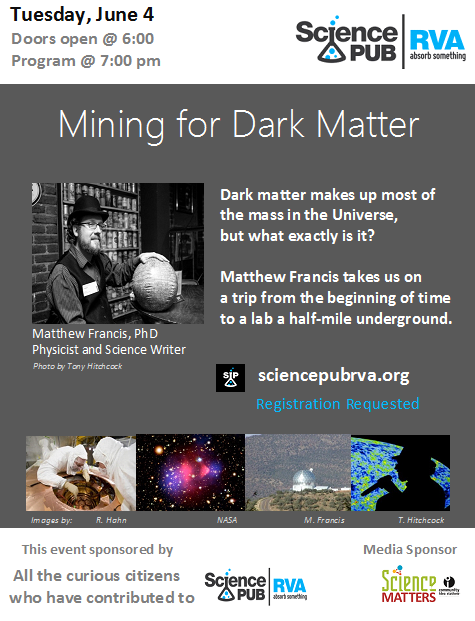 Organizer of A Scientist Walks Into A Bar . . . Mining for Dark Matter
Find upcoming Science Pub RVA programs on our new profile page (http://www.eventbrite.com/o/community-idea-stations-8441963967)
We moved because we are now part of Science Matters and Community Idea Stations!
Science Pub RVA connects curious citizens and creative scientists over a sip of some sort at informal gatherings in non-academic settings. No background in science is needed.  A smidge of curiosity is all it takes to enjoy a fun and engaging time.  Pub is in our name, but sipping a glass of water at these events is completely copacetic.