Sales Have Ended
Registrations are closed
Event Information Sunday, July 10th, 2016 - 8:30 AM Douglas Park, Chicago, IL 60608 Corner of Roosevelt Road and California Ave. Thank you for registering for A Safe Haven Foundation's 6th Annual 5K RUN! To End Homelessness! Your registration has been received and is being processed. Your race bib will be assigned and distributed to you on race day or at pre-packet pickup: Thursday, July 7th 10:00 a.m. - 7:00 p.m. | THE LIMITED - Water Tower Place, 845 N. Michigan Ave Friday, July 8th 10:00 a.m. - 7:00 p.m. | THE LIMITED - 66 Old Orchard Shopping Center, Skokie Saturday, July 9th 10:00 a.m. - 7:00 p.m. | THE LIMITED - 5 Woodfield Mall, Schaumburg Please print and bring this registration summary with you when picking up your packet. Sponsorship and Volunteering Do you have a business, a friend, or a contact with the capacity to financially sponsor this event? Or do you know someone interested in volunteering on race day? Email agerontakis@asafehaven.org for sponsorship information and volunteer opportunities. Thank you for supporting A Safe Haven Foundation's mission to End Homelessness! - A Safe Haven Team
Sales Have Ended
Registrations are closed
Event Information Sunday, July 10th, 2016 - 8:30 AM Douglas Park, Chicago, IL 60608 Corner of Roosevelt Road and California Ave. Thank you for registering for A Safe Haven Foundation's 6th Annual 5K RUN! To End Homelessness! Your registration has been received and is being processed. Your race bib will be assigned and distributed to you on race day or at pre-packet pickup: Thursday, July 7th 10:00 a.m. - 7:00 p.m. | THE LIMITED - Water Tower Place, 845 N. Michigan Ave Friday, July 8th 10:00 a.m. - 7:00 p.m. | THE LIMITED - 66 Old Orchard Shopping Center, Skokie Saturday, July 9th 10:00 a.m. - 7:00 p.m. | THE LIMITED - 5 Woodfield Mall, Schaumburg Please print and bring this registration summary with you when picking up your packet. Sponsorship and Volunteering Do you have a business, a friend, or a contact with the capacity to financially sponsor this event? Or do you know someone interested in volunteering on race day? Email agerontakis@asafehaven.org for sponsorship information and volunteer opportunities. Thank you for supporting A Safe Haven Foundation's mission to End Homelessness! - A Safe Haven Team
Description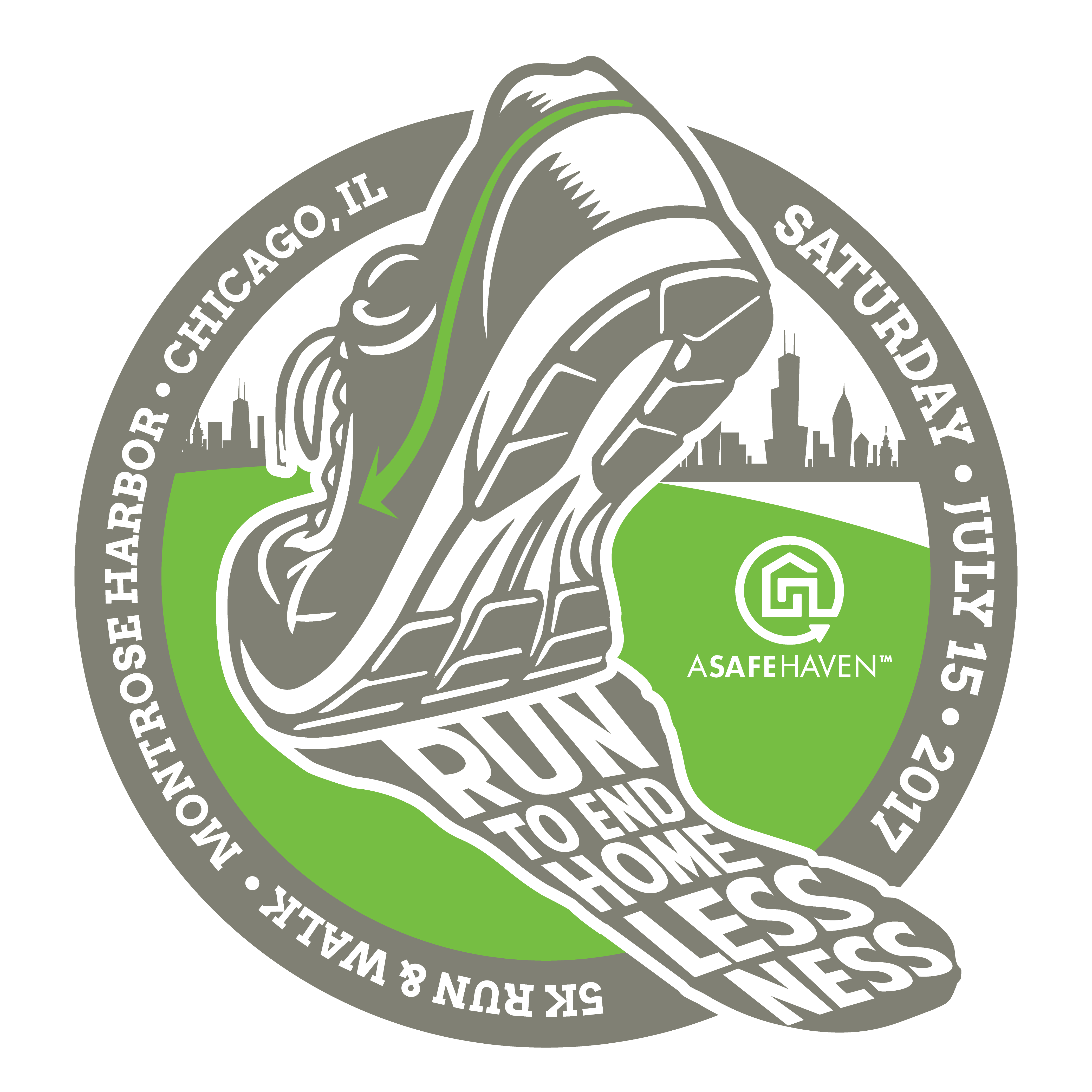 SATURDAY, JULY 15, 2017
A Safe Haven Foundation will hosts its 7th Annual 5K RUN! To End Homelessness on Saturday, July 15, 2017 in Chicago's beautiful Montrose Harbor Grove 16 at 600 W Montrose Harbor Dr., Chicago, IL 60613 starting at 8:30 a.m.
AWARDS:
Fastest 50 Runners
Largest Team
Top Fundraising Team
Top 3 Times in Each Age Category
Top Individual Fundraiser
(All prizes will be announced soon)
COURSE:
Montrose Grove 16 (CARA Lakefront 5K) - #IL16001WR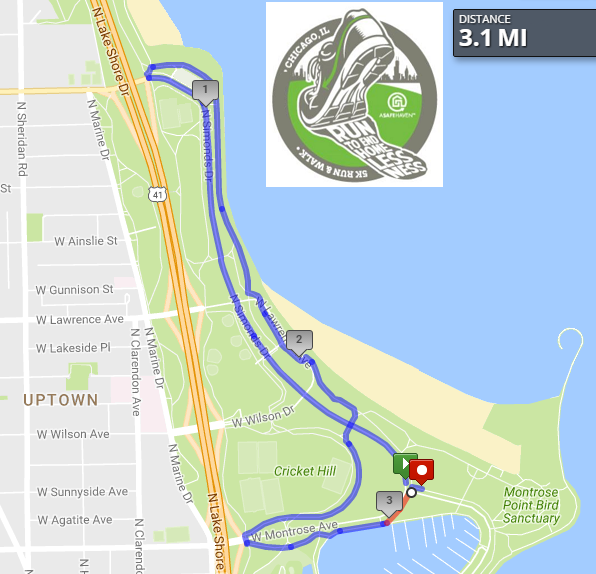 REGISTRATION FEES:

PROCEEDS
All proceeds will go to support the mission of A Safe Haven Foundation, one of the nation's leading non-profit organizations dedicated to transforming lives from homelessness to self-sufficiency with pride and purpose. Music and a FREE Kids Fun RUN! (Registration required) will also be included.
RESULTS
Results from the 2017 ASHF 5K RUN! To End Homelessness can be found HERE! (After the race)
PACKET PICK-UP
Packet pick up will be provided at multiple locations in the city and suburbs (time and location information forthcoming). Packets will be available on race-day between 7:00 a.m. and 8:15 a.m. Please note that friends or family may pick up your packet. Please have them bring a copy of your confirmation receipt OR copy of driver's license for verification (picture on mobile device is fine).
GEAR CHECK:
Gear Check will be provided for all runners and will be open from 7:30 a.m. until Noon. You may check a bag of your choice using the gear check tag received at packet pick-up. Please note the gear check area is not covered. In the event of inclement weather, you may wish to choose a plastic or weather-proof bag. The event is not responsible for lost or damaged items checked at gear check. Please do not check valuables.
DIRECTIONS/PARKING:
Public transportation and carpooling is encouraged.
Public Transit: The following bus lines will get you near the start: 78-Montrose, 81-Lawrence, 145-Wilson/Michigan, and 146-Marine/Michigan. The 145 and 146 routes start running later on the weekends. You may also take the Red-Line Train to Wilson and head east about one mile to the start.
By Bike: Bike racks are available near the start/finish line for participants who choose to ride to the race.
By Car: Public parking is available on a limited basis at the event location. Parking is available in the Chicago Park District lots at Foster Avenue and at the Wilson lot. Free street parking is available within the park.
Additional maps and directions will be provided here prior to race day.
ADDITIONAL DETAILS:
SPONSORSHIP INFORMATION: .
Visit www.runtoendhomelessness.org or call 773-435-8374
VOLUNTEERS:
For information on how to get involved and help with this event, please email the Volunteer Coordinator at volunteer@asafehaven.org or call 773-435-8386.
QUESTIONS:
Please email run@asafehaven.org or call 773-435-8374
STROLLERS & PETS:
For the safety of all runners, participants are NOT allowed to participate with baby joggers, strollers or animals.
Is the race chip-timed or gun-timed?
All participants will receive a chip-time. The chip-time is the time from when you cross the start line to when you cross the finish line. Overall awards (top 3) will be selected by gun-time.
How will I be timed?
Each runner will have the chronotrack B-Tag affixed to the back of their race bib/number. Do not bend or break this tag. Place your race bib on your outside layer of clothing. The number must be fully visible while participating.
Results will be posted at the race site and online through the race web site.
Where can I pick-up my packet?
Packet pick-up locations, dates and times will be posted on the race web site and e-mailed to all registered participants once available. Locations will be available in the suburbs and the city. Race day packet pick-up is also available but participants are highly encouraged to come to a pre-race day packet pick-up to avoid race day lines.
Can a friend pick-up my packet?
Yes, a person may pick-up up to four packets at a time if they have the registration confirmation e-mail or copy of the driver's license (printed or on phone) of each person they wish to receive a packet for. If a person wishes to pick-up more than four packets and there is a line at packet pick-up, they must return to the back of the line to receive additional packets.
Can I give my registration and or bib number to another person?
You may not give your registration to another person and another person may not run with another person's bib/number.
Can my friends or family run with me if they are not registered?
No, unregistered persons may not run with you on the course or through the finish line. Running with an unregistered person will result in disqualification.
What are the events pacing rules?
The event will abide by USATF competition rules. The event expects all participants respect fair competition.
If I do not finish, do I receive a finisher medal?
No, finisher medals are only provided to finishers immediately after crossing the finish line.
Can I defer or receive a refund?
Refunds will NOT be issued for any reason, including injury and other unforeseen issues. Registering early comes with decreased entry fees and registrants should understand their risk by choosing to register early, including no opportunity for refunds.
What is the events cancellation policy?
Event staff reserves the right to cancel or to modify the race if deemed necessary to protect the participants, the volunteers, the spectators or the host community. Cancellations out of the direct control of the event will be recognized as unforeseeable acts. Since the staging of the race results in substantial up-front expenses regardless of whether or not the race is completed, cancellation or modification of the event will not result in the refunding of fees or future event credits.
I am not able to run the race. Can I still get my shirt?
Yes, but you must come to a packet pick-up. Shirts are not available at the CARA office pre- or post-race.