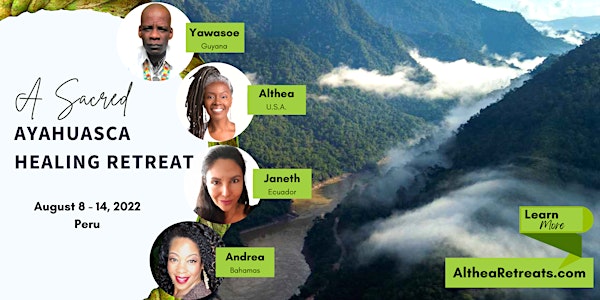 A Sacred Ayahuasca Healing Retreat
Heal and expand with sacred plant medicine ceremonies during 7 days in the rainforest of Tarapoto, Peru.
When and where
Location
Pumarinri Amazon Lodge Carretera Shapaja-Chazuta Km 16 San Martín, tarapoto 22202 Peru
About this event
Medicine man and Onánya, Colin "Yawasoe" Sinkalip, and holistic healing guide, Althea Lawton-Thompson, have joined forces with other incredible healers from around the world to create the ultimate week of healing in the Peruvian rainforest. Retreat Itinerary:
Monday Aug 8:

Arrivals, Campus Tour, Relaxation & Free Time
Welcome Dinner Meet & Greet

Tuesday August 9:

Meditation & Grounding
Intention-Setting Workshop
Night 1 Journey with Ayahuasca

Wednesday August 10:

Meditation & Journaling
Group Integration Discussion
Workshop - Understanding Natural Medicinal Healing
Night 2 Journey with Ayahuasca

Thursday August 11:

Moving Meditation
Group Integration Discussion
Workshop - Exploring Your Metaphysical Gifts
Night 3 Journey with Ayahuasca

Friday August 12:

Cleanse & Awakening
Huallaga River Boat Tour
Evening Full Moon Reiki Self-Healing session

Saturday August 13:

Salute to the Elements
Tarapoto City Tour & Shopping
Closing Dinner Celebration

Sunday August 14:

Sunrise Gratitude Ceremony
Departures
Pricing for this all-inclusive retreat includes:
Single or double accommodations & healthy organic meals
All Ayahuasca ceremonies
Airport transfers from Tarapoto Airport
All workshops, classes, and sessions
Access to hiking trails, natural pool, and swimming pool
Ayahuasca is an Amazonian plant medicine used by indigenous people for centuries for connecting to the spirit world for guidance and healing. The ayahuasca vine, often called Grandmother, is sacred and reverently served as a brewed tea with other healing plants. Our ceremonies will also include music and singing.
Notes:
**COVID international travel requirements change frequently. Currently, a vaccination is NOT required to travel to/from Peru.
***Travel insurance is highly recommended for this retreat. Go to bit.ly/altheatravelinsurance to purchase insurance to cover any cancellation or COVID unforeseen quarantine circumstances.
Yawasoe is a curandero from Guyana who has spent more than 20 years learning from the South American grandmothers of several sacred medicinal traditions in Peru and Brazil, the shamanic traditions of North American indigenous tribes in California and Canada, and the ways of his own grandmother's spiritual line from Guyana. Singing and playing multiple instruments, he offers a beautiful, luminous healing ceremony that integrates many healing aspects from all the traditions in which he is rooted. He has been serving grandmother Ayahuasca, as well as many other plant and animal medicines, for 14 years.