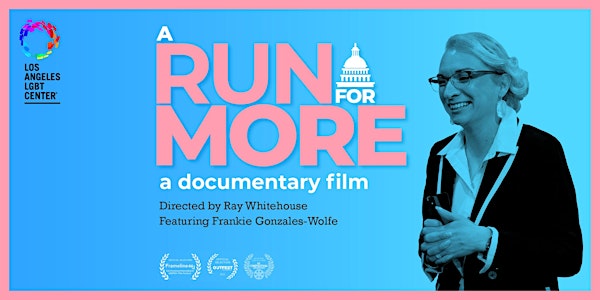 A RUN FOR MORE - a documentary film
"My mother always told me 'You're a fighter, because you're just like me.' She was right." – Frankie Gonzales-Wolfe
When and where
Location
The Village at Ed Gould Plaza 1125 N McCadden Pl. Los Angeles, CA 90038
About this event
Growing up, Frankie Gonzales-Wolfe learned to be a fighter, but never imagined having a chance to make history as the first openly elected transgender official in Texas. Unfolding amidst an onslaught of trans legal attacks, A Run for More immerses viewers on Frankie's journey as she finds her voice, questions her relationship to community, and tries to win an election. Shot over 4 years, A Run for More immerses viewers into Frankie's unique campaign and the impact it has on her, the city, and the LGBTQ+ community in San Antonio. The Los Angeles LGBT Center's Lily Tomlin/Jane Wagner Cultural Arts Center & Leadership LAB come together to present this special documentary screening.
Join us after the screening for a post-show conversation with Frankie Gonzales-Wolfe (via Zoom) and members of the Los Angeles LGBT Center's Leadership LAB.
Director Ray Whitehouse
Producer Andre Perez
Subject/Star Frankie Gonzales-Wolfe
Presented by Lily Tomlin/Jane Wagner Cultural Arts Center & Leadership LAB
The Los Angeles LGBT Center's Leadership LAB (Learn Act Build) specializes in deep canvassing and organizing through volunteer leadership development. We work to empower volunteers to connect the personal to the political with voters in order to make long-term, meaningful impacts on elections. Our current campaign is focused on investing in low turn-out voters and their stories to strengthen their commitment to voting this year and beyond. Anyone regardless of political or canvassing experience is encouraged to volunteer! https://leadership-lab.org/
Content/Trigger Warnings: The film includes a description of a sexual assault.
Public Health Policy: Proof of Covid vaccinations and photo ID required. Masks are required in all indoor spaces and strongly recommended outdoors.
Vaccine Documentation:-ID*-Physical Vaccine Card/Digital Vaccination Record/App with Record*We understand that the name on your vaccination card, may not always match your legal ID. If you have any supplemental documentation, you can provide that as well.
Need to obtain a digital copy of your vaccine records? If you got your vaccination in the state of CA, then you should be able to find and download them here:https://myvaccinerecord.cdph.ca.gov/
Free App for Vaccination Records on Phones:https://healthvana.com/digital-vaccination-records/
PARKING
Parking is available in our underground facility, located across the street from The Village at 1118 N. McCadden Place. It's the first driveway north of Santa Monica Blvd on the east side of the street.
Above the entrance is the word PARKING spelled in rainbow letters.
Turn left at the bottom of the driveway, proceed to either P1 or P2, and find a parking spot.
At the north end of P1 and P2 is a bright green wall with large white letters: ELEVATOR TO PLAZA.
Take the elevator to Level 1R. That lets you out in the Bayard Rustin Plaza. The entrance to The Village is directly across the street.