Description
Sponsor and Court Case Dog alumna Piglet hosts this special event where several of the Court Case Dogs and their families whose stories are in A Ruff Road Home will be present to meet guests and "represent" for this awesome book.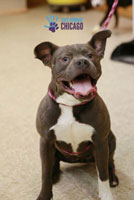 Released November 19, 2015, by Safe Humane Chicago, A Ruff Road Home: The Court Case Dogs of Chicago recounts the stories of dogs once caught in Chicago's court system after being confiscated from neglectful or abusive owners and their journey from the city shelter into loving and supportive homes. It also tells the stories of the heroes, rescue organizations, and volunteers that helped the dogs get a second chance at a great life, thanks to the first-in-the-nation Court Case Dog™ Program directed by Safe Humane Chicago. Purposefully written and beautifully photographed, A Ruff Road Home will tug at your heartstrings and instill a necessary sense of hope.
Written by Susan Russell, photographed by Josh Feeney, designed by Christian Henry, edited by Susan Palmer Marshall, and with a foreword by Cook County Circuit Court Judge E. Kenneth Wright, Jr., A Ruff Road Home is a combined, pro-bono effort to raise awareness of and funds for Safe Humane's important work with veterans, at-risk youth, and dogs who have done the time but not the crime. Major sponsors for this book include the Chicago Wolves, Friends of Chicago Animal Care and Control, Court Case Dog Piglet and Mary Bruner Rutherford, Peter Singer and Mark Blue, Realtors to the Rescue, Chicago Party Animals, and Lawyers Who Write.
Don't miss this opportunity to pick up or purchase your copies of the book. Order them at http://safehumanechicago.org/a-ruff-road-home. Free of charge, this book launch and heroes party gives you the opportunity to enjoy light refreshments in the beautiful donated space of Chicago Party Animals as you mingle with Court Case Dog heroes and supporters.
All proceeds from the sale of the book go directly to Safe Humane Chicago programming.
In the interest of space and media opportunities, only invited Court Case Dogs can be accommodated.