About this Event
Join us and the fantastic Dr. Zoot for a New Year's Eve party to remember as we kick off the new roaring '20s!
Location : Tenth Street Station; 301 Tenth Street, Ford City, PA
Time : 8 pm on December 31st, 2019 to 12:30 am on January 1st, 2020
Tickets : $50 (single), $500 table sponsor (Limit of 300 tickets will be sold.)
Suggested dress : Elegant, Neat, Fashionable
"What can I expect at the party?" Complimentary beer, wine, and a midnight champagne toast along with traditional New Year's Eve appetizers! All other alcohol is BYOB. We will also have a balloon drop, wine pull, silent auction, and more! Check out FifthAndFord.com to stay up to date.
"Where can I get tickets?" They're available here online or in person at Klingensmith's Drug Stores in Ford City, West Kittanning, and Leechburg, PA.
Single Tickets : $50 each (plus online ticket fees).
Table Sponsor : $500. Includes 8 tickets, a reserved table, and prominent advertisement as a sponsor for the event. For information on sponsoring a table, please contact Admin@FifthAndFord.com.
"Who is throwing this New Year's Eve party?" All proceeds from this event will go towards the revitalization of the beautiful property at the corner of Fifth Avenue and Ford Street in Ford City, PA. This 112 year old building was one of the original downtown buildings in Ford City and contains a ballroom complete with original tin ceilings, former American Legion bar, and lots of cafe and storefront space. For more information on the building and our revitalization efforts, please visit FifthAndFord.com. Thank you for your support!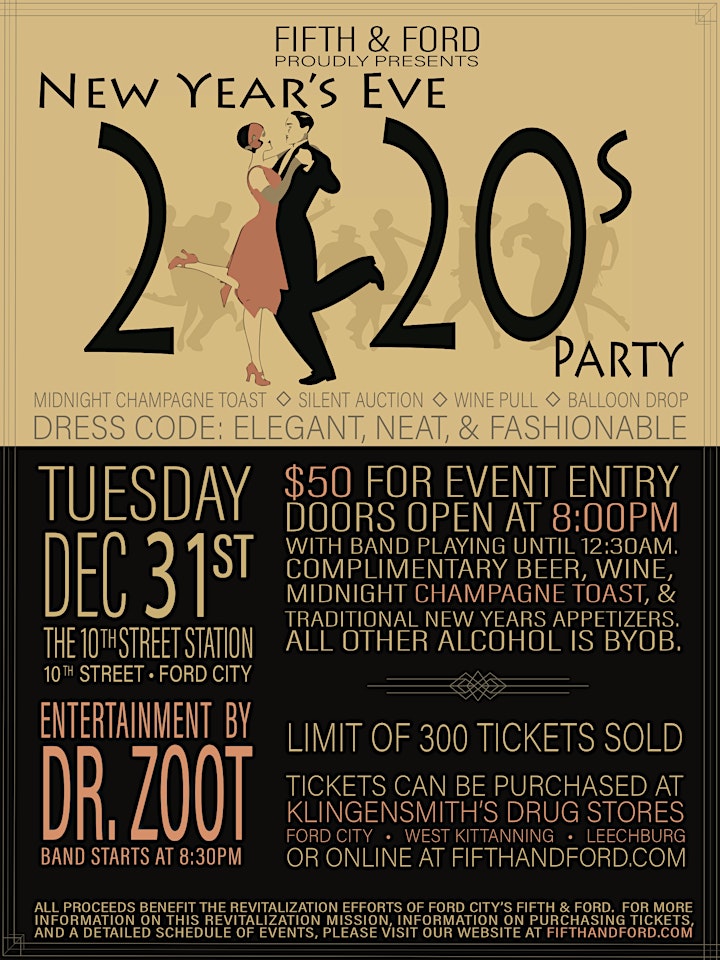 Check out these videos of Dr. Zoot -- a Pittsburgh based band covering 100 years of dance music!
See you there!