Event Information
Location
Descanso Gardens
1418 Descanso Drive
La Cañada Flintridge, CA 91011
Description
Join fellow APLD members, landscape professionals, and community members for a very special 2-day event:
A RIVER RUNS THROUGH IT: A New Landscape Paradigm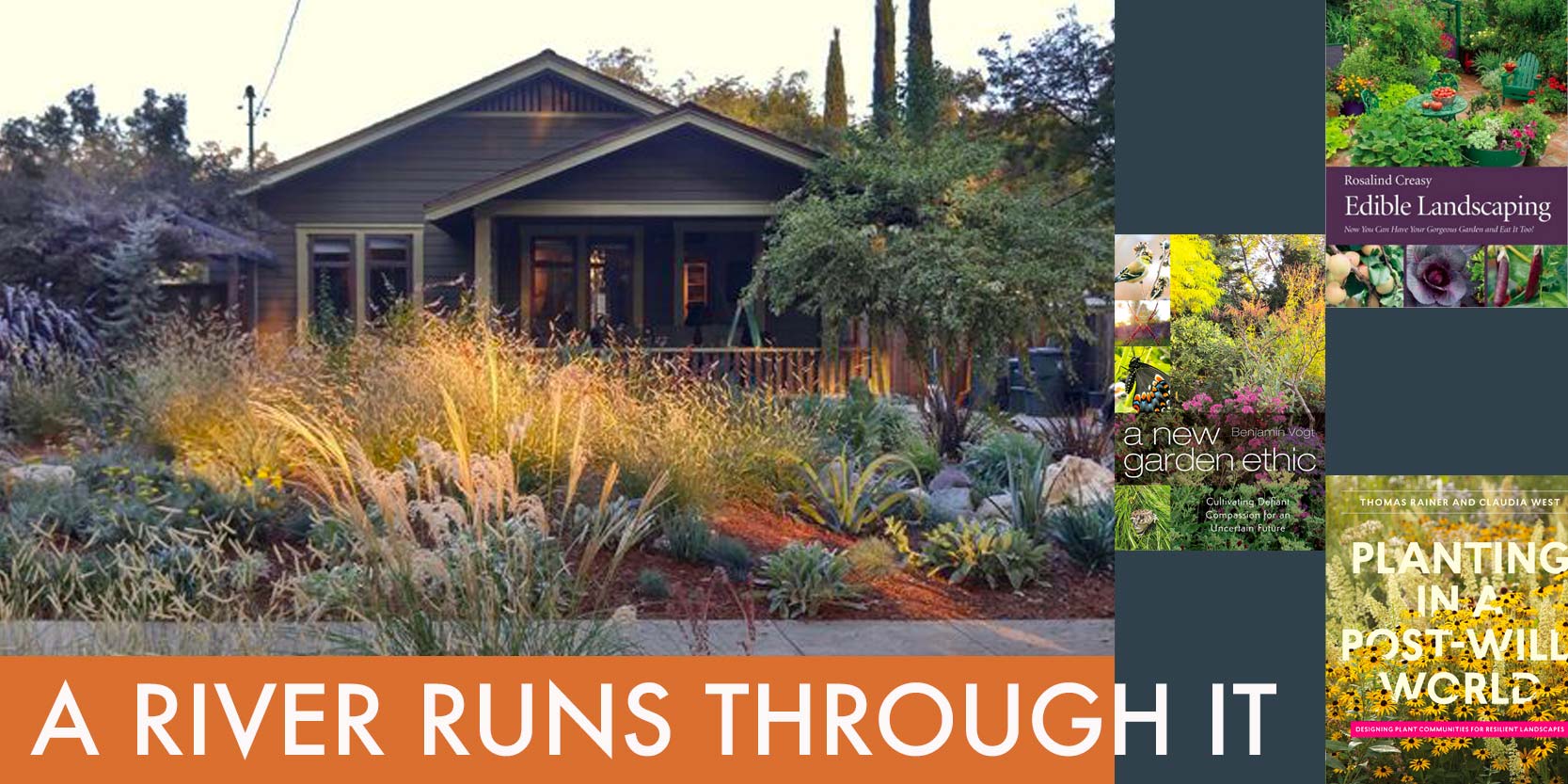 Expand your thinking on native plants and take a new look at the designed environment as well as the role we play as agents of change, stewards, and trustees in our personal spaces, our communities, and beyond.
Day 1
SPEAKER FORUM: Saturday, April 7th, 9:30am - 4:30pm. Takes place at the amazing Descanso Gardens where you will be engaged with 5 speakers that will challenge us to push our thinking about landscapes.

THOMAS RAINER, landscape architect, teacher, author of Planting in a Post Wild World, will show us practical techniques for a more layered, intermingled approach that allows plant dynamics to happen in an aesthetic framework. Thomas is a horticultural futurist, fascinated by the intersection of wild plants and human culture.
BENJAMIN VOGT, author and activist, his book The New Garden Ethic argues that our health and well-being depend on a strong connection with the natural world, and specifically the original landscape in which we live.
PAMELA BERSTLER, founder of Green Gardens Group (G3), teacher and creator of the legendary Soil Summit. Her talk: Watershed Approach Landscapes, Make it Rain! will demonstrate through managment of the Green Water Zone, how we can create a more beautiful and livable environment that ensures we have sufficient water resources to maintain our landscapes for generations to come.
ROSALIND CREASY, award winning author, directs us to success with organic edible landscaping.
FRANK McDONOUGH, writer, botanist, lecturer and photographer, speaks on Trees That Thrive and how to maintain our urban forest.
---
Saturday Eventing Soiree: 6PM-8PM
Cap off the evening with a soiree with small bites and libations in a beautiful private garden designed by Bernard Trainor. Tucked on a walk street in Venice the open floor plan seemlessly connects indoor living with outdoor living.
---


Day 2
THE 3RD ANNUAL GARDEN TOUR: Sunday, April 8th, 9:30 am - 4:30pm.
Tour 7 Private Gardens featuring sustainable practices and the watershed approach. Area for garden tour extends from the San Fernando Valley to Pasadena.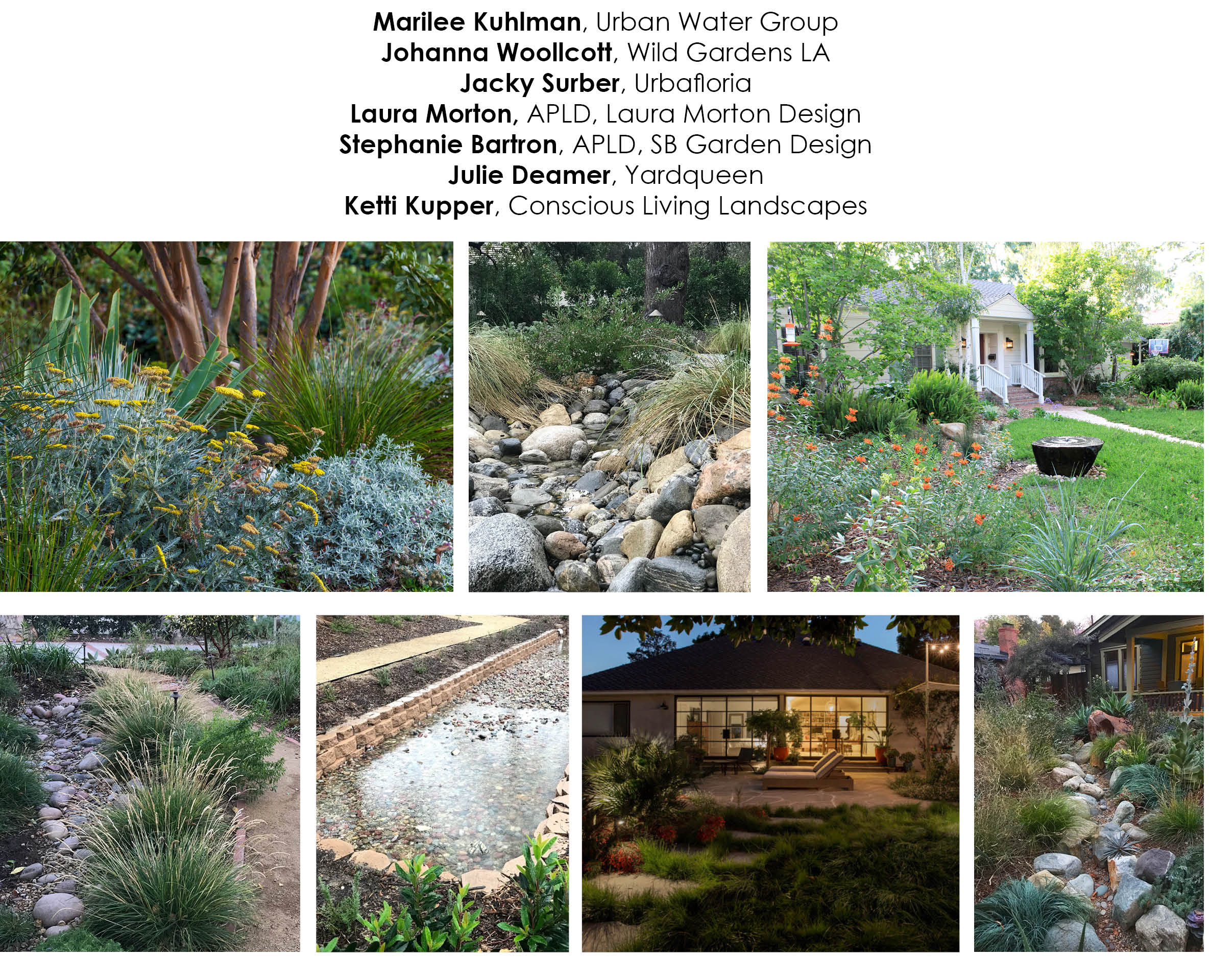 Sunday Reception: 4pm-6pm Celebratory Reception in final garden on the tour. Treats and refreshments will be offered.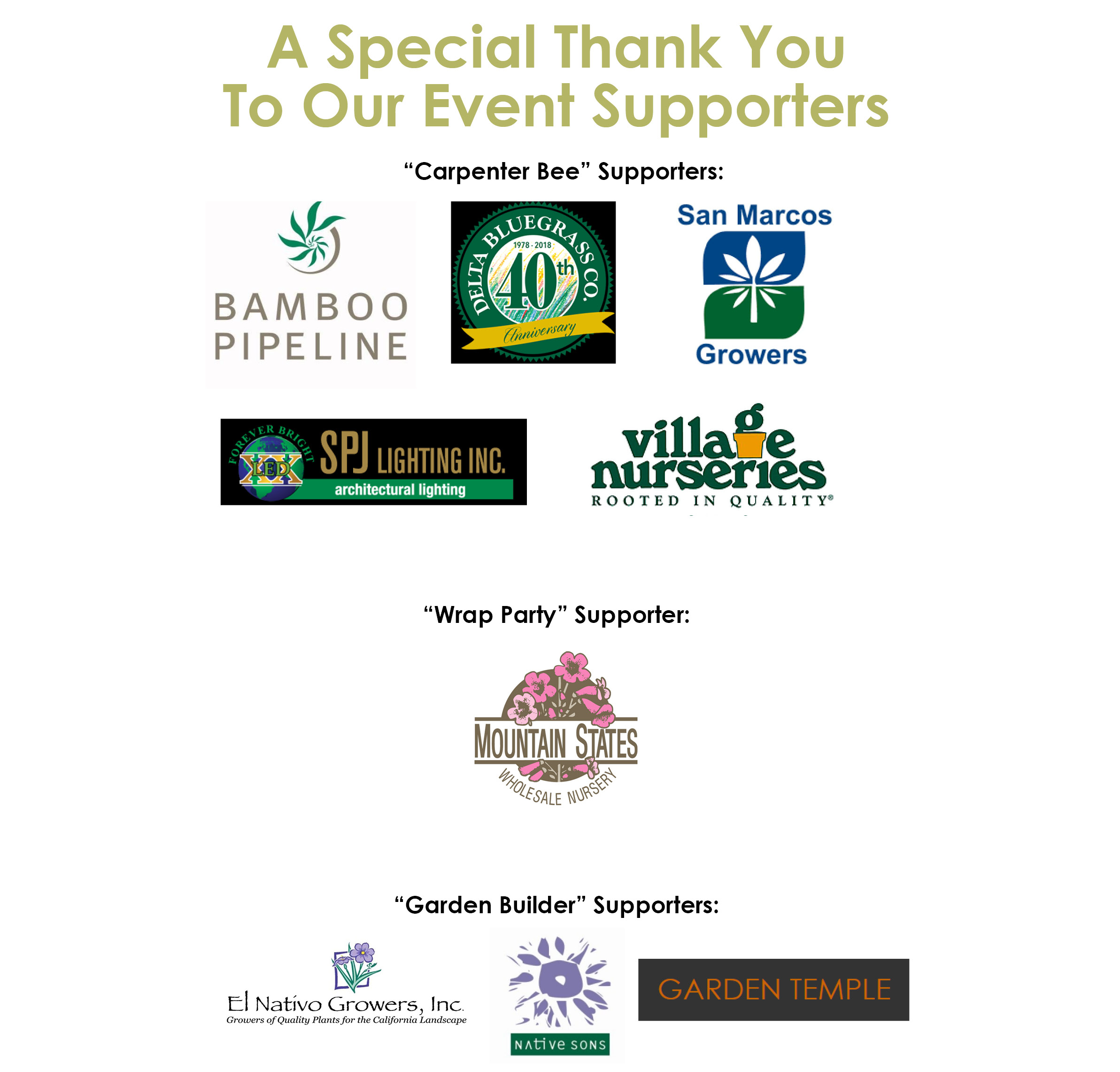 ---


TICKET PRICING
APLD MEMBERS & SPONSORS
(Note: only current APLD Members & Sponsors can buy at member rates)
2 day package (speaker day + garden tour day + soiree): $200
Speaker Day only: $150
Garden Tour Day only: $40
Evening Soiree Member or Buddy pass (companion): $40
---
NON-MEMBERS
2 day package (speaker day + garden tour day + soiree): $300
Speaker Day only: $200
Garden Tour Day only: $50
---
STUDENTS (with current ID)
Speaker Day AND Garden tour only: $30.00
---
EVENT VOLUNTEERS (APLD Members have priortiy)
Speaker Day only: $140
Garden Tour half day: $20
If you would like to volunteer, please go to:
http://www.signupgenius.com/go/30e0449aeab2da1fd0-ariver
---
TRAVELERS: Call Mary at the Marriott Hotel at 21 West Walnut Street, Pasadena (Old Town area) Ask for: APLD CA Chapter Room Block $179 plus tax Call: 1-844-617-0544
Appeal for a discounted ticket block! Horticultural organizations can get a discount when buying a blocks of 10 tickets. Email: glamembership@apldca.org
Release of Media Assets -This Event may be Videotaped, Recorded and Photographed: By participating in this event, you are agreeing that APLDCA.ORG and APLD Sponsors and their representatives may use photographs, videotape footage or likeness thereof ("media assets") for purposes of promoting their programs in perpetuity, in any and all media throughout the universe, and that the media assets become the property of APLDCA.ORG and require no further attribution.
Date and time
Location
Descanso Gardens
1418 Descanso Drive
La Cañada Flintridge, CA 91011
Refund policy