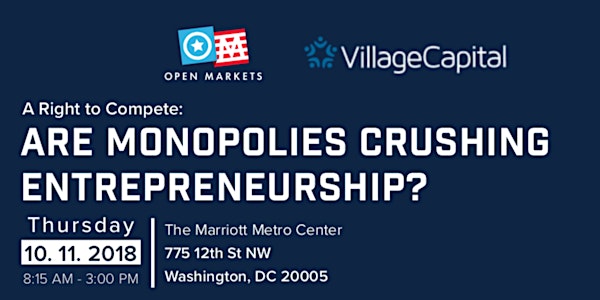 A Right to Compete: Are Monopolies Crushing Entrepreneurship?
By Open Markets Institute
Date and time
Thursday, October 11, 2018 · 8:15am - 3pm EDT
Location
The Marriott Metro Center 775 12th St NW Washington, DC 20005
Description
Featuring:
Senator Cory Booker (D-NJ)
Senator Shelley Moore Capito (R-WV)
Senator Mark Warner (D-VA)
Commissioner Robert Jackson, Securities and Exchange Commission
At its best, the United States is home to entrepreneurs who lead the world in innovation, and to the most developed and diverse sources of investment capital anywhere. But today America's business community is in a crisis. Entrepreneurship is at a forty year low and startups are closing their doors faster than any time in 50 years. Even for those that succeed, the biggest corporations increasingly set the rules for innovation.
Please join us Thursday, October 11 for "A Right to Compete: Are Monopolies Crushing Entrepreneurship?" a conference hosted by the Open Markets Institute and Village Capital. We will hear from leading entrepreneurs and policymakers, as well as community leaders, researchers, and advocates about the declining right to compete in America. The full-day conference will detail the nation's declining economic dynamism, identify the source of the problem in anticompetitive practices, and discuss solutions to support a resurgence of the American entrepreneur.
Participants will also discuss some of the larger social and economic effects of the sharp decline in entrepreneurship, including the dangers posed to investors and the broader economic, political, and material well-being of Americans.
8:00 Breakfast
8:20 Welcome
Ross Baird, Village Capital and Barry Lynn, Open Markets Institute
8:30 Remarks
Senator Shelley Moore Capito (R-WV)
9:00 Victor Hwang, Kauffman Foundation
9:10 In Their Own Words: Entrepreneurs and the Declining Right to Compete
Lillian Salerno, Rodney Foxworth, Jr., Mike Callicrate, Alex Laskey, moderated by Victor Hwang
10:00 Remarks
Senator Mark Warner (D-VA)
10:30 Mid-Morning Coffee Break
11:10 Remarks
Commissioner Rob Jackson
11:45 Remarks
Senator Cory Booker (D-NJ)
12:30 Lunch
12:50 Remarks
Rana Foroohar + moderated Q&A with Barry Lynn
1:25 Solutions: Addressing Monopoly Power's Role in Entrepreneurship's Decline
Barry Lynn, Stacy Mitchell, John Lettieri, Ebony Pope, moderated by Jim Tankersley
About the organizer
The Open Markets Institute works to protect our economy and democracy from extreme concentrations of economic and political power. We do so by researching and reporting on the political and economic dangers posed by monopolization and advocating for ways to reestablish America's political economy on a more fair, secure, and stable footing.