Description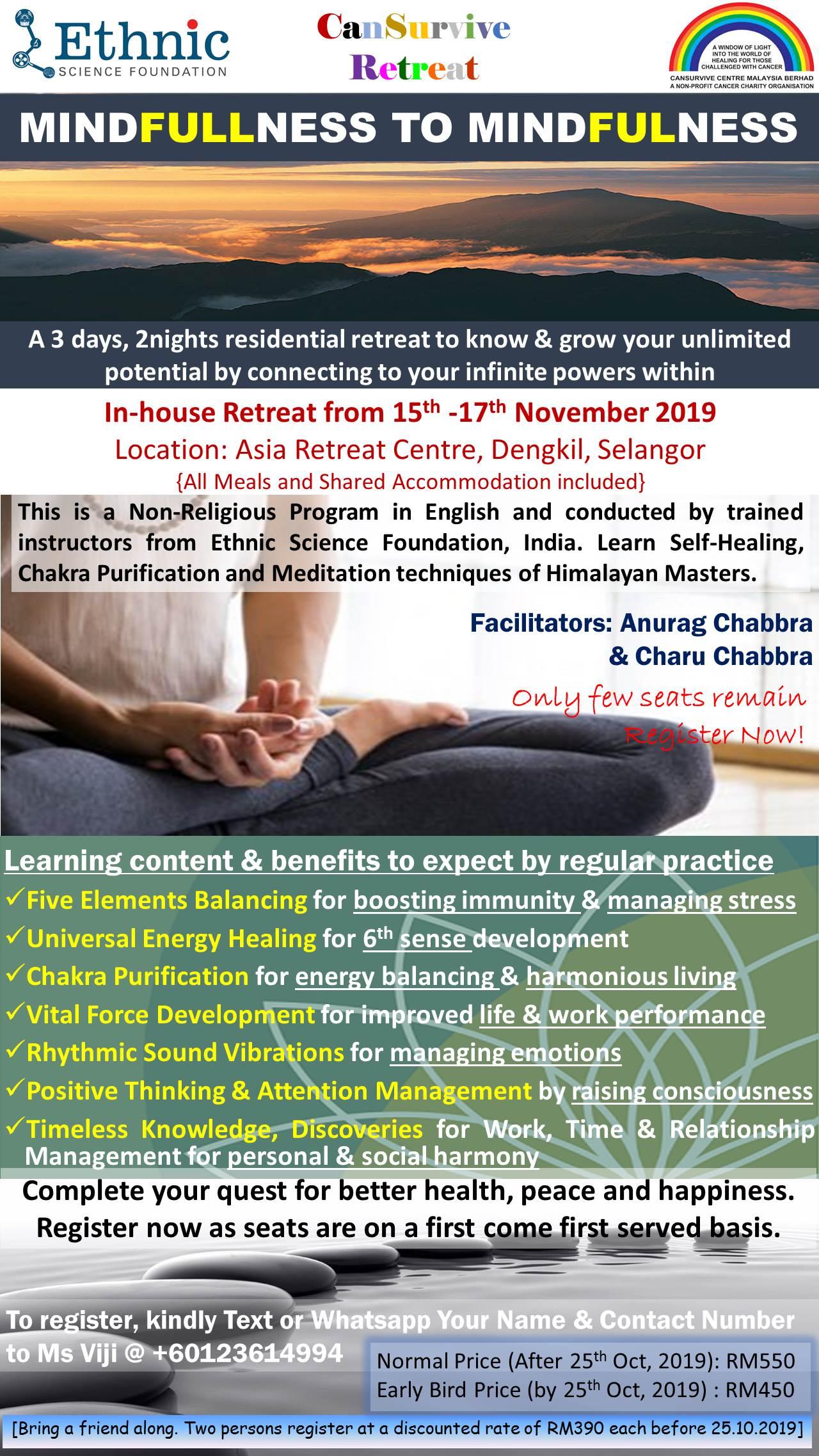 Organizer of A Retreat : Mindfullness to Mindfulness
CANSURVIVE is a support and information service for those who are challenged with cancer. It is also a service that offers a greater awareness of the benefits of holistic, non-invasive cancer therapies, nutrition and diet as well as orthodox treatments; what is available and where to access them. It is a window of light into the world of healing, where the word "terminal" is a challenge, NOT a death sentence.
CANSURVIVE MALAYSIA CENTRE BERHAD (M903023) is a non-profit charity organization incorporated on 2nd June, 2010 under the Companies Act in Malaysia as a company limited by guarantee (CLBG). We provide guidance and compassionate community support for patients who suffer from cancer as well as their family and friends. 
Our events are mostly free or at a nominal sum. As such, events are only made possible by contributions in cash and kind from the general public and our volunteer members. All our office bearers are honorary members who serve without any remuneration whatsoever. We welcome contributions in cash and kind to help us offset the costs incurred in organizing this event and to host future events as well. We also look forward for more volunteers to help us reach out further. 
Our main aim is to assist people with cancer to achieve a rewarding and beneficial outcome. As we believe that cancer is a disease caused by the imbalance of Mind, Body and Spirit, we embrace all forms of treatment and healing therapies. We provide information that encompasses Allopathy, Homeopathy, Ayurveda, Traditional Chinese Medicine, Pranic Healing, Xi Gong, Reiki, EFT, and other modalities making it a truly holistic approach to cancer. The combination of one or more of the approaches has proved powerful and greatly supportive for the cancer healing journey.
With us, you will discover a safe place where you may express yourself and share your pain and suffering and find answers in a holistic manner. In time, you will find, trust and cherish caring individuals who will listen sympathetically and guide you non-judgmentally. Hence, for the rest of your life you will regain your strength and have the satisfaction of guiding others in their own challenging pathway.