| | |
| --- | --- |
| A Refugee Camp in the Heart of St. John's | |
Event Details
If you need to reach us, please call us at 1-800-982-7903 x2449 toll-free or email:  refugeecamp.groups@msf.org
Individuals or small groups are welcome to come to the event without reservations.
The exhibit is free and wheelchair accessible.
To better accommodate schools, community organizations, and all other groups, we require groups of 10 or more to pre-register for a reserved time. Groups with more than 20 participants will be divided into smaller groups.
Students should be in Grades 6 and above.
The exhibit is a guided tour only; it takes from 45-60 minutes to complete the tour.
Tours are offered in either official language.
After registering for the event you will be contacted by MSF staff to confirm your reservation and begin the scheduling process. We will do our best to accommodate all requests, but due to time and space constraints scheduling is on a first come, first served basis.
For more information please visit our website.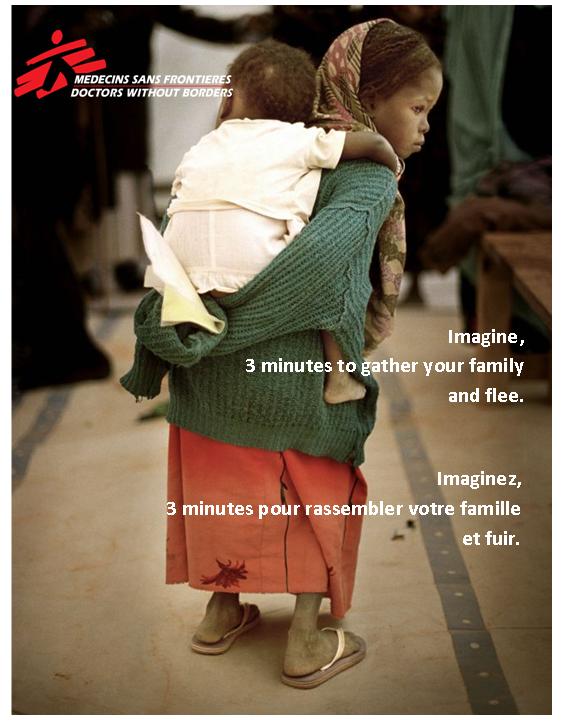 Refugee Camp in the Heart of the City is an outdoor, interactive, educational exhibit made up of the actual materials used by Médecins Sans Frontières / Doctors Without Borders (MSF) in its emergency medical work around the world. The exhibit asks visitors to imagine what it is like to be a refugee or an internally displaced person (IDP) forced from their home by war or conflict.
Aid workers act as guides, demonstrating the various types of temporary shelter that refugees and IDPs may build for themselves, how they find food, how MSF implements vaccination programs, runs clinics to provide basic healthcare, treats malnutrition, and secures clean water sources and sets up latrines to prevent epidemic outbreaks. They discuss the dangers that are often commonplace in camps, and the impact of displacement on mental health. The event also includes photographs from leading photojournalists who have worked alongside MSF in emergency zones around the world.
Thank you for your interest in visiting our Refugee Camp exhibit in St. John's!
Where

Bannerman Park
Military Road
Saint John's, Newfoundland And Labrador A1C 2C9
Canada

Organizer
MSF Canada
Médecins Sans Frontières (MSF) is an international humanitarian aid organisation that provides emergency medical assistance to populations in danger in more than 70 countries.
In countries where health structures are insufficient or even non-existant, MSF collaborates with authorities such as the Ministry of Health to provide assistance. MSF works in rehabilitation of hospitals and dispensaries, vaccination programmes and water and sanitation projects. MSF also works in remote health care centres, slum areas and provides training of local personnel. All this is done with the objective of rebuilding health structures to acceptable levels. 
A Refugee Camp in the Heart of St. John's