A Red Carpet to the Finish Line to benefit BMC (SPARK Center)

Saturday, April 6, 2013 from 7:00 PM to 10:00 PM (EDT)
Event Details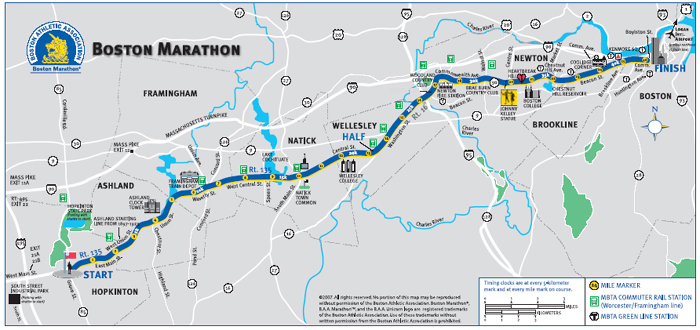 Dear Friends,
Each year, the Boston Marathon generously provides numbers to organizations to assist with fundraising efforts. Team BMC is one such team and this year, I was chosen as part of their team. While running is not usually my thing, it too, is part of the challenge. I don't plan to break any records but, walk-run-crawl, I intend to finish! I have been fortunate to work with a particular group at Boston Medical Center for many years; the SPARK Center located in Mattapan. The mission of the center is to help Boston's highest-risk children to build brighter tomorrows. SPARK provides therapeutic, medically-specialized programs for children of all ages based on the philosophy that all children are resilient and able to take control of their futures. SPARK makes long-term investments in fragile children—helping them believe in themselves, makes healthy choices, cope with emotional problems, achieve in school and gain success as adults.
There are so many great causes but when it comes to children, need I say more? We must do for them what they cannot do for themselves. It is for that reason that I am proud to represent the SPARK Center's Dennis Fund for Team BMC. I am doing so in memory of some very special people: my dad Eddie, a hardworking Irish immigrant, who never forgot about helping others; my father-in-law John, a veteran and family man; and some special friends, Mary Reed, who recently lost her battle to cancer,  Paul Drew, an influential advocate for neighborhood access to health care; and Dennis Lucyiniak, a coordinator of SPARK's Special Education Program known as a gifted special need's educator who dedicated his life to nurturing and guiding fragile children and their families.  My life has been made better having known each of them!
 As part of the team, I have committed to raise $10,000 for this great cause! I, along with my co-host, David Brown (Former Boston Meteorologist) am pleased to announce the "Red Carpet to the Finish Line" event on, April 6, 2013 starting at 7 p.m. at Mercedes Benz of Westwood, located at 425 Providence Highway. The event will include the traditional red carpet, photos, fabulous lite fare, beverages, complimentary parking and entertainment. There are wonderful opportunities for sponsorship, to donate some prizes or giveaways, and of course, to purchase your tickets.
 I hope you will honor a healthy child by helping this program better the lives of these wonderful children. Please feel free to contact me with any questions at 617.922.8600. I appreciate your consideration and look forward to seeing you on the 6th of April!
 In good health,
Maureen
When & Where

Mercedes-Benz of Westwood
425 Providence Highway
Westwood, MA 02090


Saturday, April 6, 2013 from 7:00 PM to 10:00 PM (EDT)
Add to my calendar
Organizer
Inaugural Committee for Mayor Robert Hedlund
The Mayoral Inaugural Committee is delighted to invite you to
THE INAUGURAL RECEPTION
in honor of
MAYOR ROBERT L. HEDLUND
This is a wonderful opportunity for family, friends, residents, and business owners to celebrate the energy and excitement that Mayor Hedlund brings to this seat.
A $25 donation per person is requested!
Note that any funds in excess of reception costs will be donated to Weymouth Youth Sports!
A Red Carpet to the Finish Line to benefit BMC (SPARK Center)