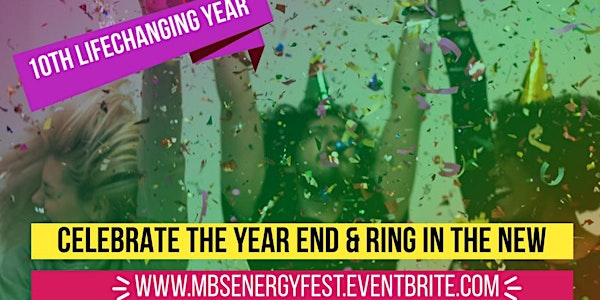 A REAL Mind-Body-Spirit Makeover for the Year Ahead
"Brilliant, awesome, magnificent, mind blowing!!! I am gob smacked by the experience and a mind set of determination, positivity.
About this event
THE 10TH ANNUAL MIND BODY SPIRIT ENERGY FEST WORKSHOP WITH MARILYN DEVONISH - ONLINE ON-DEMAND 1-DAY VIDEO WEBINAR WORKSHOP
The last Mind Body Spirit Energy Fest Workshop was really off the scale, and that is the feedback from delegates who have previously attended the Mind Body Spirit Energy Fest Workshop rather than coming from me.  As one attendee put it:
"100/10. Of any scale." <3
Would you recommend this event to others: "YES, YES, YES!!!"
Another said:
"Amazing. Awesome. Magical. Knowledgeable - Loved the info. Magnificent. Confidence Boosting."
A Video Webinar attendee rated this event as "1000/10" and said it "exceed their expectations."
Another Webinar attendee said: "It was a brilliant way to spend the day, focussing on clearing and creating for a better 2021." Linda Campling
Another Webinar attendee said: "Yay it was awesome - almost ten hours of joy 💜 Thank you Marilyn xxx ✨" Denise Davis
To access the Webinar directly go to: https://www.bigmarker.com/tranceformations-tm/MBS-Energy-Fest-1-Day-Video-Webinar-Workshop
COVID19 LOCKDOWN UPDATE
Online Mind Body Spirit Energy Fest Workshop a 1-Day Online Video Webinar Workshop this year.
If you are booking after 21st November, you can also book directly via the Webinar Platform page: https://www.bigmarker.com/tranceformations-tm/MBS-Energy-Fest-1-Day-Video-Webinar-Workshop It is also the place to pay if you want to book in USD $
I don't need to tell you that plans regarding lockdown and restrictions on social gatherings are as changeable as the UK weather, so it has been challenging to give a definitive answer as to what will happen to the in-person MBS Workshop this year. The way things are going, it seems unlikely we will run an in-person version of this event in 2020, however I shall observe what unfolds over the next few weeks.
At the moment I suspect it will be a Spring 2021 event.
NEW!!!!!! LIVE MEDIUMSHIP SESSION
This year is our 10 Year MBS Energy Fest Workshop Anniversary, and what I am about to share here is a first in those 10 years.  Because many have lost family, loved ones, and friends during the pandemic, I asked our Resident Clairvoyant Gina Batt if she would be willing to do a Mediumship Session as part of the event.
It is entirely optional, and for those for whom it is not your thing, you can have a 30-minute break, or complete one of the previous MBS Coaching Exercises. 
This operates as a 'dial up' service where if you want to take part, you make the first connection on behalf of Gina.  It is fun, and takes about 5 minutes to connect, and just to reiterate you only need a tiny tipple in the glass or puff of perfume!   I outlined the 5 steps required in the Workshop Joining Instructions, which were sent out yesterday.  If you didn't receive them, let me know. 
Because we've had a few attendees say "yes" in advance, Gina has already had 2 'people' come through; I put their names in last night's email.  We will hear what messages from the other side they have for you at the live MBS Workshop. 
HOW DOES THE NEW VIDEO WEBINAR WORKSHOP WORK?
Previously the event has always been held as an in-person Workshop however 95% of my Coaching and Therapy Work is done via telephone, Skype and Webinar, so with the brilliance of technology we are holding an additional one-off Bonus 1-Day Video Webinar Workshop which means you can attend from the comfort of your own home. 
You will join myself Marilyn Devonish and Clairvoyant and Psychic Gina Batt via Video Webinar.  The event is a full 1-Day with scheduled breaks and lunch and you get to experience all the incredible transformational processes the MBS Energy Fest Workshop attendees have experienced over the past 8 life-changing years. 
WHAT'S INCLUDED IN THE 1-DAY VIDEO WEBINAR WORKSHOP? 
Topics and processes covered at previous MBS Workshops include: 
Uncovering old negative emotions and limiting beliefs. 
Chakra Alignment Guided Meditation and Crystal Activation. 
Huna and Access Consciousness Energy Clearing & Belief Change Session. 
Silver Cord of Life Guided Meditation. 
Silver Linings Card & Astrology Readings. 
Future Life Progression Guided Process. 
Mind Set for Success & Action Setting.
Coaching Cards Readings.
One of the wonderful things about running the Workshop as a Webinar is you can attend from anywhere in the world without incurring travel, accommodation or food expenses, and you will also have lifetime access to the Replay Recording for those who can't make it live or if you want to revisit the Processes, Energy Clearing Exercises, and Guided Meditations. 
For an idea of what to expect you can watch a Webinar Replay here: https://www.bigmarker.com/tranceformations-tm/MBS-Energy-Fest-Experiential
FEEBACK FROM PREVIOUS ATTENDEES
Would you recommend this Workshop to others?
"Yes! Please, please, the journey of magic and miracles is contagious, please attend the MBS and live it for yourself."
What was the best and most beneficial part for you?
"Loved every second of the Workshop. Yay! And all aspects, ie Huna - blows the mind and meditations - another dimension. Access Consciousness + Clearing Stress Release technique + Game of Life was a big confidence and voice booster. Loved the company of amazing like minded people."
Did the Workshop meet your expectations?
"Yes. Meditation was powerful!"
How would you rate the Speakers?
"200%. Gina + Marilyn you're both so awesome. Love the knowledge and techniques - Game Changer."
What if anything would you change?
"Nothing! Loved it. We could have 3 days of MBS Workshop, Friday, Saturday + Sunday! WOW!"
The #MBSEnergyFest was "Deep. Transformational. Different. Enlightening. Uplifting."
What was the best part and biggest impact?
"Realising I was meant to be here and receiving the message from my future self." (This was from someone was going to put off attending this year because of their busy schedule).
What if anything would you change about this Workshop?
"It was perfect."
Did the Workshop meet your expectations?
"Yes, and more! Be prepared to be amazed!"
"Brilliant, awesome, magnificent, mind blowing!!!  I am gobsmacked by the experience and a mind set of determination, positivity, and a thirst quenching enthusiasm for life.  I am wondering if someone is listening to my thoughts and making then making them real!!"
"I wish I could do this every week LOL. After this weekend I seem to have a chilled calmness about me and a glint in the eye and rye smile with some excitement about what is to come in my life.  I have the urge to do lots of different things and enjoy the wonders that life has to offer."
"Best way ever to wrap up the year and get ready for the one ahead.
Gina and Marilyn are creating in this event the magic environment that will take you to the absolute next level if you choose too.
This year it's my 3rd consecutive event. It became a tradition.
Join me!  It's beautiful! It will make your whole being smile from inside out!
The link for the event is in the shared message below.
Sending you lots of love, Magdalena x"
 "100/10.  Off any scale!"
I also wake up to the coolest messages. This one is from someone who has loved the past 2 year's so much that she is willing to book 2 YEARS in advance!
"My preference is to not book anything much in advance so that I have flexibility. However this weekend is so awesome I don't want to miss out. So I'll pay for 2018 and if that doesn't work then I'll definitely be there in 2019 xxx shall I call tomorrow and give you my credit card? Xxx"
I mean seriously, how awesome in that? Someone willing to book a FULL 2 YEARS IN ADVANCE because the #MBSEnergyFest was so awesome when they attended this weekend.
We now have a very minimalist page because the previous Eventbrite page crashed under the weight of the wonderful client testimonials.  I'm really not kidding, the Eventbrite helpdesk couldn't explain why I was unable to access the page and it was then escalated to the technical team who said there were too many photos, letters, and too much text!  They suggested collating that information in a Blog which I have started to do.  To read the initial draft version of the How Just 1 Day Can Change the Trajectory of Your Entire Life Forever click here. 
RECENT WORKSHOP HIGHLIGHTS
A December 2018 attendee said all her goals set at the MBS Workshop in December 2017 had been been met, achieved and "blown out of the water" so she was back for more of the same.  
An attendee in December 2017 looked back on her notes from MBS 2016 and she had moved from life being a 5/10 to an 8 and 9/10 compared to where she was when she attended last year in the various aspects of her life that we benchmark against during the Life Review. 
The Soul Plan Limiting Beliefs which amazed people because it got to the heart of the matter and enlightened people as to some of a deep seated patterns and stuck states that have been running as an undercurrent and blockage in their lives.
Chakra Balancing group meditation and energy clearing session where people actually felt balanced and more in alignement right then and there.
The now infamous Huna and Access Consciousness combo to release and resolve old limiting beliefs, negative emotions, past life issues, and judgements and limitations. 
The Game of Life Experiential - Several attendees were somewhat resistent on Day 1. By the afternoon of Day 2 it was on of the many highlights of their weekend. 
The Future Life Progression Message - All I can say is WOW!  The messages that people recieved during this Guided Meditation were profound. 
Stepping Over the Threshold.  This is where we literally brought people's future dreams to life and the energy of the process was both amazing and empowering. 
The feedback on the above structure from someone who has attended for the past 2 years and signed up in December 2017 to attend in December 2018 was:
"Hi Marilyn 
'Powerful' workshop indeed. I had so much energy after the event I was doing an impersonation of your energiser bunny for 3 days straight!! It must have come from the energetic vibe of the weekend.
Having returned again following last years' event and having my notes to hand, I was able to make so much sense of a lot of things. I really enjoyed all the activities and a repetition of all would benefit me. They all served their purpose. For example:
Although a regular, each time I do the Access Consciousness, I focus on a different area / sticking point for me
Huna - well, there's no contest really
Game of Life - it made sense when Gina stated we 'chose' cards which related to us in a specific way, I really GOT it this time and lets not forget the outcome of part two and those who found their voice
FLP and Stepping over the threshold - this went and in hand. I'm looking forward to the emergence of that 'sassy' confident woman.
Heart of the home - The feeling of 'stuck / negative energy' in my home has definitely shifted following the weekend exercise. I will be doing this on a regular basis
All the other new ones were also just fab!!!! Please repeat. I intend to put them into practice at home and 'notice what I notice' 
Hope this helps.  
Yes, feel free to share my feedback"
Here's a look at how the Free Soul Plan and Free Channelled Psychic Readings for the Year Ahead works and what you can expect to glean from them  (If the video link isn't working CLICK HERE )
Below is a short video of the last event: 
And the year before that:
THE GLOBAL WEBINAR OPTION
Below is some of the feedback from the live stream event that I ran earlier this year. We had attendees from Australia, Canada, the United States of America, and across Europe. It was a truly global event, and those taking part from around the world felt the energy of everything and as though they were with us in the room: :
"Wow! Thank you, Marilyn! I could feel energy running through my body the whole time, esp. when you were talking about releasing past life issues. I could really feel it in my heart and throat. I could see your aura on the screen. It was brightest when there was a run of things you were saying, w/o looking at the post-its. Very powerful! I can still feel the energy coursing through my body now and feel the need to drink lots more water." "Thank you both so much for an amazing day. A few technical issues were fairly quickly resolved. I felt part of the room. I would definitely attend this way in the future if it was available. Looking forward to the recording to see if I missed anything. Much love to all especially my live stream buddies!" "Thank u thank u thank u! what abundant blessings I feel multiplying in the very near future- great energy and what a beautiful day and event this was! Live Feed was incredible and so blessed to have been a part of it." "I'm so grateful there was a live stream. I would not have been able to attend otherwise. And yes, meeting people in person is nice, however, this is amazing as well." "Love this. I have some burning at home here, now!" (We were doing a Group Energy Clearing Exercise).
"After the last meditation, I feel a tremendous love for the students I work with and also for my future clients. This is amazing. It's just like the sun shining brightly in my heart."
WHAT DO WE COVER AT THE MBS ENERGY FEST EVENT
Now in its 10th groundbreak and life TranceForming year the Mind Body Spirit Energy Fest is a mix of introducing new theories and personal development concepts, private journaling, experiential sessions, transformational change work, group energy transmissions, angel and spirit guide readings, soul plan exploration, channelled psychic readings, blasting away old emotions, having fun literally acting your way through old boundaries, changing limiting beliefs, and taking a trip out into your ultimate best future and imprinting those fabulous new strategies and beliefs into your future. 
What was new for this year:
I designed an Experiential Exercise to 'step over the threshold' into the new.
Delegate brought along something that represented one of the dreams or desires that they wanted to manifest in the future. 
For example, for the thespians out there you might brought along on Oscar statuette or and their acceptance speeches.  Others brought along a magicians wand, a unicorn crystal balls.  For others it a financial outcome, so they had put some money and brought along piles of cash.  Have very recently taken up ballet for the first time ever in my 48th year, I had a bespoke pair of new ballet shoes made and we all did a full sensory version of the infamous 'speaking it into existence' Exercise.
I also had one of those early morning Aha and light bulb moments this morning and I think that this year we will go more into creating from the soul and spirit as opposed to the source of creation being the head and mind.  I will explain more about it at the Workshop, however in a nutshell my vision at the moment is to basically spend 2 days in the vortex, which is what we did on that very first MBS event almost 7 years ago when Ammana and Keith had those amazing manifestations, and in the 2-3 years following that. 
I've had people who are now mortgage and debt free having set that as their intention at previous MBS Workshops and working on during the Breakthrough Coaching Sessions afterwards, so it can be a really powerful space of creation. It does however require a freedom and a lightness and letting go, which is what the Saturday morning is going to be all about.
I've also had an idea about physically benchmarking our start and finish points using kinesiology and Dowsing, so I will be testing that out with a couple of willing clients between now and then to see how that works in practice.
Also, if you attended last year, or in previous years, check out your 'letter(s)' because it will be very interesting to see what has come to pass, what is still yet to happen, and what has perhaps unfolded in ways that you didn't quite anticipate or expect. Doing a review will help you to fine tune your own personal manifestation process.  
Anyway, just wanted to give you the heads up on the initial plans.  I shall of course be incubating and percolating over the coming weeks and months so that we once again create something super special.  
I had a question about about how the Webinar is structured. My answer is below:
"Hi,
It's the latter, as in the other attendees are there, but you can't see them.
IF, they type in the public Chat you can see their name, and chat with them, if they type in the Q&A only I can see them.
This year I'm also assigning code names because people might not want others to know it's them for those doing the Channelled Readings or Mediumship Sessions.
If people want to switch on their camera or microphone, they can."
Best regards,
Marilyn Devonish x