A REAL Mind-Body-Spirit Makeover for 2012! - Energy Fest - Sat 8th Dec 201...
Location
31 Clarendon Road
(20 mins fr London Euston. 3 mins walk fr Watford Junction station)
Watford
WD17 1JA
United Kingdom
Description
THE MIND-BODY-SPIRIT ENERGY FEST 2012
SATURDAY 8TH DECEMBER 2012
Dear AMT Member,
A big welcome to all of the AMT Members, it was fantastic to share the Huna and Access Consciousness information with you all on Sunday 11th November at this year's Annual AMT Conference in Gatwick.
I had some really lovely feedback throughout the day about what people had felt during the demonstration, their experiences of the different energies and symbols, and even shifts and changes in mindset, beliefs and physical ailments.
Those things really tend to occur when there is good collective energy so it makes sense that there would be magical things happening given that we were at the Energy Conference!
On Saturday 8th December I am hosting another Mind Body Spirit Energy Fest Day where I (Marilyn Devonish) and 2 other speakers will be taking you through a series of exercises, processes and session to really shift and make changes for the year ahead.
An experiential rather than 'talk and chalk' day, we had some incredible successes with some of the delegates that attended last year.
I really look forward to seeing you there if you can make it. (There is also a 10% discount off the published price - the code will be sent to you via Alex and Josh at the AMT. If you haven't received it just send me an e-mail: marilyn@tranceformationsTM.com and I will forward it to you).
Warm regards,
Marilyn Devonish
-0-
After the success of our first event in December 2011 the speakers were keen to schedule another date so here it is!!! The next live event will take place on Saturday 8th December 2012. If you would like to reserve your place at a ridiculously low price then select then select from the Early Booking Price options above. Please note that from July the ticket price will increase at the end of each month.
Feedback from the Energy Fest Event in December 2011 included:
"Loved today's workshop, really glad I came."
The facilitators were all very special magical people and I had a fantastic day :-) - Make it 2 days!"
"Great speakers and healing sessions - Thank You."
"Thank you for your time and energy. I'll leave with a bounce in my step."
"The course was well planned and delivered. Wouldn't have minded if the course was longer!"
If you want to:
Literally get a glimpse into your future

Charge up your money and financial abundance energy

Heal physical injuries rapidly or get your body instantly back into alignment

Enhance your bodies natural healing ability so that you are energised and ready to bring fresh energy into the New Year

Learn strategies to eliminate self sabotage and remove emotional baggage from the past

Undertake powerful soul clearing and realignment processes

Unlock and clear old stuck energy, thoughts, and beliefs

Gain clarity around your dreams and really start to bring them to life in ways you couldn't even have imagined possible
This year is particularly exciting as we will be building on the success of the last event and weaving in yet more amazing magic. Marilyn Devonish is holding the space for the Mind Journey of the day and will be leading a deep clearing session for the group using various advanced energetic clearing techniques to neutralise many of the universal beliefs that hold us back from releasing and fulfilling our highest potential.
Once this has taken place your capacity to benefit from the day will be even higher and you will be able to absorb information at a deeper rate with with previous beliefs transformed into thoughts that serve you.
Karina Grant will then lead the group into a journey of the Body. This will unfold as a meditative process designed to explore the body and connect in a way that invokes the mystical power of gratitude with all aspects of your body. This powerful process will enable you to deepen your ability to subtly use your focus to step up your vibration and align it with the universe. Once you know how to do this you can use this meditation at your leisure. Karina will also be sharing some amazing scientific research about energy, healing, and consciousness.
The Spirit Journey will be led by Gina Batt. Gina is a well known and respected Clairvoyant who is best known for her accurate readings and direct access to the spirit realm where she works with a team of guides that have helped many people find clarity and insight into any concerns or issues.
Some people have been feeling as though they are on a downward spiral, fearful of what the future might hold, need to turn things around, or wanting to make sense of some of the chaos in their lives, and are looking for some kind of real clarity and direction.
Others want to build on a good year, take things to the next level, accelerate their results, be physically and emotionally sharp and clear, and free of any barriers or limitations to their success.
As an amazing way of rounding off yet another year, this 1-Day Event:
Connects amazing like-minded people

Provides Breakthrough Strategies for clearing out old emotional baggage and clutter

Gives unprecedented psychic insight into what's really in store for you in the coming year

Gets you physically balanced and in alignment using a cutting edge approach to physical wellbeing

Banishes niggling mental, physical or emotional blocks and barriers to your success

Allows you to celebrate and build on your successes

Shares incredible insights and approaches to help you create a fresh start

Gets you phsically, emtionally, mentally, and spiritually clear and in alignment
Why Attend this Event?
Designed to work on all levels, spiritual, mental, physical and emotional, the day will leave you clear, focused, refreshed, energised, more free of emotional clutter, and with amazing insights, processes, and practices about what you can do to help ensure that 2013 is one of your best years yet.
If you attended the PhotoReading Immersion weekend in June 2009 which was filmed by the BBC you would have had the pleasure of meeting this lineup of powerhouse speakers combining their energies and expertise. Each an expert in their field, they bring together the combined wisdom of over 70 years in practice. One notable occurrance that day in 2009 was the speakers combining their intentions and respective energetic practices to charge up water and other objects, the result of which was bent mental even though it was a totally hands off process! Unfortunately the ring in question is still bent to this day, however the owner does still wear it with a sense of pride about the energy it carries!
How Is the Event Structured?
You will hear from 3 speakers on the day. Breakthrough Belief Change Coach Marilyn Devonish will focus on the journey of the Mind. Quantum Touch Trainer Karina Grant an energy therapist who gets amazing instantaneous results will focus on the Body, and Intuitive Reader and natural Clairvoyant and Psychic Gina Batt will focus on the Spirit.
A combination of theory, group energetic process, guided meditations, personal reflection, and private one-to-one processes, if the 2011 event is anything to go by, it promised to be another incredible day.
For those of you that book early enough you will have the opportunity to receive private one-to-one sessions on the day with each of our guest speakers. The private sessions will be allocated in the order of bookings received, so do ensure that you reserve your place early.
What others have experienced as a result of this magical day?
This story begins on Saturday 10th December 2011. I had the idea of putting together the Mind Body Spirit Energy Fest event to really help people get prepared for what they want to create in 2012.
I delivered the Mind section of the day, Karina the Quantum Touch facilitator did the Body, and Gina the Psychic and Clairvoyant did the Spirit session.
Trainer and Mentor Ammana Shaka attended the December 2011 event. The day comprised of energy clearing and intuitive readings both before and during the event, goal and intention setting, and installing new strategies. When it came to creating the intentions and goals for 2012 Ammana came up with idea that she wanted to live and work in Dubai. Others in the room questioned why Dubai. There was no logical answer. Ammana had never been to Dubai, had no connections in Dubai, had no qualification to go over to Dubai so from the outside it looked like a random goal.
THE GOAL BECOMES A REALITY - CREATING A NEW DREAM LIFE
On Sunday 29th July 2012 Ammana boarded a flight to go out to live and work in Dubai. The accommodation is sorted, the job contract is signed, and the new life starts on the Monday morning. Some of you have also heard the stories I've shared about money turning up in exact amounts immediately after doing Huna and Access Consciousness work with people, or new contracts coming into being seemingly out of the blue. Ammana was also the subject of many of those experiences.
I also happened to sit next to another attendee of the MBS event at the London Yes Group in July and she excitedly shared how much her life has been changing since that day last December, which is just awesome.
Ammana recently wrote this update on facebook on her second day in Saudi:
"I am writing this from Saudi that's the only detail I need to correct on this testimony. Marilyn is an amazingly gifted and humble manifester. She empowers you to open your mind to untapped possibilities and claim what you want in your life. Those of you who were on that workshop know that the time of the utterance I did not know how it was going to happen. Speaking it into existence led me to someone who advised me to do the CELTA course with the promise that I would have plenty of offers for jobs abroad at the end of it. I applied in early Jan was blessed enough to secure a place on a course that only takes 12 students at a time and successfully completed the course in July ...the rest as they say .."
YOUR CHANCE TO ATTEND & EXPERIENCE THE POWER OF THREE
LOVE & FINDING A SOUL MATE
One of last year's Mind Body Spirit Energy Fest delegates, Keith Higgs, a distributor for Utility Warehouse, continued on with the Power of 3 Programme. One of the things he chose to focus on was finances and relationships and finding a soul mate. Within a few weeks of the Coaching things really started to happen and open up both in terms of the relationship and financially.
I was literally writing my eNewsletter piece about the December Mind Body Spirit Energy Fest and I got a call from Keith who had yet more wonderful news to share. He has had so many magical things unfold since the event it would take me several pages to list them all here. One of the issues Keith chose to focus on was creating his soul mate relationship, and he'll be coming along this December to give a live testimonial and share with you all exactly how he did just that! He is currently working on documenting his journey and the strategies so it will be a most fascinating, enlightening and heart warming session. Congratulations to you both Keith! ♥
How can I book a FREE private session on the day?
Throughout the day you will have the opportunity to experience a private one-to-one session with out guest speakers. Please select the relevant option from the list above when making your booking and we'll let you know if we've been able to allocate you one of the spaces. Unfortunately these places are very limited so they will be allocated on a first come first served basis.
What is the investment?
Prices for this information packed and highly experiential day is just £37* for the event, and £57* for the event plus 2 course hot lunch with all 3 Speakers.
* From 31st May the price will rise at the end of each month so if you want to grab a spot before the next price increase book now! The price includes the entire day working with Marilyn, Gina and Karina to really put some power into what you choose to create and generate for the coming year.
THE MAGIC OF CRYSTALS
The use of crystals will again for part of this amazing day, and this year I'm very pleased to announce that Watford based crystal supplier A Healing Touch will be donating a few prize pieces for use on the day so that we help to further create some magical energy and resonance in the room. I have also just purchased a couple of pieces as gifts for a couple of lucky participants!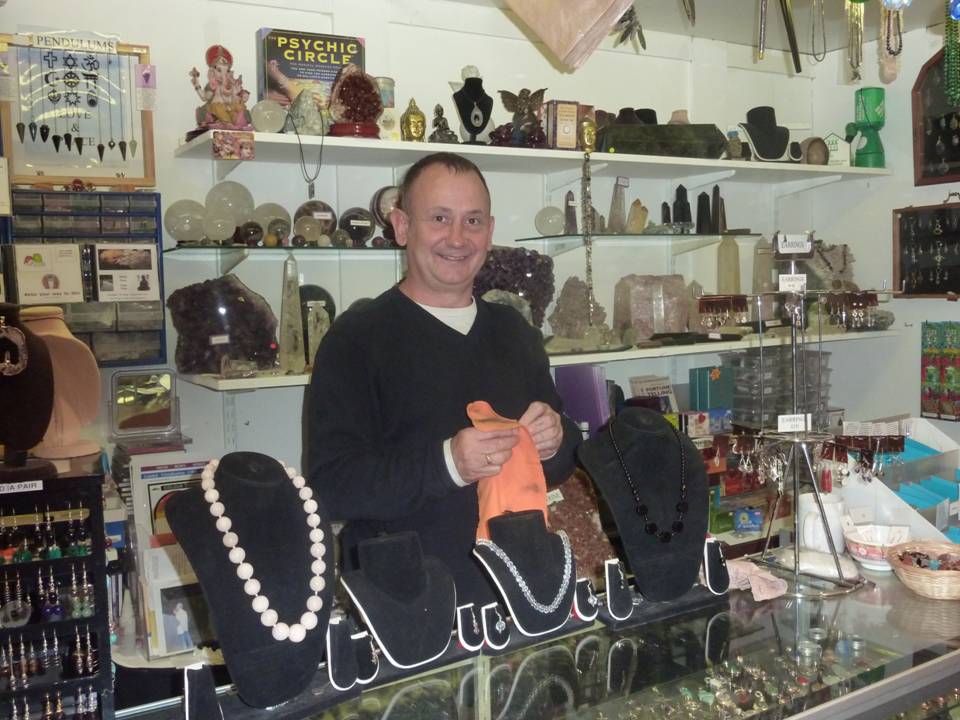 DELEGATE DISCOUNTS ON ALL CRYSTAL PURCHASES
I know that last year many delegates went away in search for some of the crystals that we used during the Mind Body Spirit Energy Fest Day, so this year I have arranged a special discount for all delegates should they want to purchase anything from Jonathan Lee at the Healing Touch during the weekend. His outlet is situated just 5 minutes walk from the Workshop venue so you will have plenty of time to pop over at lunchtime and choose something special.
TESTIMONIAL ABOUT THE 10 MINUTE INTUITIVE READING & ENERGY SESSION WITH MARILYN DEVONISH
I wanted to test out what value people get from the 10-15 minute sessions so I asked for a couple of volunteers via facebook who were willing to do a telephone or Skype session. Zoe's testimonial is below: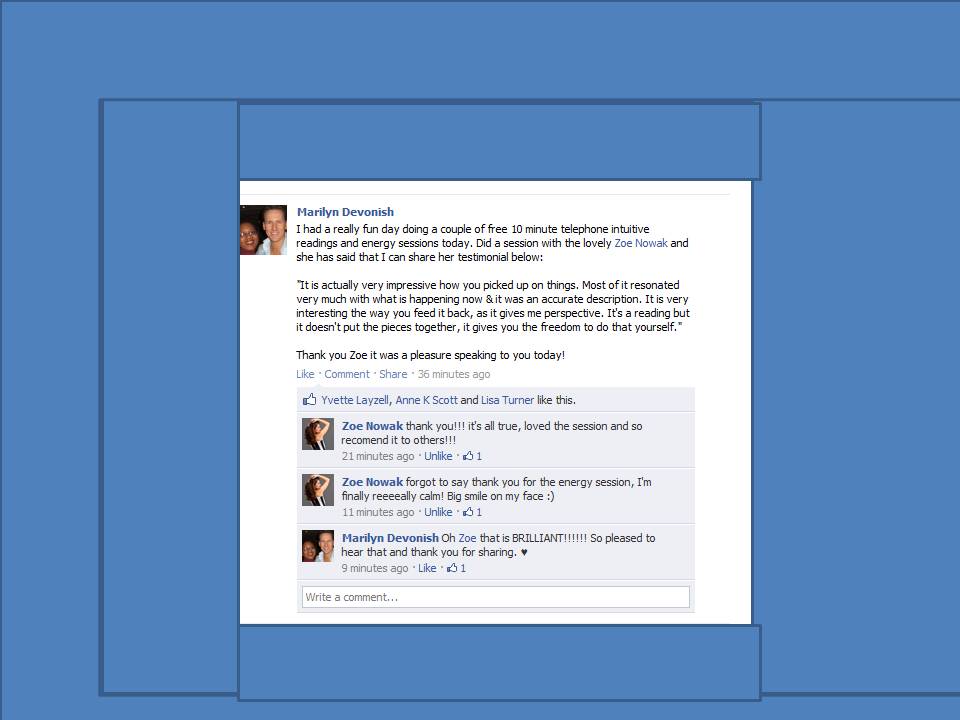 How do I claim my FREE Pre-Workshop Remote Energy Clearing Session?
For those of you that have purchased your tickets by 31st July 2012, with your permission Marilyn Devonish and Gina Batt will do a remote tune in and energy clearning session for you in advance of the event. All we need is your name and your permission. Additional remote energy sessions will be subject to availability and allocated on a first come first served basis so do book your place ASAP.
I would definitely like to attend - what do I do now?
Book now using the form above and I'll get back to you to confirm. If you have any further questions or queries E-mail: marilyn@tranceformationsTM.com or call 01923 337282.
Ammana Shaka's advice to anyone thinking of coming along:
"Speaking as one of last year's success stories currently living in Saudi Arabia, I urge you to get in while the price is low . . . . it's worth much much much more."
-0-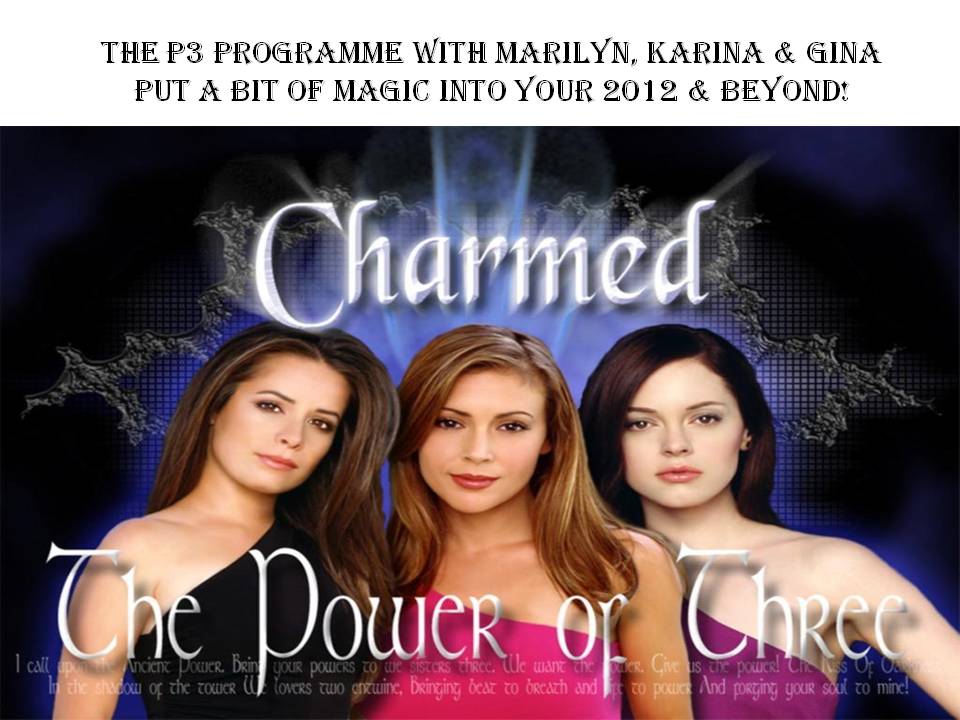 POWER OF 3 COACHING & SPIRITUAL DEVELOPMENT PROGRAMME
Following on from the fantastic Mind Body Spirit Energy Fest Workshop, the intention of the follow up Coaching & Development Programme is to support you in implementing what you know, staying on track, raising your vibration and energy, and helping you achieve one of your big goals or projects for 2012. The private sessions with each of the 3 speakers, and the group calls will provide focus, support, inspiration, ideas, and insight. The P3 Programme will enable you to build and gain momentum and be more aligned with your goals and intentions. The 3-Month Programme includes:
Weekly telephone readings and psychic consultations with Gina Batt
Attendance at the 2-day Quantum Touch Workshop

4 x 1-hour Individual Quantum Touch Sessions with Karina Grant

A ½ day Breakthrough Session with Marilyn Devonish

4 x 1-hour Coaching Sessions with Marilyn Devonish

Follow up MasterMind Group Call

Bonus Teleseminar Workshops with Marilyn, Karina and Gina

Free personal 12-Month channelled astrological forecast for the year ahead

Raising the vibration, energy, and focus on a project or goal for 2012
The 3-month programme will allow you to simultaneously work on all areas of your life and get yourself physically, emotionally and mentally in alignment with what you want to achieve in 2012 and beyond.
CLIENT FEEDBACK ABOUT THE POWER OF 3 PROGRAMME
Below is a testimonial from a client written 2 weeks after starting the Power of 3 Programme:
From the depth of my heart Thank you again and the very best wishes for you in this exciting year. Keith H

My very thought patterns and feelings & experinece has shifted! It seems like I am livimg in a new world! phenomenal!
About Your Speakers
Marilyn Devonish - TranceFormational Belief Change Coach, Speaker, Writer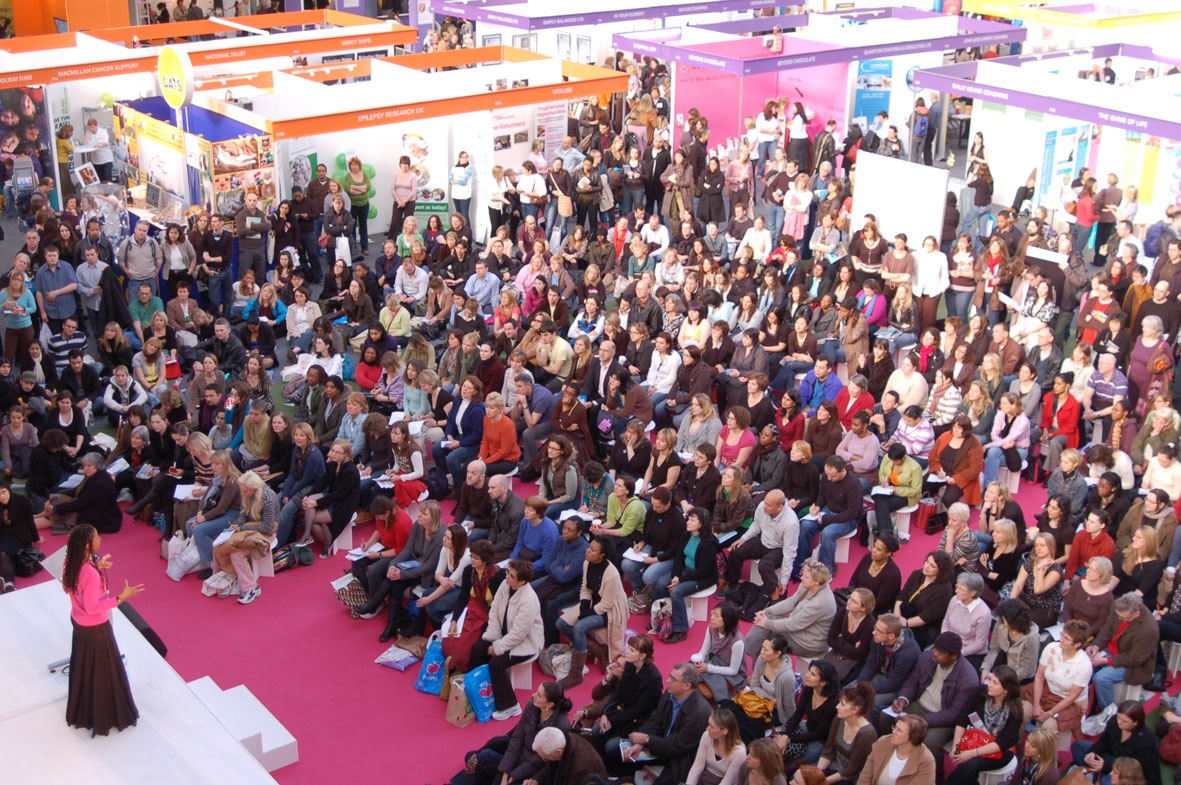 Marilyn Devonish is a Certified Trainer of NLP, Certified Trainer of Hypnosis, Certified Trainer of Time Line Therapy, Certified PhotoReading Instructor, Practitioner of DNA Theta Healing, EmoTrance, EFT, Reiki and Hawaiian Huna. She is also a freelance writer, international speaker, radio and TV presenter and keynote speaker.
Gina Batt - Psychic, Intuitive Reader, Tarot Reader, Radio Presenter & Performance Coach
Gina is an NLP Master Practitioner, Master Practioner of Time Line Therapy, Hypnotherapist, Stress Release Consultant, Performing Arts Coach, Tarot Reader, and Psychic. A natural born psychic since childhood, Gina has wowed audiences at some of my previous events. Her silent readings always leave people speechless given their speed and accuracy. She has been reading tarot for over 30 years. Those booking early have the chance to do a free private reading with Gina at the event.
Karina Grant - Quantum Touch Practitioner and Instructor
The third amazing expert is Karina Grant. When she spoke and did demonstration sessions at the 2009 PhotoReading Immersion Weekend we had someone who had literally limped to the event who was walking straight and upright by the end of the day after a short demonstration by Karina.
Karina discovered Quantum Touch in 2005 whilst exploring some of the most powerful energy healing methods available today. She has since attended Advanced Supercharing, Advanced Core Transformation and the new cutting edge Quantum Touch Level 2 workshop taught by Richard Gordon. She is a qualified Quantum Touch Practioner and Instructor of Level 1 and Level 2. She is also a Bio-Energy Practitioner and several other energy techniques including Reiki.
Where is the event taking place?
The Jury's Inn Hotel is located in central Watford (20 minutes by train from London Euston, 35 minutes from Clapham Junction/West Brompton, then 3 minutes walk from Watford Junction mainline station). The cost of the journey is £4.10 with an Oyster Card and trains go 04, 24, 34, and 54 minutes past the hour from London Euston).