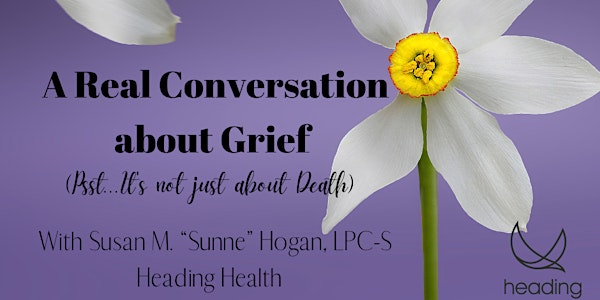 A Real Conversation about Grief. (Psst, It's not just about Death)
In the Modern Mental Health Care Seminar Series we are discussing grief in all it's forms and layers.
About this event
Join us online on our Facebook page for a live discussion with Heading Health Therapist, Susan M. "Sunne" Hogan, LPC-S as she share her expertise about grief, helping us understand:
What grief and mourning are and how they differ.
The different types of grief and the myth of closure
The stages of grief and different theories.
How to best help someone moving through grief.
Learn how to move through the grieving process yourself
A little more about Susan M. "Sunne" Hogan, LPC-S:
She is a Licensed Professional Counselor - Supervisor in the state of Texas. She graduated from Texas Woman's University with her MA in Counseling Psychology in 2005, was fully licensed in 2008, and became a supervisor in 2012. Sunne has worked with clients experiencing PTSD and Complex-PTSD, depression, anxiety, grief and loss. Outside of counseling, she enjoys living with her beloved and their two cats. She loves to read (many genres) and use the indoor rower (striving toward 100K meters for August 2022).