A Rave To The Grave Pt. II

Wednesday, October 31, 2012 at 10:00 PM

-

Thursday, November 1, 2012 at 8:00 AM (EDT)
Event Details
REBELLION NATION~RAVE BABES~519 PROMOTIONS~ 
REVELATION EDUTAINMENT NETWORX,LLC~ 700 LADIES~ 
Secret 700 Club & PMVC CLOTHING 
************** BRINGS YOU *****************
A RAVE BACK FROM THE GRAVE pt.2 !!!
$15 for 5 DRINK SPECIALS !!!
IF YOU MISSED THE FIRST ONE NO WORRIES. 
MADE PLANS FOR ANOTHER LOCATION? ITS OK, WE'RE OPEN BEFORE AND AFTER THE AFTER-PARTIES SO COME FROM WHERE EVER YOU ARE IN ATLANTA !!!
$10 General Admission, DRINK SPECIALS ALL NIGHT LONG!!!DOORS OPEN AT 10PM & will stay open till YOUR SUN COMES UP!$5 Off admission if you dress like a ZOMBIE or are wearing Authentic Goldmeat Apparel or creative Halloween costumes!!!

Come out and search the streets of Atlanta for fresh brains, blood and beats at the new Secret 700 Club!!

Got it? If YOU come dressed as "THE UN-DEAD" YOU get 5$ off admission!!!

ALL RAVE BABE & 700 LADIES HOPEFULS WHO SIGN UP AT THE DOOR WILL BE ADMITTED FREE FOR TRYING OUT & YOUR PHOTO WILL BE TAKEN AT THE TIME OF SIGN-IN! 

**RAVE BABE & 700 LADIES TRYOUTS**

Tryouts will be held on the night of the event, since the theme of the event is "HAUNTINGLY SEXY", we would like all ladies to be "DROP DEAD, SEDUCTIVELY UN-DEAD !!!" 

~ALSO, WE HAVE A SICK DJ LINE UP!!!!!!!!!!!!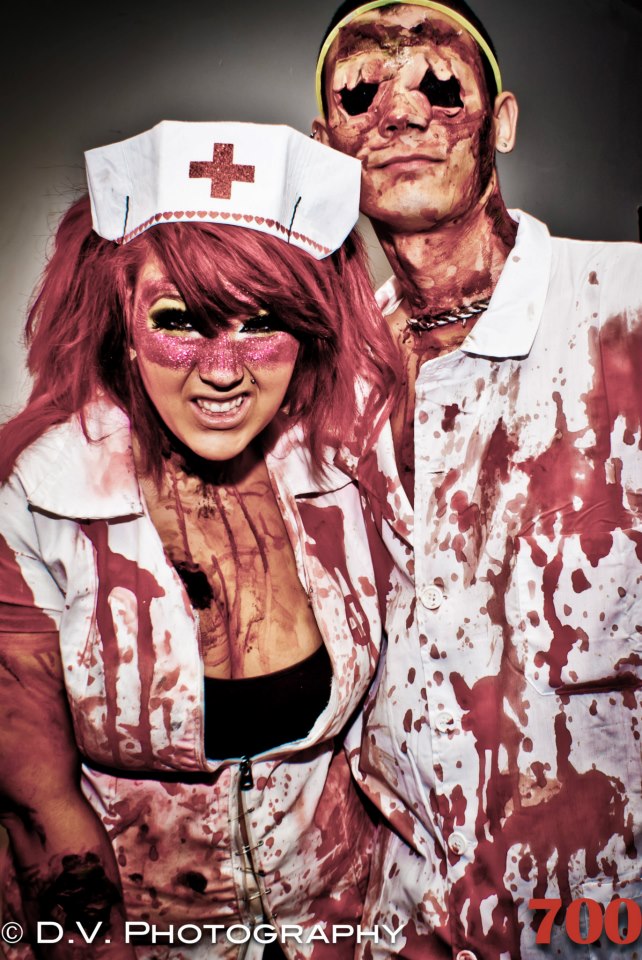 When & Where

Secret 700 Club
700 Marietta St NW
Atlanta, GA 30318


Wednesday, October 31, 2012 at 10:00 PM

-

Thursday, November 1, 2012 at 8:00 AM (EDT)
Add to my calendar
Organizer
A graphic design & network vehicle for artists, small businesses, and 
Individuals who need marketing tools and services that would help increase 
Their visibility and overall business bottom line. A progressive network 
That anticipates the needs of its clients by offering a plethora of 
Creative opportunities and money saving ideas through the art and science of Visual Communication.
REVELATION EDUTAINMENT NETWORX, LLC Created a youth mentoring forum, targeting young males between the ages of 7-17. Our Mission is to encourage our youth to be all their potential will allow in life. As the founder, I want to help young people develop an affinity to get anything they want in life. Build values and life skills, to bridge the gap, but not be an enabler. Teach young men the rites of passage into manhood. 
Please visit the website & "Like Us" on facebook:
https://www.facebook.com/RevelationEdu
Services Offered
1. Graphic Art, Web design and Web Ads available for small or corporate 
Businesses, artist's portfolios, album covers, flyers-posters & business 
cards, etc.
2. Lighted Box Signs, Printed T-shirts & Yard Signs. 
3. Digital Photography & Video available for photo shoots, family portraits, 
weddings or parties. Full color and/or BW photos. Photo retouching services 
available!
4. Image consultation~ as a master barber and stylist.
5. Relationship facilitation & Mentoring.
6. A&R/ Artist Management.
7. Go and Install your Free Shopping Sherlock Now:www.myshoppingsherlock.com/elom