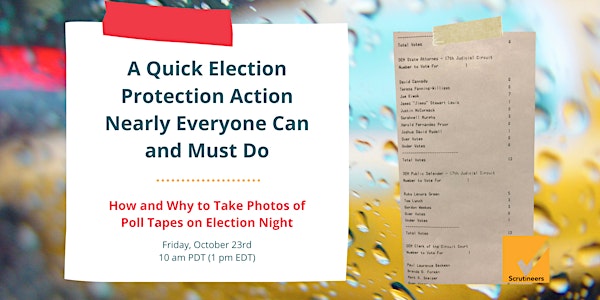 A Quick Election Protection Action Nearly Everyone Can and Must Do
Come learn how a quick action you can take in your community on election night is one of the best ways to help ensure an accurate vote count
About this event
How and Why to Take Photos of Poll Tapes on Election Night
(and what the heck is a poll tape?)
Protecting the election doesn't end with Get Out the Vote efforts. With the security of our elections at risk, we as a nation must come together to make sure votes are counted accurately.
Fortunately, there are simple steps you can take that can actually help make our elections more secure. How cool is that?!
In this event, you'll learn everything you need to know to perform one key method of election protection: photographing poll tapes.
The simple election protection tactic we'll teach you at this training is one of the most powerful tools in the people's election security toolbox.
The training is for you if:
You want to do your part to make sure our votes are counted accurately
You can be available to be at a polling place for a few minutes or more on election night (you'll be outside after it closes, so social distancing should not be a problem)
You have access to a smart phone
You want to help make the elections more secure and are busy before the election campaigning or doing GOTV (Get Out the Vote) work
In this approximately one-hour training, you'll learn:
Why poll tape photos are so important for protecting the election
How to find out where and when to take photos of poll tapes
What equipment you'll need
How to share your photos with election protection groups prepared to analyze the data you've captured
How to volunteer to help with data analysis (optional)
FAQ:
Is this sponsored by a political party?
Absolutely not. It's sponsored by Scrutineers.org, a nonpartisan election protection group.
Does this apply to my state?
State laws in most states require the public posting of poll tapes. At the training, we'll give you some tips to find out whether your state has this requirement. And, if it doesn't, we'll encourage you to suggest to your local election official that the poll tapes be posted even if it's not legally required.
What if my state doesn't allow taking photos in polling places?
That's a different thing. Poll tape photography happens outside the polling place after it's closed.
Are there other ways I can help make this election more secure?
Absolutely! At Scrutineers, we're teaching people about several more tactics you can use. You can join today at Scrutineers.org
More FAQs plus background info below video.
Where is the training happening?
This is an online event on Zoom Webinar. You'll see video but your face won't be shown.
Will the training be recorded?
Yes. Please sign up even if you can't attend live, so we'll be able to send you a link to access the recording.
What if I've never used Zoom before?
Plan to go to the link about ten minutes before the event begins. You'll be prompted to download Zoom to your device. Follow the instructions from there to join the webinar.
What if I've had problems using Zoom in the past?
If you're running an old version of Zoom software, you may be unable to access the training. Check now to see if your Zoom app is up-to-date by copying and pasting this link into your web browser: https://support.zoom.us/hc/en-us/articles/201362233-Upgrade-update-to-the-latest-version NOTE: This is not the link for the event. This is a link to check that your software is up-to-date!
Background Info
"Foreign interference" isn't the only reason to worry about election security. The very systems we use to cast and count votes in the U.S. are also vulnerable to hacking, rigging, and error.
The most secure way to vote is on hand-marked paper ballots, yet even these are counted by computers. This is true both of absentee (vote by mail) ballots and ballots cast at polling places.
Major vulnerabilities in these software-based systems, along with insufficient election auditing, mean that we can't trust election results without some additional steps to verify them.
The good news is that some of those verification steps can be done quite easily by community members with only a little bit of training!
Poll tapes are the records of the votes counted by each voting machine. They're printed out by poll workers after the polls close. In most states, the law requires the poll tapes to be publicly displayed outside the polling place. Yes, that means they're taped outside the door or window, and anyone can take pictures of them. That's what we'll be teaching you to do.