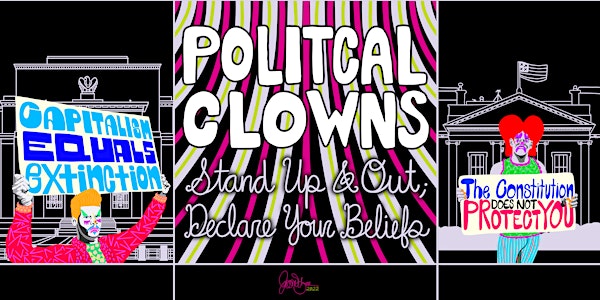 A Queerly Complex Open Studio with Jason Wyman: Political Clowns
Join artist Jason Wyman in their virtual studio to learn how declaring their beliefs helps them navigate this complex world. Holiday-edition
Refund Policy
Contact the organizer to request a refund.
Eventbrite's fee is nonrefundable.
About this event
Welcome Queerdo! I'm Jason Wyman, and I'm a queer, anti-binary artist in San Francisco and Co-Founder of Queerly Complex.
I'm hosting an Open Studio on some art that's still in the works: new Political Clowns!
Trying to understand and articulate what I believe and value has been a recurring practice of my entire teenage and adult life. Often, my inquiry into my values includes asking others about what they believe and where or how they learned it. It's a practice that even resulted in a coloring book called The Value(s) of Art(ists), which I made as part of a writer's residency at Alley Cat Book (see below for more) in 2018.
Political Clowns is an art project that has grown out of this deep practice of personal and collective inquiry into my and our values and beliefs. It initially emerged during 2017, when I noticed that reactionary politics were tools used by both political parties as a way to not make any progress. Flash forward five years, and real progress on issues like environmental collapse, securing trans and abortion rights, ending police and military violence, and stopping oil and gas pipelines still seems so slow, when a much bigger and bolder vision is being demanded.
So it's got me thinking: How do we fortify ourselves so we can more bravely and proudly declare our beliefs in ways that are playful, thought provoking, and invite dialogue and conversation?
Join me in my Open Studio right before the Holicraze Season for an exploration into how I am trying to work out my answer to this profoundly difficult question.
During this Open Studio, I will:
share some insights into my personal inquiry process,
hold space for us to ask and answer each other's questions about navigating difficult political conversations during holiday gatherings, and
reveal some brand new Political Clown art and merchandise, which will be launching in Spring 2023!
OPEN STUDIOS LOGISTICS
The Open Studio is open for 3 hours. Come when you can; stay as long as you'd like. There's no expectations for staying all 3 hours. (Though, you can, if you'd like.)
This space is tended to and held by Jason Wyman. Anyone disrespecting queer, trans, Black, Indigenous, disabled, immigrant, poor, or gender non-specific people or communities or cultures will be asked to stop once. If the person does not stop, they will be removed and blocked from Open Studio.
This Open Studio will happen via Zoom. You do not need to be on camera to attend. You do not need to participate if you don't want to. You can set how much or how little you want to engage.
Closed Captioning can be provided through Zoom. If you have additional accessibility needs, please make a note in the registration form, and someone from Queerly Complex will be in touch to discuss how we can best meet your needs.
ABOUT THE VALUE(S) OF ART(ISTS)
In winter of 2018, I interviewed 24 artists while in Alley Cat Books on 24th Street about who they are, what they make, and how they choose what money to take. I asked them to share a selfie that they felt best represented themselves. It didn't need to be of their face or even themselves. I then drew the selfie they gave me as a black & white line drawing and lifted a poetic line from our interview. The line and drawing became a page in the book, and readers were invited to add value to it by coloring it in. The Value(s) of Art(ists) is a meditation on how without active participation nothing truly has value.