Description
John Baackes will discuss the American Health Care Act (AHCA) bill that was passed by the U.S. House of Representatives in May 2017 and the Better Care Reconciliation Act (BCRA) that is currently being considered by the U.S. Senate.
Mr. Baackes will cover the impact of the bill's specific provisions which affect both States that expanded Medicaid coverage and States that created health benefit exchanges. The webinar will discuss the bill's potential effect on millions of individuals and families who rely on Medicaid for their health care. Mr. Baackes will also speak on the Senate's recently released BCRA and its impact on Medicaid and the State Exchanges.Lastly, Mr. Baackes will share his thoughts on making Medicaid managed care more efficient without curbing access to care or reducing quality of care.
An email will be sent out to registered attendee a few days before the event with webinar link and information on how to access the webinar. Presentation will be made available after the webinar.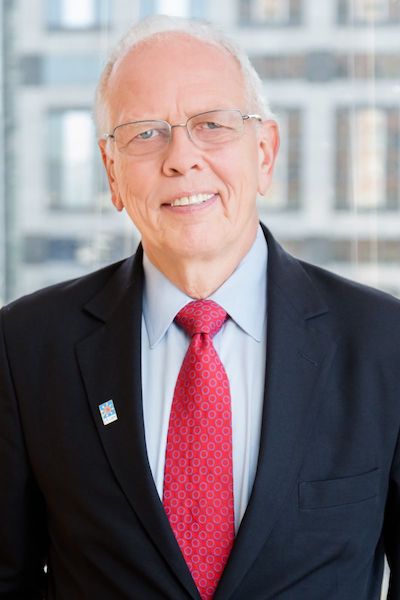 About the Speaker
John Baackes is Chief Executive Officer of L.A. Care Health Plan, the nation's largest publicly operated health plan serving approximately two million members. L.A. Care is dedicated to providing access to quality and affordable health care for Los Angeles County residents through a variety of health coverage programs, including Medicaid, L.A. Care CoveredTM (California Health Benefit Exchange), L.A. Care Cal MediConnect Plan, and PASC-SEIU Homecare Workers Health Care Plan.

Mr. Baackes works collaboratively with the Board of Governors to set the organization's strategic vision and ensure its successful implementation. He also oversees the day-to-day operations, while guiding L.A. Care through the ever-evolving health care landscape. Additionally, he is responsible for maintaining the integrity, quality and accountability of the health services L.A. Care provides to its members.
Mr. Baackes brings more than 30 years of health care experience. Before joining L.A. Care, he served as president of Philadelphia-based AmeriHealth Caritas VIP Plans where he oversaw the Medicare Advantage business unit. Prior to that position, Mr. Baackes was CEO of Senior Whole Health in Cambridge, MA, a voluntary health care plan for more than 10,000 low-income seniors in Massachusetts and New York.
He currently serves on the boards of America's Health Insurance Plans (AHIP), Medicaid Health Plans of America (MHPA), California Association of Health Plans (CAHP), and Local Health Plans of California (LHPC).
Throughout his career, Mr. Baackes has served in a number of executive leadership roles across the health care industry, including Senior Vice President for Group Health Incorporated in Albany, NY; President of Kaiser Permanente's Northeast Division in Latham, NY; and CEO of Community Health Plan, also in Latham. He is also a trustee at Southern Vermont College.
Mr. Baackes holds a bachelor's degree from Southern Illinois University, Carbondale, and is a native of Evanston, IL.